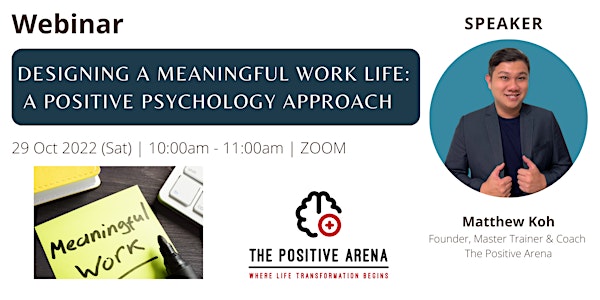 Designing a Meaningful Work Life – A Positive Psychology Approach
In this webinar, you will learn about the science behind designing a meaningful work life through a positive psychology approach
About this event
About this event
The COVID-19 and 'The Great Resignation' have prompted many employees to reevaluate and reset their priorities in life.
In this post-pandemic era that we live in, many might wonder whether we could still derive meaning behind the work that we do? Are we feeling an authentic connection between the work that we do and our life's bigger purposes?
If you feel that you are presently living a life by default and not by design; and you truly desire to create a sense of meaning and valued-living in your work – Sign up for this 60-minute webinar where we are going to unpack the ways to design a meaningful work life through the lens of positive psychology.
Outline of the Talk:
1. Happiness @ Work : Does it even matter?
2. Do I want a job, career or calling?
3. Unpacking the 3-level model of meaningful work
4. Creating pathways to meaningful work using SPIRE
5. Meaning & Valued Living - Creating a Life that Matters
6. Q & A
All registered participants will receive the deck of training slides in soft copy after the webinar.
Trainer's Bio:
Matthew is the Founder, Master Trainer & Coach from The Positive Arena. He specialises in designing and delivering wellbeing and social emotional learning training programmes for schools and corporate organisations. Matthew holds a MSc. Applied Positive Psychology & Coaching Psychology from the University of East London.
Being an Associate Certified Coach (ACC) from the International Coach Federation (ICF), he has experience coaching youths, employees and managers to improve work engagement, performance and wellbeing. One of his signature 1-1 coaching programmes is the Meaning & Valued Living Transformation Programme, where he helps clients who are keen to understand the science behind building a meaning and valued-living life, helping them discover their values and connecting them to their 'why' so that they can bear any 'how'.
Matthew also provides training programmes with the aim of inculcating a culture of wellbeing within schools and organisations to help students and employees flourish. As an accredited Strengths Profile Practitioner, Matthew runs strengths workshop for teams to embed a culture where their people, teams and managers work together to appreciate and bring out the best in everyone. One of the highest impact training programmes that Matthew has designed is the PRIMER Wellbeing Programme, which equips individuals with evidence-based knowledge and skills to improve personal wellbeing using positive psychology & coaching.
Contact Us:
If you would like to know more about this webinar or any of our training/coaching programmes, please feel free to contact us at info@thepositivearena.com OR you may visit The Positive Arena Website