DesignColumbus 2017 Presentations

Tuesday, October 10, 2017 from 7:30 AM to 6:00 PM (EDT)
Event Details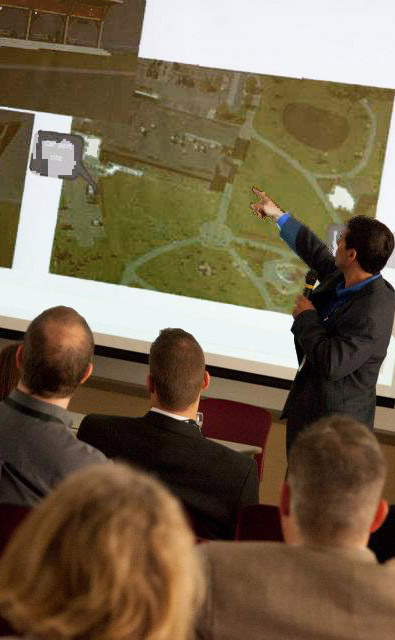 The event: CSI Columbus and USGBC Ohio Chapter will host DesignColumbus 2017 on Tuesday, October 10, 2017 at the Ohio Union. Hundreds of building professionals will come together for a day of outstanding education sessions on current sustainable design solutions and networking. Participants will include the entire design and construction community of Central Ohio, including owners, facility managers, developers, designers, architects, engineers, landscape architects, specifiers, contractors, construction managers, and product representatives.
Be a presenter: Proposals are being requested for project team presentations, single presenters, seminars, and panel discussions that address the educational needs of these stakeholders. We are looking for Innovative Sustainable Design Solution presentations. Preferred projects can be "real" projects or conceptual designs, and can be in any phase of design/construction or recent completion. Preferred projects will be Central Ohio focused or involve a local design/construction team. No sessions that are based upon an advertisement, product or service will be accepted.
Presenters will be assisted in obtaining AIA and GBCI learning units for these presentations. LEED-Specific presentations are encouraged. A LEED-Specific presentation needs 75% or more of the content related directly to the current versions of the LEED Rating Systems and Reference Guides, LEED certification process and/or LEED Online. Education sessions are scheduled for 60 minutes in length.
Presenter benefits: The presenters for each session selected to be part of DesignColumbus 2017 will receive a complimentary registration to the conference with lunch provided. Plan now to share your expertise and stand out among your peers!
How to submit a proposal How to submit a proposal: If you are interested in presenting, please click on Call for Presentations below and complete the application form. Complete applications must be received no later than Friday, June 30, 2017. All shortlisted applicants will be notified by email no later than the week of July 10, 2017.
Advertising of presentation topics: Advertising of selected topics will be done throughout the five states in the Heartland and Great Lakes Region: Michigan, Indiana, Ohio, West Virginia and Kentucky. If you have advertising material that may assist us in promoting your presentation, please submit it to us upon your selection notice. We will also be publishing short articles on each presentation. You will be given an opportunity to review the article on your topic before it is publicly released. If your presentation covers proprietary information that cannot be released before the show date, please notify us of this fact.
Feel free to pass this invite on to anyone that may be interested in presenting. If you have any questions or need additional information, contact:
Jim McDonald
CSI Columbus Chapter
organizer@designcolumbus.org
269.823.5821

Tammie Wareham
USGBC Central Ohio Chapter
programs@designcolumbus.org
614.255.2267
Tuesday October 10 at Ohio Union 
The Ohio State Univeristy
1739 N High St 
Columbus, OH 43210
Co-Hosted by
CSI Columbus & USGBC Ohio Chapter
When & Where

Ohio Union
The Ohio State University
1739 N High Street
Columbus, OH 43210


Tuesday, October 10, 2017 from 7:30 AM to 6:00 PM (EDT)
Add to my calendar