Description
BOOK RELEASE: Designature: The Nature of Signatures in Art and Design
MARCH 31 - 7:00 PM TO 9:00 PM
Join Genspace + Orkan Telhan, the author of Designature, for a book release party!
Orkan Telhan is interdisciplinary artist, designer and researcher who works at the cross section of art, design and biology. Designature explores the nature of agency—the essential "signature" found in everything. From the simplest forms of life to humans, machines, and everyday objects.
The book features new kinds of signatures—living organisms, algorithms, tools, and visualizations—that are designed in light of new theories and technologies from artificial intelligence, synthetic biology, new materialism, and object-oriented ontology. These designs ultimately serve as critical reflections on society, and offer alternative forms of critique to urgent issues such as xenophobia, religious fundamentalism, and the ethics of manipulating nature.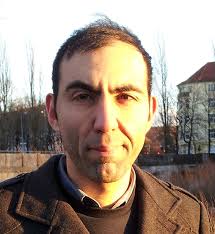 Telhan is Assistant Professor of Fine Arts - Emerging Design Practices at University of Pennsylvania, School of Design. He holds a PhD in Design and Computation from MIT's Department of Architecture. He was part of the Sociable Media Group at the MIT Media Laboratory and the Mobile Experience Lab at the MIT Design Laboratory. Telhan's individual and collaborative work has been exhibited internationally in venues including the Istanbul Biennial (2013), Istanbul Design Biennial (2012, 2016), Vienna Design Week, the Armory Show 2015 Special Projects, Ars Electronica, ISEA, LABoral, Archilab, Architectural Association, the Architectural League of New York, MIT Museum, Museum of Contemporary Art Detroit, and the New Museum of Contemporary Art, New York.