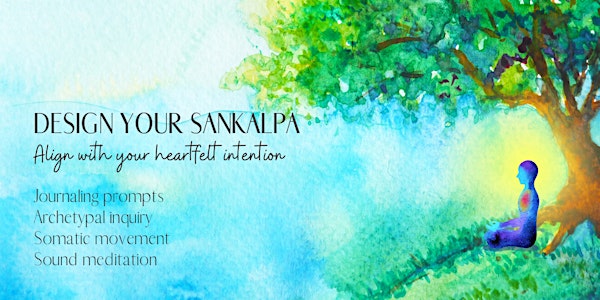 Design Your Sankalpa
When and where
Location
You and the Mat 23811 Aliso Creek Road #100 Laguna Niguel, CA 92677
Description
DESIGN YOUR SANKALPA
Align with your heartfelt intention
The Fall Equinox brings a balance between dark and light and ushers in a new season - a time of harvesting the fruits of our labors and turning inward to reconnect with the compass of the heart.
Reflect and connect with your own personal sankalpa - your heartfelt intention - through a series of journaling and self-inquiry prompts.
Your sankalpa serves as a rallying reminder of the most authentic expression of who you want to be in the world and provides a foundation for your thoughts, words, behaviors and actions - in your practice and in your every day life.
Embody your sankalpa with gentle somatic movement and tarot archetypal inquiry.
Aligned with your intention, rest into a relaxed and mindful state of being through a soundscape of gongs, singing bowls, percussion and wind instruments.
----------
What to Expect
~ Journaling and self-inquiry prompts to create your own Sankalpa: An intention arising from the heart and mind; an internal resolve; a grounding tool designed to focus attention, harness the will and direct thoughts, words, behaviors and actions toward a goal or vision.
~ ArcanaDance™, created by Jennifer Lucero-Earle, is a therapeutic practice designed to facilitate self-discovery, empowerment, transformation & healing through a fusion of tarot, guided movement & music. Using the tarot card of the Hermit, the archetype of introspection, we will embody our personal sankalpa through blending tarot imagery with guided meditative movement to soulful music. No tarot or dance experience required.
~ Sound meditation is a practice of connecting with the body vibrationally through sound. Enjoy as a mix of singing bowls, chimes and drums bathe you in relaxing sounds to reset your nervous system, reduce stress and anxiety, massage your body with the vibrations, and help you achieve a higher state of consciousness.
----------
Your Guides:
Soul Alchemy Collab is a trio of fired-up So Cal women who create immersive experiences of guided practices and explorative processes to nourish and elevate mind, body and spirit through movement, tarot, meditation and sound.
ELISSA DAWN STRUTTON
Movement Artist
As an educator and yoga guide, Elissa's approach to movement and self-care draws from over 13 years of teaching experience, extensive training, continued study of asana, philosophy, anatomy and biomechanics along with a commitment to personal practice, self-inquiry and steady pursuit of healing and growth. An artist at heart and student for life, Elissa's creativity, intuitive nature and expertise provides a solid foundation for helping her students discover effective tools and practices to reduce stress, release tension, restore their sense of well-being and move through their lives with integrity, purpose and grace.
JENNIFER LUCERO-EARLE
Magician of the Soul
Jennifer Lucero-Earle is a magician of the soul. She is the creator of ArcanaDance, a First Degree Black Belt Nia teacher and movement facilitator with over 30 years of experience working with the tarot. Jennifer curates experiences for people to embody both universal and personal archetypes. She weaves together music, somatic movement, soulful inquiry, and storytelling that inspires personal and collective evolution, healing, and transformation. What Jennifer loves most in the world is creating and facilitating safe non-judgmental experiences for people to move, feel, heal, and grow into their most joyful self.
BROOKE LOWE JOHNSON
Creative Vibes Curator
Brooke Lowe Johnson is a sound healer, energy-connected dance guide, and creative coach. Through education and personal transformation experiences she has discovered the value of creative expression in overall wellness. Whether through sound meditation, somatic movement or artistic endeavors, Brooke guides people in uncovering their own self-discovery transformation.
----------
FAQs
What should I wear?
Wear comfortable clothes that allow for freedom and ease of movement.
What should I bring to the event?
Bring a yoga mat, water, and any items you need to rest comfortably during the sound bath, such as a pillow, blanket, socks, light sweater. Even though it's summer, your body temperature will drop while you're resting. Bolsters, extra blankets, and eye pillows are available at the studio.
Feel free to bring your journal or paper and pen, although we will provide extra paper and pens.
We will provide snacks, but you're welcome to bring your own. There is not a refrigerator or microwave.
What's the parking situation and how do I find the studio?
Plenty of parking is available in front of the studio. Note that the sign on the building is displayed as "Yoga & Art" and the studio logo and name of "You and the Mat" is on the glass doors. Please leave your shoes in the lobby - outside the studio space.
Can I pay with something other than Eventbrite?
Yes. You can pay cash or Venmo. Select "pay at door" or "pay by invoice" on the registration page. You will be contacted to collect payment.
Do I need previous experience?
No previous experience necessary...just a beginner's mind and open heart. This workshop is for every body and your Soul Alchemy guides are equipped to accommodate the individual needs and abilities of each participant.
How can I contact the organizer with any questions?
Brooke: brooke.lowe@gmail.com
Jennifer: jennifer@jenniferluceroearle.com
Elissa: info@elissadawnyoga.com
Do I have to bring my printed ticket to the event?
No. If you do not receive a confirmation email, your registration may not be complete. Please email brooke.lowe@gmail.com to confirm we received your registration.
Is my registration fee or refundable or transferrable?
Registrations are not refundable, but are transferrable. Please contact brooke.lowe@gmail.com to let us know who you are transferring your ticket to.