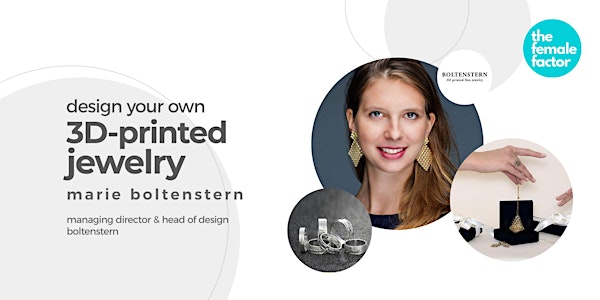 design your own 3D-printed jewelry | the female factor masterclass
Explore the process of custom jewelry design by learning directly from expert & innovator Marie Boltenstern.
Refund Policy
Refunds up to 7 days before event
About this event
🎁 L𝘰𝘰𝘬𝘪𝘯𝘨 𝘧𝘰𝘳 𝘢 𝘴𝘱𝘦𝘤𝘪𝘢𝘭 𝘊𝘩𝘳𝘪𝘴𝘵𝘮𝘢𝘴 𝘨𝘪𝘧𝘵? T𝘩𝘪𝘴 𝘪𝘴 𝘺𝘰𝘶𝘳 𝘤𝘩𝘢𝘯𝘤𝘦 - 𝘺𝘰𝘶'𝘭𝘭 𝘣𝘦 𝘢𝘣𝘭𝘦 𝘵𝘰 𝘰𝘳𝘥𝘦𝘳 𝘺𝘰𝘶𝘳 own 𝘥𝘦𝘴𝘪𝘨𝘯 𝘥𝘪𝘳𝘦𝘤𝘵𝘭𝘺 𝘧𝘳𝘰𝘮 𝘉𝘰𝘭𝘵𝘦𝘯𝘴𝘵𝘦𝘳𝘯 𝘢𝘯𝘥 𝘨𝘦𝘵 𝘪𝘵 𝘪𝘯 𝘵𝘪𝘮𝘦 𝘧𝘰𝘳 𝘵𝘩𝘦 𝘩𝘰𝘭𝘪𝘥𝘢𝘺𝘴!
🎉 If you were looking to start the holiday celebrations early, you're in luck - our inner circle Christmas get-together will take place right after the masterclass. 𝗝𝗼𝗶𝗻 𝘂𝘀 𝗳𝗼𝗿 𝗮 𝗳𝗲𝘀𝘁𝗶𝘃𝗲 𝗻𝗲𝘁𝘄𝗼𝗿𝗸𝗶𝗻𝗴 𝘀𝗽𝗮𝗰𝗲 𝗮𝗻𝗱 𝘁𝗮𝗸𝗲 𝘁𝗵𝗲 𝗼𝗽𝗽𝗼𝗿𝘁𝘂𝗻𝗶𝘁𝘆 𝘁𝗼 𝗰𝗼𝗻𝗻𝗲𝗰𝘁 𝘄𝗵𝗶𝗹𝗲 𝗰𝗹𝗶𝗻𝗸𝗶𝗻𝗴 𝗮 𝗱𝗶𝗴𝗶𝘁𝗮𝗹 𝗴𝗹𝗮𝘀𝘀 𝗼𝗳 𝘄𝗶𝗻𝗲!
what is this masterclass about?
💍 In this masterclass, you will e𝘅𝗽𝗹𝗼𝗿𝗲 𝘁𝗵𝗲 𝗽𝗿𝗼𝗰𝗲𝘀𝘀 𝗼𝗳 𝗱𝗲𝘀𝗶𝗴𝗻𝗶𝗻𝗴 𝗰𝘂𝘀𝘁𝗼𝗺 𝗷𝗲𝘄𝗲𝗹𝗿𝘆 𝘁𝗵𝗿𝗼𝘂𝗴𝗵 𝘁𝗵𝗲 𝗵𝗮𝗻𝗱𝘀-𝗼𝗻 𝗽𝗿𝗮𝗰𝘁𝗶𝗰𝗲 𝗼𝗳 𝗰𝗿𝗲𝗮𝘁𝗶𝗻𝗴 𝘆𝗼𝘂𝗿 𝘃𝗲𝗿𝘆 𝗼𝘄𝗻 𝗽𝗶𝗲𝗰𝗲. 3D specialist Marie Boltenstern will walk you through the motions and answer your questions on creativity, innovation, and making it in the field.
who will you learn from?
Marie Boltenstern is an architect & 3D-specialist and founded her company 4 years ago. She and her young team are pioneers in bringing directly 3D-printed precious metal jewelry collections to market. Through computational algorithms she is developing metal parts and jewelry that cannot be produced by hand. With clients in Hong Kong and China, the team is currently scaling the production to a multiple and bringing the brand to an international level.
Marie holds a Masters in Emergent Technologies from the Architectural Association in London as well as a Masters in Architecture from Berlin University of Technology.
what you can expect from this masterclass?
get an introduction to jewelry design & production processes
create your custom piece with Marie's help
get your questions answered directly by Marie
All you need is a piece of white paper, a blue or black pen and your smartphone to take a picture.
about the "YOURS" collection
Create that one piece that talks of you and your universe. A unique 3D printed jewel capturing your handwritten messages and images of love, friendship, and loyalty.
Your words, your feelings, your memories. Captured forever.
who is this masterclass for?
Women who are curious about jewelry design, aspiring designers who are eager to find out how to make it in the creative industry and anyone looking for a special Christmas gift.
about the female factor.
The female factor is a curated global community advancing careers and creating business opportunities for a new era of female leaders by boosting confidence, competence & connections.
about the inner circle.
The inner circle is the members-only community by the female factor. Members get access to a tailor-made opportunity journey including mentoring sessions, hands-on career knowledge, accountability partners, confidence trainings and a great network of peers.
This event is part of the inner circle offer and free for all members. If you're not a member yet, you can apply to join via www.femalefactor.global/membership.
Terms of Participation Agreement: By participating at the event, you grant the female factor permission to capture photo/video of the event. You can find the exact legal terms on our website but to summarize, we want to share your success with the world.
This masterclass will be facilitated via Zoom. Please note that the female factor is a Circle Leader of LeanIn.Org. the female factors' s Zoom account is part of LeanIn.Org's parent account, your name and email information will be both visible to the female factor and LeanIn.Org. Participant data will be held as per Zoom's GDPR guidelines. GDPR empowers account users and event attendees with certain rights to help assure the privacy and protection of their personal data and that users can request the erasure of their data at any point. If you as participant request removal of your personal information at any time, please let us know with an email to hi@femalefactor.global and we will ensure participant data is deleted within 7 days.