Event Information
Location
San Francisco | Santa Monica
Description
Join us and some esteemed peers to discuss the Value of Design.
In this relaxed informal gathering we will present some leading developments and case studies/research in how design adds value. Learn how other companies lead and manage this highly regarded (& debated) topic.
You will come to know the Design Value Canvas, a very practical and simple tool for forecasting, justifying and evaluating investments in design. This tool will be yours to take away and implement in your organization to help lead and manage this discussion.

Design Value Canvas
Learn how to predict and measure the value of design projects

Learn how to build a more convincing business case for investing in design

Access

our consolidation of research findings

identifying 30+ benefits of design

Take away our Design Value Canvas to frame and apply specifically for your organization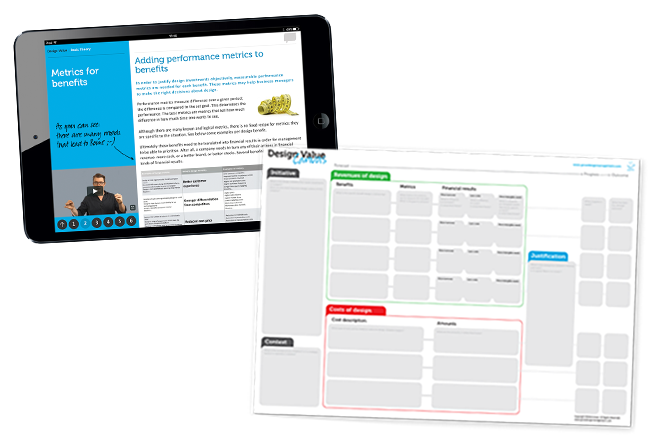 Join Frans Joziasse, General Director of PARK & Grow, who has for the past 20 years been guiding & training design leaders in world leading companies such as LEGO, BMW, Unilever, Glaxo Smith Kline, Reckitt Benckiser, Bosche, Coty, Beiersdorf, Bang & Olufsen, Miele, and many others, including leading design agencies.
and Jay Peters, Managing Director of PARK USA & Grow USA, who has for the past 8 years been guiding & training design leaders from companies such as Hasbro, Intuit, Roche, Kimberly-Clark, Unilever, LEGO, Newell Brands, Novo Nordisk, Samsonite, Informatica and others in maximizing the value of design to increase their (triple) bottom line.
Together, Jay & Frans will speak about how world leading companies overcome hurdles in creating awareness & buy in for investing in design, and proving out the return on investments.
We are also honored to welcome a specail guest and leading expert in on quantifying branding's return on investment. Rob Wallace: Managing Partner, Best of Breed Branding Consortium
Rob leads and interdisciplinary team of top branding consultants dedicated to proving the value of brand message integration across every consumer touch point. He has a 35+ year expertise as a branding consultant. Prior to founding Best of Breed, Rob was the managing partner of Wallace Church, Inc for nearly 30 years,

Rob has spoken on branding at more than 50 industry events across the US, Europe, Latin America and Asia. He served on the Board of Directors of the Design Management Institute, and co-chaired its Design Value Project. He lectures at Columbia Business School, Georgetown University, The School of Visual Arts and several other MBA programs. Rob sees his primary goal as proving that, when done properly, integrated branding is marketing's single most effective tool.
Come learn more about and share your pain points in leading design value. We will host this event on two separate occasions:
San Francisco - Oct 12 from 6-8pm @ 505 Natoma St, San Francisco, CA, 94103
Santa Monica - Oct 13 from 4-6pm @ 1450 2nd St, Santa Monica CA 90401

Event location & directions will be shared with you in the weeks prior to the event.
Please plan to stick around for an hour afterwards for some cocktails and socializing
---
This event is hosted by PARK, a consortium of services with the mission to Empower Design Leaders.

Additional services include:
Grow - a world leading professional training provider in Design Leadership. Grow delivers trainings in the USA & EU for professionals from world leading organizations and agencies to learn how to (better) leading and manage Design & Innovation in their organizations. This training provides leading insights and hand son application to deliver more value to their colleagues, customers, clients & consumers.
[raymond] - an invitation only design leadership retreat. For more than 14 years, [raymond] has been uniting design leaders to discuss, coach and challenge one another from various industries in their surprisingly similar challenges.
Date and Time
Location
San Francisco | Santa Monica