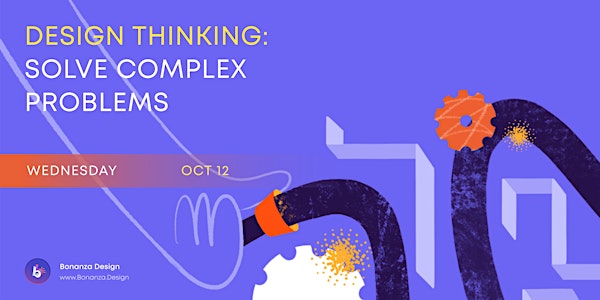 Design Thinking: Solve Complex Problems
In this webinar, Behrad will break down for you the philosophy of design thinking and the tools by which you can conduct a design thinking w
About this event
For over 2 years, Bonanza Design has been bringing to you webinars in Design Thinking that are aimed at anyone who wants to enter the UX Design field, from junior UX designers to product managers, and developers.
We understand how intimidating going into the field can be, with this in mind our team has carefully crafted the content in this webinar to help give you confidence and a better start on your career path.
Learning Objectives:
• Understand what Design Thinking is and how it is adapted for businesses
• Get to know Design Sprint and how it's initiated from Design Thinking
• Discover how to use Design Thinking for solving complex managerial problems and improving decision making
• Learn about Bonanza Design Innovation Process by which to conduct your own design thinking workshop
• Qualify for our 1-day intensive Design Thinking workshop on ideation and problem solving for remote and agile teams
Who can benefit from the workshop?
✔ Entrepreneurs
✔ Growth Hackers, and Business Developers
✔ Product Managers
✔ UX/UI Designers
✔ Digital Marketers
✔ Customer Excellence teams
About the speaker: Behrad Mirafshar
Behrad is a highly experienced UX designer and an active voice in the field of Sustainability, Innovation and Design Thinking. He studied the latter in Sweden and in 2012, moved to Berlin.
With more than 10 years of experience, he has designed applications for different industries including Automotive, Digital Health, Finance, Fintech, IoT and HR. To share his expertise he gives Design Thinking workshops, trainings and seminars.
Connect with him on LinkedIn
About Us
We are an innovation powerhouse that assists businesses to overcome their most complex growth and design challenges and innovate further -- at an unprecedented pace. We help companies at all stages to:
✔ Accelerate through the digital transformation phase
✔ Define their customer experience strategies
✔ Design applications that matter
✔ Innovate at a faster pace
✔ Move towards a sustainable future
Want more information on Design Thinking?
Check out our Design Thinking: Solving Complex Problems eBook Bundle👇
Shop now and get 20% OFF your purchase! 🤑
🔗 Click on the link to learn more