Description
Hear from LC Singh - a global thought leader
If you are a business leader and you are thinking about how to differentiate your company and services, you must focus on customer experience. It is not enough to just sell a product or service-companies must truly engage with their customers at an emotional level.

The Design Thinking seminar will have you spend an evening learning and practicing alternative paths to leadership and innovation by applying Design Thinking tools to strategy, product, innovation and engagement. In this session, you will learn to embed experience design in your organizations by:
- Truly understanding your customer
- Bringing empathy to the organization
- Designing in real-time
- Acting quickly
The seminar involves going through a condensed and simple approach to practice Design Thinking tools and techniques you can apply to address your own business challenges.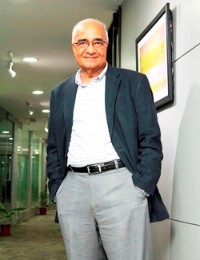 Facilitator: LC Singh, Global Vice Chairman and CEO of Nihilent LC Singh is a pioneer in the $150 billion Indian Consulting and IT industry. He is an alumnus of the Harvard Business School and a distinguished alumnus of the Indian Institute of Technology (IIT) BHU. LC is an invited speaker at global conferences that relate to Design Thinking, Change Management, and Digital Disruption.
He founded Nihilent in the year 2000 with offices in India and global offices in South Africa, USA, UK, Australia, Nigeria, and Tanzania. Nihilent has emerged as one of the most creative Design Thinking and consulting companies globally to help customers innovate, grow, and be efficient.

LC is also a globally recognized thought leader on Design and Systems Thinking. He is the author of Nihilent's patented change management framework MC3. He is a Fellow of the Institute of Management Consultants of India (IMCI). He continues to be a student of ontology and epistemology.

LC has deep interest in the arts. He has written and produced a feature film called "Banaras a mystic love story" and pursued advanced photography and is an accomplished photographer. LC conducts regular workshops in photography.
There will be a networking reception following the program.
Directions: Take NJ Transit to the New Brunswick Station and walk two blocks to our office or park at the Church Strret Parking Deck and walk across the street to Kilmer Center.