Description
Course fee: RS. 25,000 + taxes
Introduction
Level 1 Certification workshop - 3 days of immersive learning , designing and thinking, brought to you by Hreemm. This program is designed for beginners and aims to tranform you into a practionor of Design Thinking. The learning program consists of Pre & post engagements to make sure you succeed as a design thinker. We are hosting on 26th, 27th & 28ty of March, 2018 at Bengaluru.
Course Fee: Rs. 25,000 + Taxes
The registration on eventbrite is only for Expression of Interest purpose. We will send you separate e-mail regarding registration process shortly.
Often design thinking is mistaken as an abstract concept that applies purely to UI/UX Designers and developers.It is not so. Design Thinking is the ability to connect the abstract with the detail. The concept has been adopted by industry mammoths like Apple Inc, PepsiCo., Nike and Google as a strategic tool.
Please watch the following two video to learn more on our presepective on Design Thinking & its relevance for the Digital Revolution or 4th Industrial Revolutuion.
1. Introduction to Design Thinking
2. Introduction to Digital Tramsformation
Agenda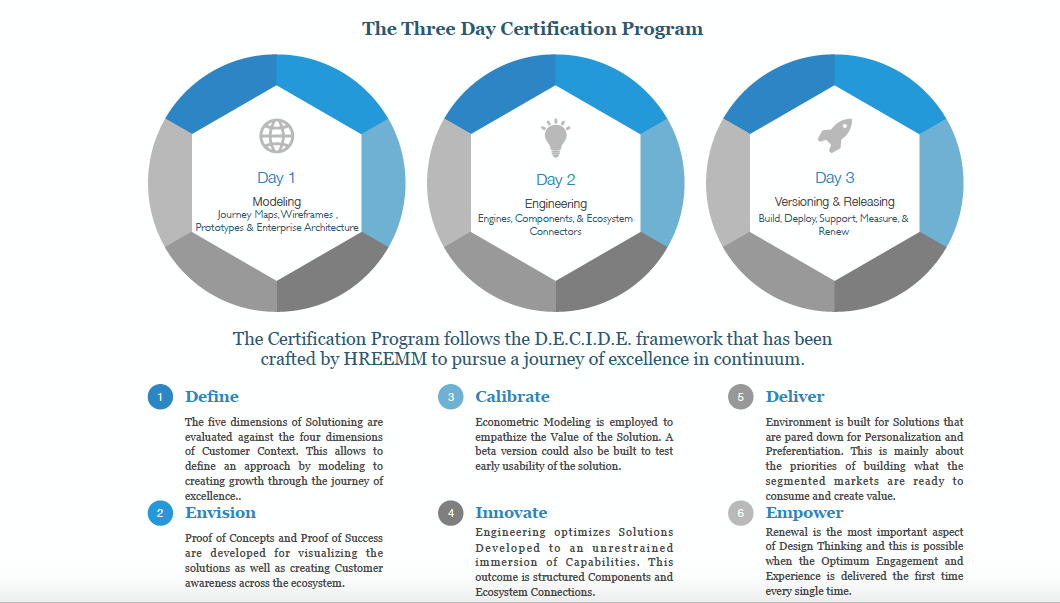 Key Learning takeaways
1. Leadership: Leading from the front by intent and not by accident
2. Agility : Conceptualization through Commercialization in a continum via Engineering & Industrialization
3. Digital Transformation: Building & deploying Smart, Sensitive & Serendepitous solutions
4. Innovation : A journey in excellence using Life & Customer context to your personal journey
What you will get:
1. Course materials & case studies supported by cases from Harvard, MIT, Stanford & Insead.
2. Design Thinking frameworks, tools, models & presentations
3. A Digital Certificate valid for lifetime, can be printed.
4. Lots of learning, networking, personal coaching & on-demand consulting post the workshop.
Differentiator:
1. Learning Solutions: We focus on executive learning (vs. traditional training), which is reinforced with pre and post workshop engagement, assessments and scorecarding.
2. All of our learning programs are designed from a practionors perspective, where 32 years of global industry transformation experience is crystalized.
3. We are inspired by Vedic philosophy into our design, where we try and map Universal journey with the customer journey of the Enterprise and the personal journey of the individual learner.
Speaker Profile: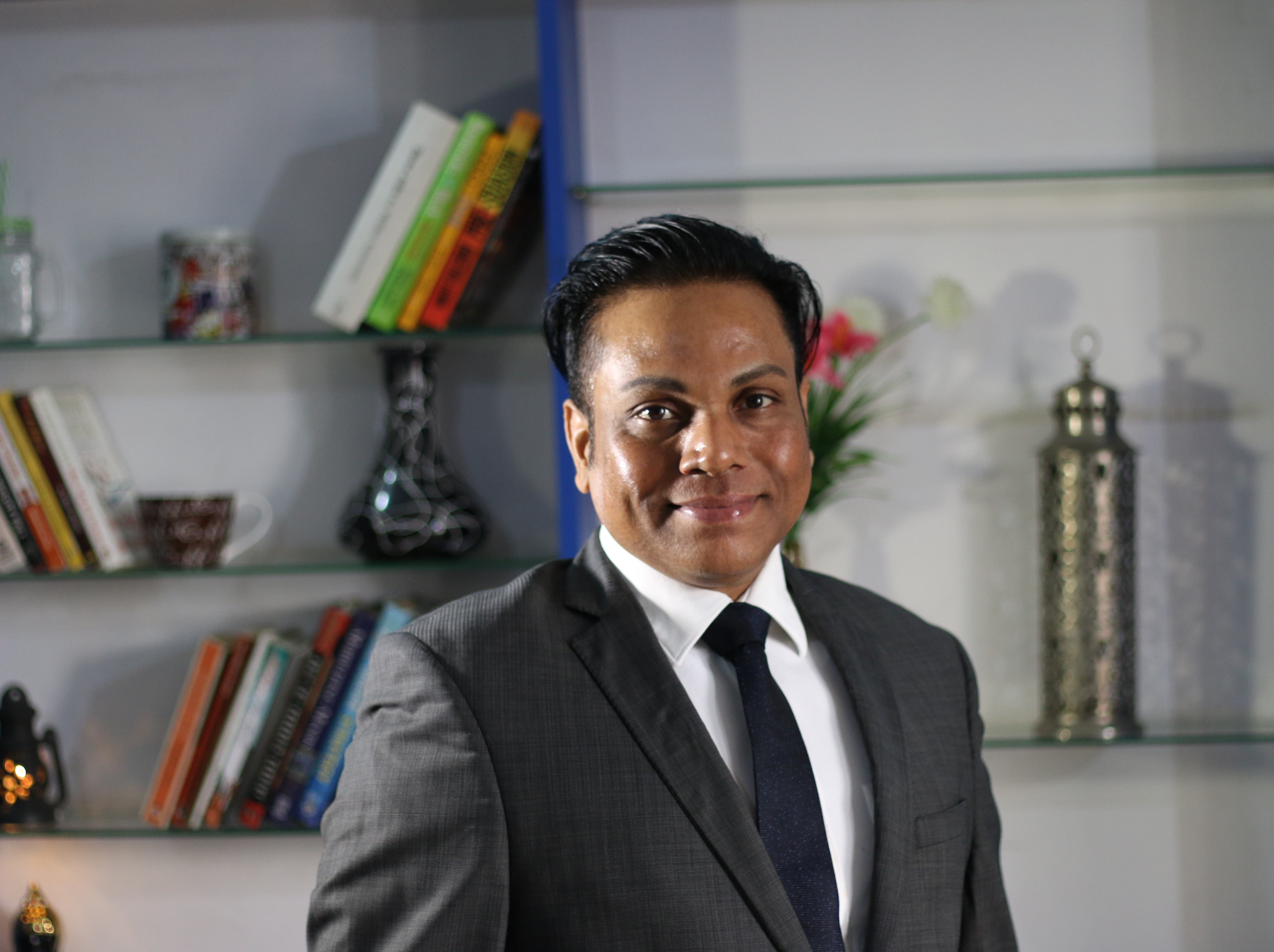 Leading the first globally successful B2C implementation in the world for American Express in the United States.
Transforming the Tax Administration of the nation of South Africa under the aegis of South African Revenue Services (SARS).
Building a Industry Transforming Contribution Management System for P&O Nedlloyd that has become a benchmark for how to measure the Profitability and Productivity in the Logistics Industry globally.
Building software Products in the Verticals of Manufacturing, Supply Chain, Distribution & Logistics, Healthcare and Education.
Besides being a successful serial entrepreneur (Nandaki Systems, Nihilent Technologies, Energizing Innovations) also being a recognized intrapreneur as a leader in enterprises such as Coopers & Lybrand (PWC), Cambridge Technology Partners, Steria, Tata Consultancy Services and more recently Wells Fargo.
FAQs
How can I contact the organizer with any questions?
Please write to pratap@hreemm.io or connect us with any of our social media profiles. We would be happy to help you with any clarifications & doubts.
Can I get a refund?
We offer a full refund up to one month before the workshop. Simply log in to Eventbrite and request the refund following these instructions (https://www.eventbrite.com/support/articles/en_US/How_To/can-i-get-a-refund#2). As with changes, only the person who purchased the tickets can request a refund.
Do I have to bring my printed ticket to the event?
We believe in protectinbg the environment. Please dont print the ticket. A simple e-mail confirmation and an ID card would be required to verify that its you who is attending the workshop.
Can I update my registration information?
Yes, but only the person who purchased the ticket can make these changes on Eventbrite. You are free to change your ticket details up to two days before the conference, including name, title, etc. If you can't reach the person who purchased the ticket in order to get them to change the information please contact us on tickets@hreemm.io and we will help you make the updates.
Who this course for?
Entrepreneurs, Intrapreneurs, Leaders, Product planners, developers, marketers, usability professionals, design practitioners, and managers who are committed to creating a great customer experience.
Can I pay through invoicing ?
Yes, you can pay by invoice. Please also note that no tickets are held/issued until payment of the invoice has been received, and only General Release tickets can be purchased by invoice. Request to pay by invoice by emailing tickets@hreemm.io

• Tickets are not held until payment has been made – there are no exceptions to this.
• We cannot agree to any terms and conditions associated with Purchase Order numbers or other supplier agreements.
• We do not fill in supplier detail forms for ticket invoices – if you cannot find details you require on our website – please ask.
Is there a discount ?
Yes, we provide special discounts to bootstarpped strat-up entrepreneurs & non-profits as well as students. Apart from this the other discounts we offer are for Early Bird workshop tickets (limit of one ticket per order), which sell out in a matter of minutes, and the group discounts where we do 6 tickets for the price of 5. To ensure you hear about the Early Bird tickets make sure you are part of our LinkedIn group and receive our newsletter.