Event Information
Refund Policy
Refunds up to 7 days before event
Description
Ensure that your idea best matches customer needs
Solve problems and create new products/services using the same tools used by tech firms, consumer product developers and consultants.

Designed for internal teams, students, and entrepreneurs
Taught by faculty from IIT's Institute of Design.


Whether you're a team or organization tackling an intractable issue or a solo entrepreneur creating a new product or service, Design Thinking provides a toolbox for identifying the true issues/ opportunities and creating solutions that succeed.
Learn to identify the right problem, understand user needs, and create successful solutions

Do a design scramble to actually experience design thinking
Receive support for your own innovation situation


No "physical design" skills (art, manufacturing, etc.) required.
Appropriate for either physical products or services
Bring your team or come alone and find a team




Want to go through the entire process working on your own project and getting individual support?
Sign up for the full 4 session package.

You'll get feedback and support specific to your project and over the span of the program go from developing the definition of your customer's problem to protoyping and testing your solution.
Session 2 (September 16): Develop and Review Your Customer-oriented Problem Statement- Use your initial research and apply user frameworks to quickly develop product feature requirements and learn to develop your first, primitive prototype.

Session 3 (September 30): Receive peer and instructor feedback on your review of user feedback. Re-assess your idea and develop next iteration of prototype.
Session 4 (October 21): Individual review of progress and results with instructors. Receive feedback and develop next steps. Find resources to complete process.
By the end of the fourth session, you should be ready to run your crowdfunding campaign, begin developing your business plan, and/or move forward with a product that has been thoroughly vetted.
Your Instructors:

CRISTINA NEACSIU, PhD Candidate and Lecturer at IIT
Cristina M. Neacsiu has completed two master's degrees in organizational and occupational psychology at IIT, respectively University of Timisoara. She is currently a doctoral candidate specialized in negative work behaviors. In addition, Cristina is focused on understanding and improving the experience of individuals working in teams, through activities and lectures centered on understanding how people function. Her greatest joy is seeing teams work seamlessly together to achieve their common goals.
In addition to her academic career, Cristina has also had the opportunity to be involved in consulting projects with a variety of organizations and areas such as commerce and technology.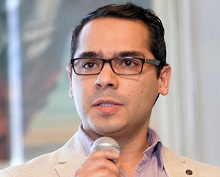 JAIME RIVERA, IIT Institute of Design and Lecturer at IIT
Jaime Rivera is currently pursuing a PhD at the IIT Institute of Design. He has a master's degree in design from the same university and a bachelor's in industrial design from Los Andes University. He is the lead instructor of the Digital Service Design class at the Illinois Institute of Technology, teaching user-centered design methods to students with different majors. In interdisciplinary groups the students propose an idea that evolves into an interactive digital experience that is desirable, feasible and viable through participant feedback. His doctoral research proposes a structured method to design persuasive technologies by using participatory approaches to understand how people create meaning when they interact with new information systems.
His experience includes the design of medical devices, augmentative and alternative communication systems, and design consultation services across a variety of sectors. Past clients include: Gap INC, American Greetings, Worthington Industries, Bernzomatic, Hampton Inn, Chicago City Hall and the Operative Performance Research Institute at the University of Chicago Medicine. Jaime presents regularly his research findings in design and technology events like the Persuasive Technologies Conference and the European Academy of Design Conference. He is the winner of the IDEA excellence design awards in 2008 in the research category and Core 77 Design Awards 2015 in the Service Design category.

Date and Time
Location
Refund Policy
Refunds up to 7 days before event