Description
A 2-day, hands-on workshop designed to help you learn by practising the tools & techniques within the Design Sprint framework.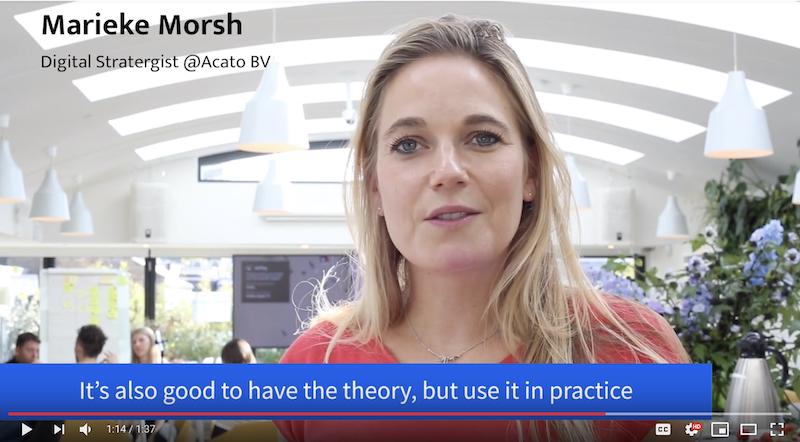 What is a Design Sprint?
A design sprint is a design thinking method used for solving big problems through ideation, rapid prototyping, and testing ideas with target customers.
It was developed at Google and popularized by Jake Knapp. Design sprints are now being adopted by companies, big or small, and from all over the world and within all different industries – from insurance and banking to entertainment.
How it works
With a small, cross-functional team and a clear schedule for the week, you'll progress from a problem to a tested solution in only a few days.
On Monday, the team creates a map of the problem and defines the direction of the sprint.

On Tuesday, each individual sketches solutions and decide which sketches are the strongest.

On Thursday, the entire team builds a realistic prototype by working together and playing different roles.

And finally, on Friday, the team tests the prototype with five target customers and looks for reactions, comments, questions, moments of truth.


Our approach - Design Sprint 3.0


Our journey with Design Sprints started even before the 'Sprint' book. We ran sprints all over the world with every kind of company, from startups to large organizations. This includes training Google in San Francisco as well as partnering with InVision to teach Design Sprints as part of their Design Better Workshops series, alongside the likes of Jake Knapp (formally of Google Ventures) and Richard Banfield (Fresh Tilled Soil).
Our extensive experience has enabled us to re-engineer the program to create the first and one of the most comprehensive Design Sprint training programs out there. We call this improved version of the Design Sprint 3.0.
The Design Sprint 3.0 framework effectively establishes the problem before the sprint by introducing the Problem Framing workshop, builds empathy with the target customer by including the 'thick research', reduces the duration of the program from 5 to 4 days, as well as refines a number of the core activities to help the team successfully progress through the program.
For a deep dive into the mechanics behind Design Sprint 3.0 read our
article on Medium
: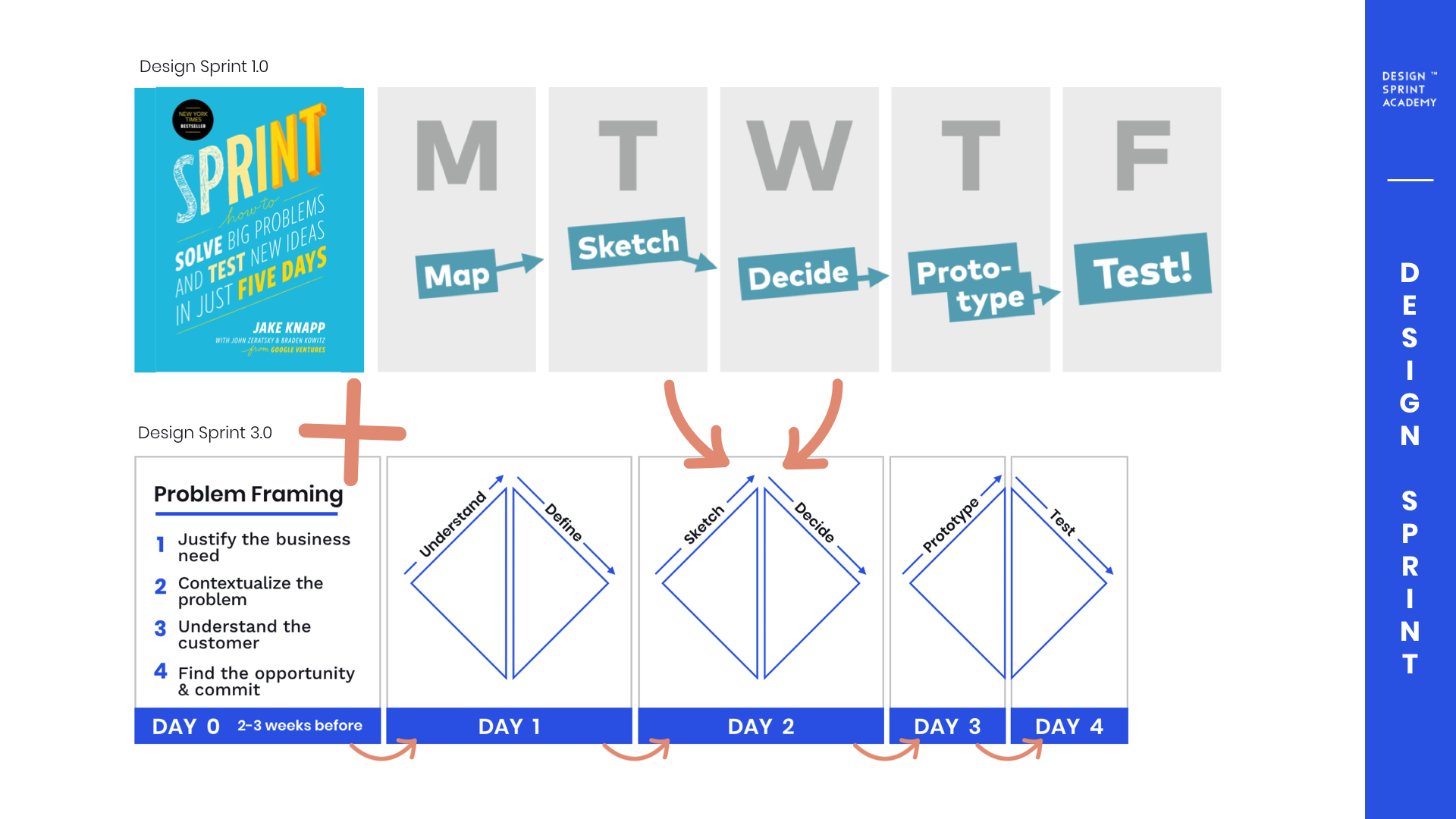 This training is for you if you are:
Struggling to build better products, and faster

Trying to break the silos and get team alignment.

Wanting to understand your customers - knowing the difference between what they say they want and what they actually buy.

Looking for new ways to speed up the timely and costly process for product and service development.

Tired of investing your marketing budgets in products that are 'DOA' and don't have a market fit - no longer waste money and time invested in building something consumers aren't going to buy or use


Or have one of the following titles/roles:
Innovation Managers

Product Managers

Executives at large companies

Startup founders

UX Leads

UX/UI Designers

Dev Leads

Engineers

Marketers
By the end of the 2-day training, you'll be able to:
· Have the tools needed to understand and empathize with your user.
· Learn how to build a Customer Journey Map.
· Become an expert in ideation and solution sketching.
· Learn how to storyboard as a group.
· Experience prototyping best practices.
· Learn how to make sense of customer testing insights.
· Basically, compile solutions, build, and test a functional prototype.
Also, you'll hear first-hand takeaways (and potential pitfalls) from design sprints we've run with our clients that showcase the fact that we're only teaching strategy and methods that are proven to lead our customers to success. And these real experiences can't be made up or found online - just good ol' hearsay, but our hearsay is accredited.


We've been travelling the world and training professionals across all industries for the past 2 years. And, here's what they have to say about their experience with us:


"An amazing day at our Design Better workshop on Design Sprints. Shout-out to our fearless facilitators for such a meaningful day of learning and teamwork!" - Invision Team
"Working with Design Sprint Academy we completely unlocked the benefits of design sprints promised in the Book Sprint. Design sprints are now a cornerstone of how we work and we continue to improve them with help from the Design Sprint Academy." - Gavriel Magonet, Co-founder, Runpath, London


'Once again, thank you for the Design Sprint workshop you held in Helsinki! Everything went smoothly and I learned a bunch of new tools as well'. - Lesse Tammilehto, Creative Director @Solita, Helsinki


'Thank you so much for taking us along with you on a two-day Design sprint journey! It was professionally led, fun to experience, and it provided us with a great framework and new insights to work with. Looking forward to putting this into practice and adding more value to our output as a creative agency.' - Rene ten Brink, Program manager @Random Studio, Amsterdam


FAQs


Can I pay by invoice?

Yes. Please email us at start@designsprint.academy your company details, and we will issue an invoice.
What should I bring to the event?
Laptop or tablet
Are the tickets transferable?
Yes. If you need to request a ticket transfer, please email start@designsprint.academy. But! All requests must be made 72 hours prior to the event.
Should I come as an individual or as a team?
Both individuals and company teams are encouraged to attend. But just to clarify, you don't get be a loner at the workshop. Individuals will work together with a team of people from different companies. This workshop will be valuable for both individuals and groups.
Are there any team discounts?
Yes, there are team discounts. Companies sending more than 2 people qualify for team discounts. Just look for team tickets when registering.
Will there be refreshments, lunch?
Yes, refreshments and lunch are included.
Is Design Sprint 3.0 part of the Design Sprint Bootcamp Bundle?
Yes. The Design Sprint Bootcamp is a combo of three connected workshops discounted by 15%.