Description
Join us for the 2-day workshop to learn the Design Sprint process that is used by some of the World's biggest companies, including Slack, Airbnb, LEGO, Medium, Salesforce, AXA to design the products/services that customers want.
What is a Design Sprint?
Design sprints are a 4-day process for designing, prototyping, and testing ideas. Developed at Google Ventures, the method aims to improve your odds of creating something people actually want. In just 4days, you will have gone from a concept to a user-validated prototype for a product, feature, or idea.
Watch a video from our Introduction to Design Sprint Workshop.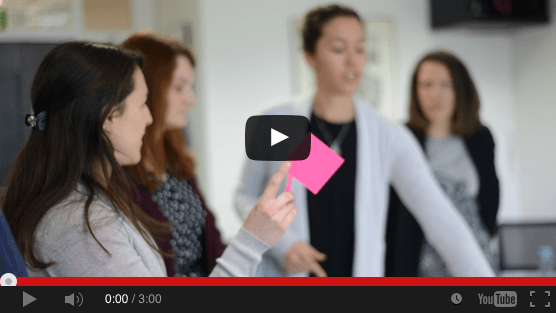 What can I expect to take away from the Design Sprint workshop?

This is an opportunity to learn a new mindset and create products in a better, more efficient way.
Discover exactly what a Design Sprint is and how to use it.
Use the Design Sprint to improve your end product and validate your ideas, quickly.
Exercises for rapid design and concept creation.
To gain the confidence to execute quickly on your ideas.
Methods for introducing design sprints into your business.
A new perspective on what's achievable in a short space of time.


Who should attend this workshop?
Everyone who wants to build better products, faster. Especially:
Executives/Founders/Product Owners
Understand your users, improve your product with user-tested prototyping.
UX Designers/Marketers/Engineers
Learn a new repeatable process which will speed up your work and improve your results.
Team Leads/Managers
You can pick up skills to help train your company on how to run sprints, workshops and improve meetings.


What does the workshop include?
As part of the Design Sprint Bootcamp you'll get:
Lunch / Refreshments throughout the day
All the materials we've used in the workshop, such as our slides and exercises.
Design Sprint Bootcamp Certificate.
Helping a great cause - Our venue, Cardboard Citizens, helps homeless people through theatre.
Is it just for digital products?
Actually, no. The design sprint has been used to design everything from food to robots! We're sure you'll learn something valuable to take back into your work.
Want to buy multiple tickets?
Great! Reach out to Chris via chris@sidekickdigital.co.uk who can offer you a special volume pricing plan.
About your workshop facilitator
Sidekick Digital is a design and development agency who build digital products for their clients.
Over the last 5 years, we've been working to make it simpler and less risky for new digital products to go to market. We give companies the confidence to design, build and ship their ideas, quickly.