Description
Design Museum Mornings with

Robin Glasco,

Co-Founder and Managing Partner of Bambü Global Healthcare Advisors
Healthcare is not one-size fits all. Learn more about holistic health equity designed for underserved and vulnerable communities. Robin has extensive experience working with organizations to create and accelerate value at the intersection of strategy, innovation and venture to further their competitive position and bring change to the healthcare system.
Join us in February for Design Museum Mornings at Optum for a conversation about responsible and equitable healthcare.
Doors Open • 8:30 – 9:00am
Program & Q&A • 9:00 – 10:00am
Become a member to attend this event for free • Membership starts at just $5/month
---
The Speaker
Robin Glasco is a transformational, dynamic leader that believes the status quo in healthcare is not sustainable. That's why she is utterly obsessed with reinventing it. More importantly, she has served as a cheerleader, counselor, evangelist to encourage others to join in the cause. With over 25 years of health care experience serving in numerous senior leadership accountability in strategic planning, innovation, business development, market strategy, and product development.

Robin believes everyone has a superpower that when activated is a force multiplier to achieving anything in your sight line. As a strategist, disrupter and visionary, her superpower is fearlessness. She is a voice for those who do not have one. She runs towards the fire when others may not be ready to. She says what needs to be said even if it is unpopular. But she believes in empathy and kindness—two things the world and business needs more of.

Robin is busy. She is a mom of two, affectionately called, 'the boy' (22) and 'the girl' (23). She is a board member of Community Servings, BUILD, Boston Harbor Now, American Telehealth Association as well as an active member of Alpha Kappa Alpha Sorority. If there is football (or basketball, not so much baseball) involved, Robin is living her best life. She holds an MBA and an undergraduate degree in business administration from the University of Colorado (Go Buffs!).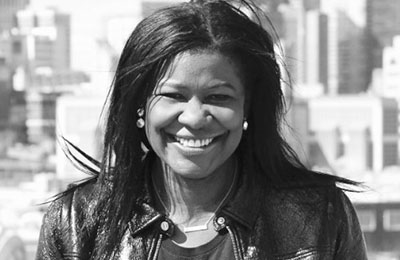 ---
About Design Museum Mornings
Design Museum Mornings is a monthly event series brought to you by Design Museum Boston. These events are meant to inspire you before your day begins and bring you closer to the Design Museum Boston community. Each event will include a short presentation by a local thought-leader, free breakfast, and great people to wake up with. These events are hosted and sponsored by various generous businesses of the Greater Boston area. If you are interested in hosting one of these events, please check out our host page here for more information.