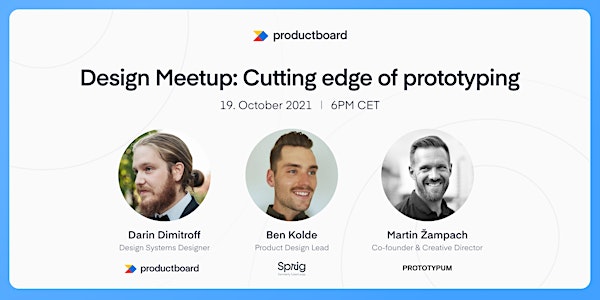 Design Meetup: Cutting edge of prototyping
Productboard Meetups are back! And they will be better than ever!
When and where
Location
Productboard 2506/3 Boudníkova 180 00 Praha 8 Czechia
About this event
During the pandemic, we moved into new offices, which have already been named Best Startup Office of the Year. We're excited to show you our new event space (in person) as we host the first Design meetup of 2021!
---
The talks will be live-streamed, and the recordings will be available online afterward — so if you can't attend in person, you can tune in or catch up later.
Here is the link for the Live stream.
---
We've put together an awesome program for you:
Talk 1: Prototyping motion throughout the design process
Speaker: Darin Dimitroff, Design Systems Designer at Productboard
Description: Motion often gets overlooked or gets thrown away at a certain stage of the handoff process. In this session, we'll showcase different patterns for prototyping motion at different phases of the design process: from low fidelity text-based prototyping, through pixel-perfect web-based prototypes all the way to engineering prototypes and design systems.
Talk 2: Prototyping For a Remote World
Speaker: Ben Kolde, Product Design Lead at Sprig
Description: Prototypes are quickly becoming one of the best ways to communicate concepts to other users But how do you leverage modern tools to deliver prototypes and gather insights in a world where everyone is distributed? In this session, we'll explore practical ways to make prototypes work for your team and how to take action on the feedback you receive.
Talk 3: Prototyping the Prototypum Facemask
Speakers: Martin Žampach, Co-founder & Creative Director at Prototypum
Description: It was frustrating for us to see the inadequate and uncomfortable equipment that doctors and nurses had to work in during the COVID-19 crisis. Respirators, masks, and shields were literally imprinted on the tired faces of medics. This situation was our main motivation to develop a device that would meet the new requirements brought about by the pandemic experience.
Schedule
6pm — Doors open
6:30pm — Introduction
6:40pm — Talk 1: Darin Dimitroff - Prototyping motion throughout the design process
7:10pm — Talk 2: Ben Kolde - Prototyping For a Remote World
7:40pm — Talk 3: Martin Žampach - Prototyping the Prototypum Facemask
8:00pm — Design quiz
8:10pm -10pm — Networking
---
Doors open at 6pm, and we'll be kicking the meetup off promptly at 6:30pm, so don't be — too late!
---
In addition to great talks and people, you can also look forward to tasty food, lemonade, prosecco and beer on tap from Dva Kohouti. You can also win some cool Productboard swag in our Design quiz!
---
We look forward to meeting so many great people together. However, safety is a priority! To attend, you'll need a negative Covid test that's no older than three days. If you have been fully vaccinated for at least 14 days, then you don't need one. And if you can prove that you've had Covid in the last 180 days, that works, too.
---
Please reserve your free ticket, so we can make sure we have enough refreshments.
We are really looking forward to seeing you.