Description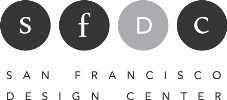 NOTE: FIRST FLOOR VIP TABLES AND LOGE TABLES ARE SOLD OUT!

In celebration of our fanciful fabric showrooms, the San Francisco Design Center has once again partnered with local drag queens to create amazing ensembles from textile manufacturers represented at the SFDC. Participating showrooms include: Cowtan & Tout, DeSousa Hughes, Brentano/Donghia, Duralee, Fabricut, Georgina Rice & Co., Hewn, Kneedler | Fauchere, Osborne & Little, Robert Allen/Beacon Hill, Shears & Window and Sloan Miyasato.
The queens' ensembles will serve up charisma, uniqueness, creativity, and talent – in luxurious and sumptuous fabrics found only at the SFDC!

The event will be a combination variety/runway show with dossiers made for each queen so that the audience and judges will know more about the queen's personality and style. From amazing drag performances to high-energy acts, Design Meets the Divas of Drag 2 will present an unforgettable drag show that will keep guests entertained and always wanting more!

Terry McLaughlin will serve as the MC; three finalists will be chosen by five notable judges, and one beautifully outfitted and talented queen will be crowned Ms.Diva of Drag darling!
Net proceeds of the event will benefit Lava Mae – mobile showers for the homeless.

VIP reception for first floor table of ten seating only begins at 5:30 PM in Kneedler | Fauchère, Galleria 170. Enjoy a glass of wine, have a photo op with our divas, and be sure to purchase a signed copy of Magnus Hastings' Why Drag?!
Meet the Judges:
Tony Bravo: Tony Bravo is a San Francisco Chronicle Style reporter and a frequent contributor to the paper's Datebook section. Bravo has written about San Francisco's drag tribes numerous times and in July 2016 published the cover story Midnight at the Oasis: SF's Young Drag Queens Challenge Convention, a multipage story and photo essay. He writes the Chronicle's relationship column, Connectivity, and is KFOG Radio's on-air social media and fashion guru. Bravo is the primary editorial stylist for the Style section and has been the New York Fashion Week correspondent since 2013. He is also an adjunct instructor at the City College of San Francisco Fashion Department and a fourth-generation San Franciscan. Twitter, Instagram and Snapchat: @TonyBravoSF
Deven Green: Deven Green is a Los Angeles-based, award-winning comedy performer originally from Canada. You know her as the satirical Betty Bowers - America's Best Christian, from the cult Welcome to My Home parodies, as an OCCmakeup spokesmodel, RuPaul's Drag Race comedy judge, World of Wonder YouTube winner, Top 10 Funniest Videos from NY Magazine, Star Magazine's fashion squad, Goliath Magazine's advice columnist and performing her live music shows in brothels across America. Visit DevenGreen.com for more!
Magnus Hastings: Magnus Hastings' new coffee-table book, Why Drag? offers readers a rare glimpse at a generation in drag. Inspired by the photographer's renowned New York art exhibition, Why Drag? began in the summer of 2014, when Hastings set out to travel through North America to shoot some of drag's brightest talents and biggest names. With his camera in tow, Hastings made his way across the country for two years, snapping hundreds of intimate portraits while posing models the question: Why drag? The book offers answers from the industry's top talent, in the form of gorgeous photos by Hastings accompanied by short stories that are marked by their humor and, oftentimes, sincerity. Queens featured in the book include Bianca Del Rio, Courtney Act, Jackie Beat, Adore Delano, Jinkx Monsoon, Lady Bunny, Detox, and Sharon Needles. The legendary Boy George writes the book's foreword. Magnus Hastings' Why Drag? is available everywhere books are sold via Chronicle Books. Magnus will be at the VIP reception to sign and sell copies of Why Drag?

Magnus Hastings' affection for his subject runs deep, and if only in his meticulous attention to detail, it shows in earnest from cover to cover. "I think a big part of Why Drag? is rooted in that little effeminate boy who was shamed out of doing what made him happy," says Hastings. "I grew up resenting that childhood version of myself until one day, I had such a wave of love for him. I realized how extraordinary and beautiful he was, how fearless. Somehow I think this honors him."
Hastings' reputation precedes him as the eminent man behind the lens when it comes to all things drag, so it only makes sense that his volume of drag portraits would push boundaries, provoke thought, and put the unapologetic on parade. Prevalent cityscapes include New York City, Los Angeles, and the artist's drag city of choice, San Francisco.
Sister Roma - The Most Photographed Nun In The World™: For nearly three decades Sister Roma has been recognized around the globe as one of the most outspoken and colorful members of the Sisters of Perpetual Indulgence. A tireless civil rights advocate, fundraiser, and volunteer, Roma has devoted more than half her life in service to her community and helping those in need. Roma's sharp wit and undeniable beauty have catapulted her to stardom on stage and screen, making her one of the most sought after emcees and pubic speakers in the LGBTQI community. Tonight, for the second year in a row, Sister Roma brings her iconic sense of style to the San Francisco Design Center where she's thrilled to be a judge - in fact, she's judging you, right now.
Paul Wiseman: Designer Paul Vincent Wiseman was born in the rich delta country of California's Sacramento Valley. His formative years in that agricultural community fostered an uncommon sensibility and grounding, but he has always marched to the beat of his own drum. By his mid‐twenties, his zest for travel had taken him all over Europe and the Far East, and he had lived for extended periods in both France and Australia.
Building on an innate appreciation for history, culture, art, and architecture, this exposure to disparate cultures and their decorative arts left a deep impression on the young Mr. Wiseman. He resolved to return to San Francisco and make his way in the design world. He founded his interior design business in 1980, never losing track of what those early experiences taught him: to be truthful to what is authentic and eschew forcing elements that simply do not fit the "story" of a property.
Nearly thirty‐seven years later, The Wiseman Group has achieved a reputation for creating luxurious interior design of world‐class quality. He and his ace team, led by design principals James Hunter, Brenda Mickel, and Mauricio Munoz, as well as CEO Kevin Peters, have received numerous prestigious awards, including Architectural Digest's 100 Best Designers list (multiple years), Veranda's Art of Design Award (2010), and the Julia Morgan Award (2014), given by the Institute for Classical Architecture & Art for excellence in classical design.