Design Intelligence Conference 2017

Saturday, April 1, 2017 from 9:30 AM to 6:00 PM (EDT)
Event Details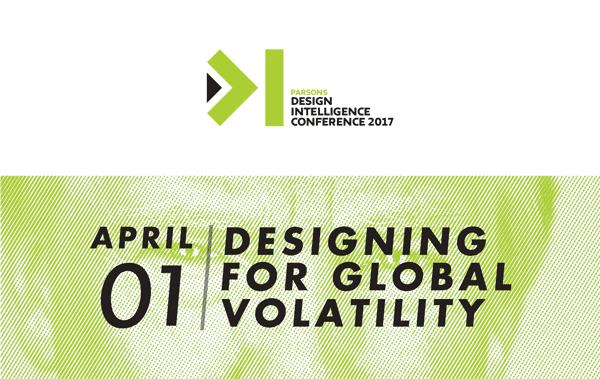 The fourth annual Design Intelligence Conference will be held on April 1, 2017 at Parsons the New School of Design. Hosted by the MS Strategic Design and Management department, the conference will feature panel discussion, keynote, skill-based workshops and networking opportunities for students, innovators and the design community.
This year's conference is inspired by the radical, political and social changes around the world, we will focus on exploring the role of designers as change agents, of how design can inform, inspire and empower.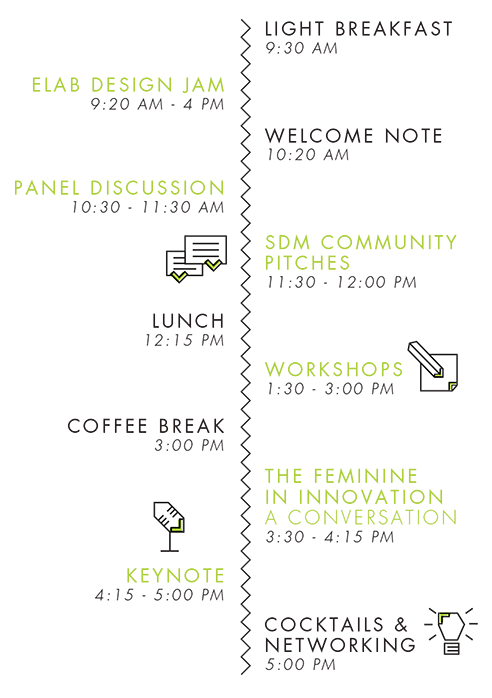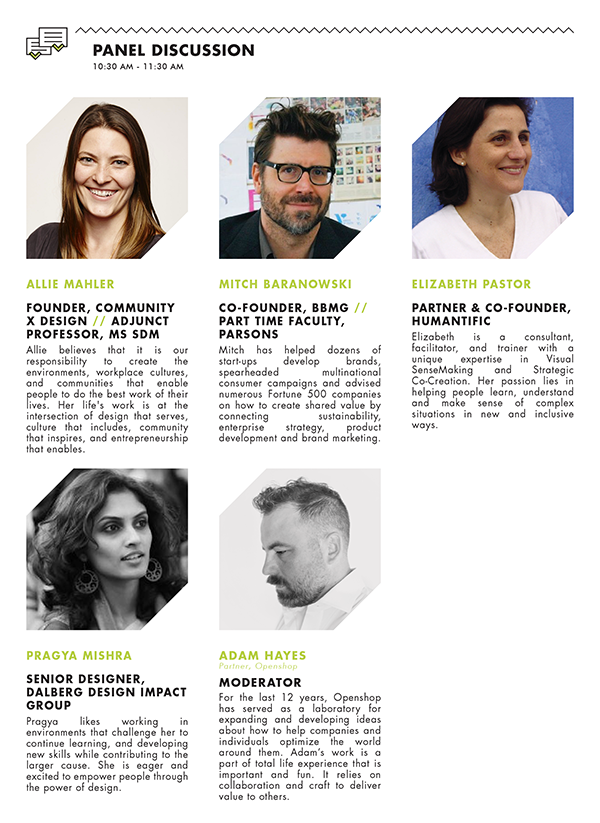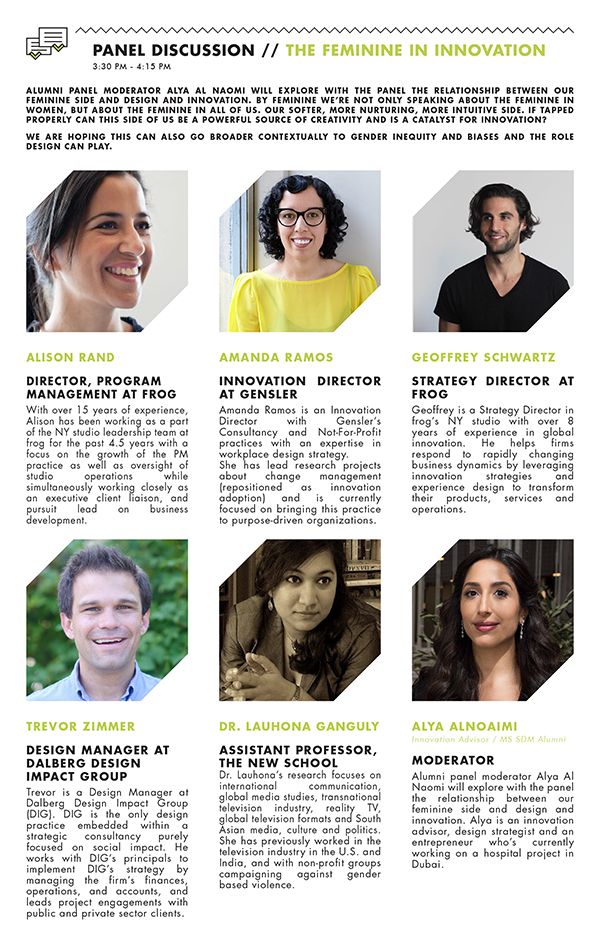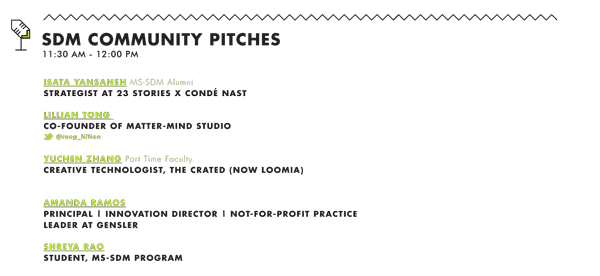 Empathy
Conducted by:
Adam Brodowski | Head of Product, Hello Alfred / Clara Bunker | Product Designer, Percolate
Description:
Our news sources have been called into question, products and services we rely on have let us down. Tech seems to be at the center of a lot of it. As designers, what can we do to be a more responsible citizen in this space? We don't know all the answers, but we know some ways to figure them out. Whether you are working on an existing challenge or creating a new service from scratch we will show you a way to gain some empathy and break down nebulous problems into bite sized pieces.
Rebuild Together: A New World by Us, for Us
 Conducted by:
 Deepthi Welaratna | Founder & CEO, Thicket Labs
Description:
Join Thicket Labs for a creative reimagining of our shared future based on individual ideas of what community means to us. Participants will be lead through a series of strategic planning exercises to connect daily individual activities to shared systems to understand how daily practice can contribute to redesigning social infrastructure that serves our needs today. Through Thicket's collaborative intelligence platform, personal goals will be set and combined with others to create a common agenda with tracking insights. Workshop participants will walk away with a replicable problem solving process and a set of actions they can take in their communities. Participants will be invited to stay connected to continue to work together.
Sustainability, The Circular Economy
 Conducted by:
 Agustina Besada | Executive Director, Sure We Can
Description:
We have a problem. We have designed an economic model in which valuable resources are being misused and have negative effects on the planet. This not only generates enormous amounts of waste, but also relies on resources that are becoming scarce. This problem, as any crisis, presents an opportunity to re-think and redesign the traditional economic model. This workshop looks into adopting the circular economy approach which is a movement that poses to replace the existing lineal take-me-and-dispose system of thinking.
Redefining Borders
Conducted by:
David Colby Reed | "Wise Owl", FOOSA

Description:
Borders keep others out, and, in so doing, they also establish a perimeter that fortifies notions of self and "us." If the erection of borders is a proclamation of identity, voluntary passage across borders implies a desire to change oneself. How can we view "citizenship" in this light? Citizenship is a legal designation, but it's also a marker of civic identity and inclusion. What types of civic capabilities does border-crossing imply? How must we rethink the artifacts, interactions, and responsibilities of citizenship to enable more porous borders?
New Value Creation
Conducted by:
 Karen Jackson | Principal, Ecotone Creative (MS SDM Alumni) // Timothy Bruns | Chief Design Officer, YouManize
Description:
In a world of increasing complexity, people facing critical issues often aren't aware of the environmental or health problems they are facing. This means that our research needs to to go beyond identifying what people think their needs are to reveal gaps in people's understanding and ways to fill them. We need to go beyond widget innovation to design services and programs that give all people the opportunity to have a higher quality of life even when they are facing problems that are invisible or unknown to them. What would life look and feel like if people were empowered to make healthy, sustainable choices? The big hairy audacious goal is to make living a healthy, more sustainable life easier than not.
In this workshop, we will present two social impact case studies. Through analysis of real survey data we will then workshop known knowns, known unknowns, unknown knowns, and the most elusive of all: unknown unknowns.
Disruption and Radicalism
Conducted by:
Nicholas Morozowich + Ann Marie Puente | Part-time Instructors, The New School
Description:
What is the role of Branding in a volatile world? What role do designers have in enabling change in nascent industries? Using the cannabis industry as a case study, Ann Marie Puente and Nicholas Morozowich will challenge the audience on their beliefs of this disruptive industry. Moreover, this workshop will explore how designers have the power (and responsibility) to deliver these products (medically necessary for many) in new and different forms. In a volatile world, designers have the power to create new form factors to break down stereotypes and enable us to be who we are and not be judged.  
Re-imagining the Social Construct
 Conducted by:
Ahmed Ansari | PhD, Carnegie Mellon University
Description:
The recent issues surrounding false news and self reinforcing bubbles on social media, the rise of conservatism, even neo-fascism, and crises of precarity like mass migrations due to the effects of climate change are all representative of social immune systems and safety nets bursting or rupturing. This workshop will explore the idea of socio-technical systems as immunological systems using the work of the philosophers Peter Sloterdijk and Byun Chul Han, and we will explore concepts from both thinkers central to thinking about technology.
Narwhal Tank
Conducted by:
LEAP Entrepreneurship Club | Student initiative, The New School

Description:
We invite the audience to interact and engage by crowdsourcing on a post-it wall: problems, organizations and formal institutions that exist today in modern cities. This will be followed up by a workshop on a simple method to analyze how the parts of a system work together in terms of cause and effect, to identify opportunities on challenging current paradigms - with a purpose. By the end, you'll get to pitch the concept of your innovative proposal to a select jury, members of our own Narwhal Tank (Shark Tank).
Introduction to UPSTREAM Challenge Framing
 Conducted by:
Elizabeth Pastor | Partner and Co-Founder of Humantific
Description:
The changing scale of challenges facing organizations and communities requires a new generation of design leaders to be masterful of a new set of framing skills. Gone are the days when we can assume that all design challenges are product, service and experience related. In the context of complex organizations and societies today no such assumptions can be pre determined up front. Drawing from years of methodology-oriented practice knowledge, Humantific will, in this short workshop introduce participants to Real-Time Upstream Framing. Today these are among the most powerful skills in the strategic designer's toolbox, useful on the fuzzy front end of any innovation project in any industry. Unlike traditional downstream, discipline-specific design thinking framing, upstream framers learn how to step outside his/her discipline to undertake the co-created framing. It takes skill and considerable practice to be able to do this in real-time in meetings. This 1.5 hour workshop is an introduction to those upstream skills.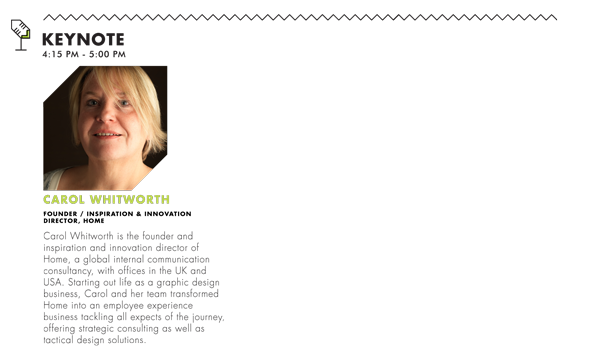 ---
Subscribe to our events newsletters.
Founded in 1919, The New School was born out of principles of academic freedom, tolerance, and experimentation. Committed to social engagement, The New School today remains in the vanguard of innovation in higher education, with more than 10,000 undergraduate and graduate students challenging the status quo in design and the social sciences, liberal arts, management, the arts, and media. The New School welcomes thousands of adult learners annually for continuing education courses and lectures, screenings, readings, and concerts. Through its online learning portals, research institutes, and international partnerships, The New School maintains a global presence. Learn more at www.newschool.edu.
When & Where

The New School University Centre
63, 5th Ave
New York, NY 10003


Saturday, April 1, 2017 from 9:30 AM to 6:00 PM (EDT)
Add to my calendar
Organizer
The New School
The New School is a major, degree-granting university where design and social research drive approaches to studying issues of our time. United by the core values of academic freedom, tolerance and experimentation, The New School prepares its more than 10,500 students to understand, contribute to, and succeed in a rapidly changing society, and thus make the world a better and more just place.
Click here for a full list of public programs at the New School.
Design Intelligence Conference 2017