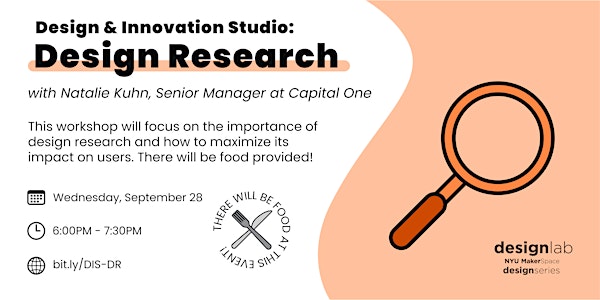 Design & Innovation Studio: Design Research
This workshop will focus on the importance of design research and how to maximize its impact on users. FREE FOOD
When and where
Location
Design Lab, MakerSpace 6 MetroTech Center Brooklyn, NY 11201
About this event
*This event is open to NYU Students, Staff, and Faculty only. There will be food!
How confident are you that the concepts and strategies are you coming up with will make a measurable impact on the problems you are trying to solve? Are you sure you are even focused on the right problem? Without meaningfully studying the space you want to change, developing a shared understanding with partners or teammates, and targeting the most powerful levers for change you run the risk of going down a costly path riddled with wasted effort. Once you feel confident you are headed in the right direction, how do you make sure you prioritize the right ideas that drive toward the intended outcome? There are best practices and methods that can help.
In this session Natalie Kuhn, Director of Design at Capital One will explain the importance of research as a foundation for any work you're doing and how to use it to maximize impact. She will walk the room through activities to make sense of learnings through mapping, identify where to focus ideation, and how to prioritize which concepts to pursue given desirability, viability and feasibility. All of the methods and insight she shares will help you strengthen your skills for any career you take on – whether you go into a more strategic role or choose to focus on your craft within any discipline. Regardless of where you end up, you will always face problems that will need to be researched, broken down, and solved in a systematic way. There will be free food provided.
Agenda
Intro: Planning, Conducting, and Making Sense of Research
Methods Overview: Exploratory, Generative, and Evaluative
Research Practice: Mock Interviews, Debriefing
Synthesis Practice: Using Mapping to Understand, Prioritize
Outro: What Would You Do Next?
Wrap Up Discussion, Questions
The Design & Innovation Studio is a series of interactive workshops that guide participants through each stage of the Design Thinking process. The workshops are led by invited guests who are experts in their field. Participants will have a chance to get hands on experience through collaborative exercises, learn about our guests professional journeys, and ask questions.
More about Natalie Kuhn
Natalie Kuhn is a Director of Design within Capital One's Machine Learning practice. Prior to her current role, she led various teams within the Commercial Bank across Treasury Management, OneExperience, B2B Payments, TM Operations, and Credit teams as well as worked within Enterprise Services Risk. Natalie regularly teaches design education courses as well as coaches teams through research, synthesis, strategy, creative concepting, prototyping and product testing. Before Capital One, Natalie worked as a Service Design consultant at FJORD and has spent her career as a designer working with startups, agencies, and service providers to strategically improve their offerings. Natalie is also a Service Design Network (SDN) accredited Service Design Master and co-founder of the SDN New York Chapter–they host regular events open to anyone.
*This workshop is open to all current NYU student, staff, and faculty and will take place in-person at the NYU MakerSpace located in the Tandon School of Engineering on the downtown Brooklyn campus.*