Description
Join us as design expert and author Tracy Osborn teaches us how to become better at design.
Designing user interfaces, websites, and slide decks can feel super intimidating if your background isn't in design. This talk will highlight the best ways to improve your design and UX skills — featuring a bit of theory, lots of short-cuts, and no designer-y jargon. Starting with an initial real-world design example, Tracy will teach us important design principles as we apply them to iteratively make the design better.
Join us for dinner, a great talk, and inspiring conversations.
About Tracy Osborn
Tracy Osborn is a designer, developer, and entreprenerd living in Toronto, Canada. She's the author of Hello Web Books, as well as the creator of WeddingLovely. She's also an avid outdoorswoman and would love to go on a hike with you.
Tracy's Twitter handle is @limedaring.
Raffle Prizes
After Tracy's talk, we will raffle off several copies of her book Hello Web Design: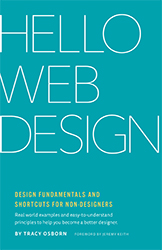 Our sponsors Pendo and Amplitude will also raffle off prizes.
Schedule
6:00 to 6:30: Check-in and networking over dinner
6:30 to 8:00: Tracy's talk plus Q&A
8:00 to 8:30: Prize raffle followed by networking
Note: tickets are non-refundable.
About our Sponsors

Our sponsor UserTesting makes it easy to obtain user feedback on your product so you can improve your customer experience. Learn more at usertesting.com.

Our sponsor Pendo helps product teams deliver software users love. Pendo captures product usage patterns and user feedback, and lets you communicate in-app to onboard, educate and guide users to value. Learn more at www.pendo.io.

Our sponsor Amplitude provides product analytics to help you build better products. Learn more at amplitude.com.

Our sponsor Balsamiq is the easiest way to wireframe your product ideas. Learn more at balsamiq.com.

A big thank you to Intuit for providing the space for our event!

Our sponsor Coreography provides corporate video and webinar solutions. Learn more at coreography.com.