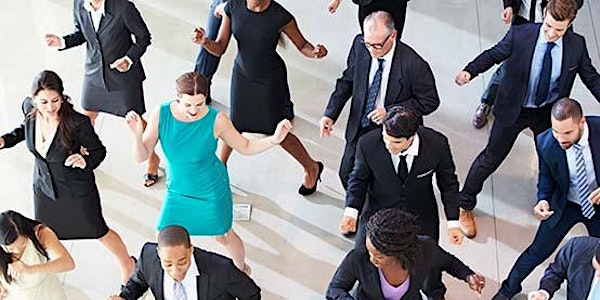 Design for Dance conference 2016 - #DanceTech
When and where
Location
ODC Theater 3153 17th Street San Francisco, CA 94110
Refund Policy
Contact the organizer to request a refund.
Description
Design for Dance 2016 - Dance in Tech
Proudly co-presented by ODC Theater
Welcome to the 4th annual Design for Dance conference. Founded in 2013 by BJ Fogg, PhD at Stanford University, Design for Dance is an annual conference with a mission to catalyze innovation through the idiom of dance. Over the last four years we have studied how to improve health, education, and work through dance.
Agenda
In 2016 we are examing Dance in Technology and how technology has impacted the art and practice of dance, how dance interfaces with augented and virtual reality, and how technology can enable more people to learn and practice.
Our Presenters include:
Priya Sheth, Design Manager at Fitbit

Chris McCarthy, Co-founder Kaiser Innovation Consultancy

Robin Zander, Director of Design for Dance

Kendra Shimmell, Managing Director at Cooper Design

John Michael Schert, Artist in Residence Chicago Booth

Sydney Skybetter, dancer and technologist at Brown University

Darlene Edgley, CEO of Instant Recess

Anna Botelho, founder of Google Dance

Jenny Sauer-Klein, founder of Play on Purpose
Day 2: Rapid Prototyping Workshop
Day 2 of the conference will culminate in a 4-hour rapid prototyping workshop. The conference is full of professionals teaching design, design thinking, and how to quickly iterate on an idea. In this final workshop, attendees will work within small groups to apply these principles to themes discovered at the conference. This workshop is an additional opportunity to generate ideas and solutions with fellow attendees and begin projects that often continue beyond the duration of the conference itself.
Add-On Workshop: Play on Purpose
7-9pm
This add-on workship is a special evening program to get to know fellow attendees and celebrate the Design for Dance community. Also open to the public if you want to invite friends. This event is not included in conference tuition, you must register separately. Space is limited. Register above.
Join us for an engaging out-of-the-box experience that induces a flow state ideal for innovation, and transforms strangers into community. Using embodied play as a metaphor, you will learn skills to help you thrive in the unknown, feel safe to explore new ideas, and make the collaborative process faster, easier and definitely more fun. In this highly experiential workshop, participants will find new levels of connection and creativity, stimulating insights that can be applied directly to improving collaborative relationships.
Scholarship
We have a limited number of scholarships availabe, especially for current students and professional dancers. If interested please contact us at the email address listed below.



Contact


Questions? Please email event director Robin Zander at robin@robinpzander.com for more information.
To register scroll to the top of this page and click Order Now!