Design + Entrepreneurship Workshop Planning Session

Saturday, July 9, 2011 from 12:00 PM to 4:00 PM (MDT)
Event Details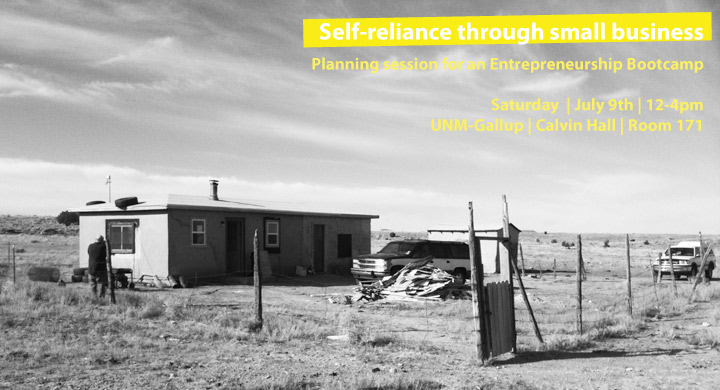 According to the Small Business Administration Office of Advocacy, America's small businesses – some 25 million strong – are the strength of the US economy. They create between 60 and 80 percent of the net new jobs and are 13 to 14 times more innovative per employee as large firms are. 96.2% of employer firms in New Mexico and 97.4% in Arizona are small businesses.  
The Navajo Nation, like many tribal lands, is struggling economically despite possessing resource-rich land, the largest tribal landmass in the US, and a viable workforce within its population of 180,500 (median age: 24). The unemployment rate is listed at 42%, although 2010 reports vary between 40-60%. The population lacks the resources and experience necessary to develop and sustain small businesses.  However, with increased support and training from a variety of institutions, the Navajo Nation can make steady improvements that will enable the prosperity of small business. 
---
Join us on Saturday, July 9th at UNM-Gallup for a four-hour session devoted to the planning of a 2012 Entrepreneurship Bootcamp for Navajo peoples interested in small business startup. 
Our objective:  empower students and entrepreneurs with the skills and tools they need to identify, analyze, and solve pressing needs in their communities through business creation.
---
Let's change how Navajo communities deal with their most pressing needs by instilling and supporting an entrepreneurial mindset in our future community leaders by training them on how to turn their biggest social challenges into opportunities for sustainable innovation and an improved quality of life.
This can be achieved through hands-on curriculum that prepares students for the real-life challenges and common barriers facing the implementation of new, dynamic solutions. The workshop will introduce necessary skills to help students generate ideas with the objective of enabling them to create novel solutions to pressing needs.
What do I need to bring?  Nothing. Just your ideas and experience.
Will there be food?  Yes!
How can I help?  Here's some participants we still need at the event:
+ Native students who've recently completed a course in entrepreneurship
+ small business owners (business is based on the Navajo Nation)
+ small business owners (business is run out of their home on the Navajo Nation)
+ individuals who want to contribute to the shaping of this idea.
Questions?  Email heather@catapultdesign.org
When & Where

UNM-Gallup
Calvin Hall, Room 171
Gallup, NM


Saturday, July 9, 2011 from 12:00 PM to 4:00 PM (MDT)
Add to my calendar
Organizer
Catapult Design
The majority of our world's population lacks access to life's basic needs.  We develop and implement human-centered products to help them thrive.
Design + Entrepreneurship Workshop Planning Session