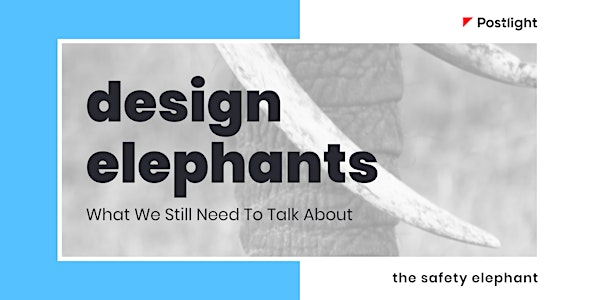 Design Elephants: What We Still Need To Talk About | Safety
A series hosted by the Postlight Design Team to facilitate discussion and inspire positive change in important areas of the design industry.
About this event
As digital designers, we are constantly striving to stay ahead of an ever-changing industry. However, there still exist pockets where we have not gained as much ground as we should have due to a lack of discourse or willful ignorance. Design Elephants is a series of events hosted by the Postlight Design team, where we identify some of these problematic areas from which we, as a discipline, still shy away and seek to facilitate discussion around them.
After a year-long hiatus due to COVID-19, we're back with an online-only version of the series. Our second event is centered around another often forgotten topic in digital products: safety.
"How will our products harm people?"
As tech workers, we don't often ask this question—but we should. Too often, we design for an ideal circumstance that doesn't account for the complicated personal dynamics our users bring to the table, including dangerous lived realities such as domestic violence. And when we fail to design for our most at-risk users, we end up unintentionally prioritizing their abusers.
To lead us in digesting this topic, Postlight is excited to host Eva PenzeyMoog, the author of the newly released A Book Apart volume Design for Safety. Eva will show how every day tech can easily be weaponized for abuse, and how to prevent and mitigate that harm through a specific design strategy of prioritizing our most vulnerable users.
There are no silver bullets when it comes to designing for safety, but knowing and understanding of some of our most common blind spots as designers helps. We'll cover the domestic violence threat model as well as specific areas of concern, including trouble with shared accounts, Internet-connected harm, location data, and surveillance. We'll also discuss what designers can learn about authentic consent from the anti-sexual assault space. Finally, the audience will walk away with a high-level overview of implementing a practice of designing for safety into their everyday work.
Attendance is limited and RSVP is required.
Automated closed-captions will be available.
--
Eva PenzeyMoog is a principal designer at 8th Light and the author of Design for Safety. Before joining the tech field she worked in the non-profit space and volunteered as a domestic violence educator and rape crisis counselor. At 8th Light she specializes in user experience design as well as education and consulting in the realm of digital safety design. Her work brings together her expertise in domestic violence and technology, helping technologists understand how their creations facilitate interpersonal harm and how to prevent it through intentionally prioritizing the most vulnerable users.