About this Event
What's the point of design? What's the point of anything?
As people we derive purpose from impact - impact on our bottom line (revenue, especially as a business) and impact on our hearts (fulfilling our goals).
This evening, Meaningful Gigs has teamed up with Flatiron School and WeWork Labs to bring Dennis Turbeville and Vidhika Bansal together for a fireside chat where they'll share stories about creating and measuring impact from their work in branding and user experience design.
Through stories from the field, they'll uncover how they've determined quantitative and qualitative measures for impact, impressive outcomes, and lessons learned, so you can apply them to your design and your business.
As a business, you'll understand how design can help your company grow and what to look for in quality designers.
As a designer, you'll understand how to attract clients with these measurable outcomes and create a lasting impact with your work.
Meet The Experts:
Dennis Turbeville will share stories of how a rebrand directly increased a Colorado Botanical brand's revenue 3x and attracted the attention of national retailers.
Dennis is a multi-disciplinary Creative Director specializing in branding and interactive and user experience design. He began his career working in advertising for major brands such as American Eagle Outfitters, Dell Computer Corp., and Pert Plus. After years at the service of major brands, Dennis transitioned to helping up-and-coming brands tell their stories and enter new markets. He's passionate about leading teams and using relationships to find the most effective and innovative solutions to each clients' business goals.
Vidhika Bansal will share stories of boosting product revenue through user research and design.
Vidhika is a strategist and experience designer who firmly believes that all design is about people first, and technology second. Over the last decade, she has helped shape human-centered product and service offerings for a diverse range of organizations, including Gap Inc., 23andMe, Hilton Worldwide, C-SPAN, the Consumer Financial Protection Bureau, and Facebook. Now, she aligns cross-functional teams in-house to build B2B and B2C solutions that meet both business goals and people's real, often unarticulated needs.
Schedule:
6:00-6:30 - Open Networking
Come meet and mingle with the design experts and audience while enjoying snacks and drinks while they last.
6:30-7:30 - Fireside Chat with Dennis and Vidhika
They'll share stories of creating impact from the branding and user experience perspective.
7:30-8:00 - Meet the Experts -
Take time to meet the experts individually, ask questions, and see their work up close.
Space is limited, so RSVP soon!


Flatiron School trains people to launch careers in software engineering, data science, and UX/UI design. Over 15-24 weeks, students gain the marketable and practical skills required to work in the field. Then they work with Flatiron's career services team to land a job that they love. Flatiron is completely outcomes-focussed, and publishes audited outcomes data for all students. They have a 97% job placement rate and a money back guarantee - this is modern education!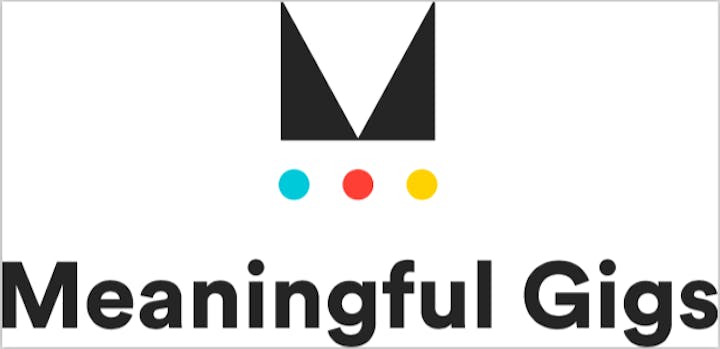 Meaningful Gigs is a software tech company that matches top impact-driven freelance talent with gigs that are truly meaningful to them. We believe in a world where every person finds meaning in their work and has the chance to make an impact on a global scale.