Description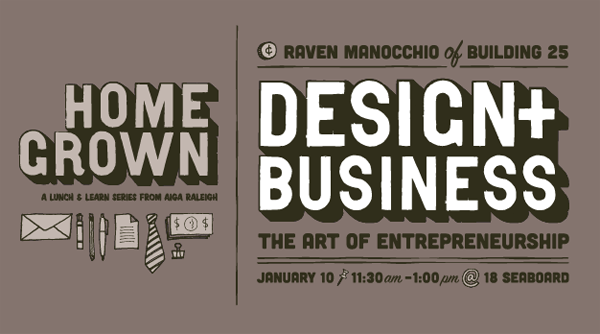 Join Raven Manocchio, founder of the award-winning design firms BLDG25 and Stop Studios as he leads a lively discussion about the joys, drudgery, and pitfalls of building design-based businesses including:
Why he thinks every designer is an entrepreneur

Seriously, another T-shirt business?

Why failure is a must

Do you really want to hold other people's lives in your hands

Stop thinking. Just start.

The coming design Gold-Rush
Following an uncoventional path and with a self-taught design education, Raven has directed work for Fortune 100 companies to start-ups and been awarded by the American Graphic Design Awards, American Advertising Federation, International Academy of Visual Arts and been featured in publications including GDUSA. Outside of the office, he currently serves as Chair of CAMRaleigh's Advisory Board, is a member of AIGA, and currently holds the rank of Shodan awarded by Master Oshima of Shotokan Karate of America.
Comment on our blog. Connect with Raven on Twitter @ravenmanocchio. Let us know what you'd like to learn.
Join us January 10, 2013. Seating is limited, so REGISTER soon.
New Year, New Venue!
Lunch menu (subject to change)
Tanglewood Farms chicken salad with Perry Lowe Orchard apples, turnips, walnuts, and a bleu cheese vinaigrette
Moore Brothers' beef brisket and asparagus salad with pears, sweet potatoes, bacon, and bleu cheese dressing
Grilled meatloaf with goat cheese smashed red potatoes, spinach, and house-made Worcestershire Wood
Fire grilled Portobello mushroom with braised lentils, butternut squash, and roasted fennel
Shrimp and grits with spinach and champagne tarragon butter
---
Homegrown, a Lunch & Learn series from AIGA Raleigh

Things change fast in our industry, and it's important for us to grow our non-traditional design skills. This monthly lunch series brings local, "homegrown" experts together with designers for an intimate, indepth discussion of different skills or topics that will help designers add a few skills to their toolbox. Homegrown is your opportunity to have lunch with the smartest people in town.