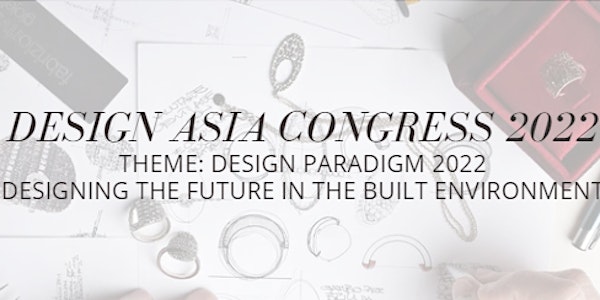 Design Asia Congress 2022
Come join us at Design Asia Congress 2022 happening on 18th Nov 2022, 9am-5.30pm to dive into Design Paradigm!
When and where
Location
Marina Bay Sands Expo & Convention Centre 10 Bayfront Avenue Singapore, 018956 Singapore
About this event
Architecture and design play an important part in the building industry, creating the form and structure of the place we live and work in. In fact, design thinking begins at the heart of everything, ranging from architecture design and landscaping to interior, lighting and building materials, down to furniture and bespoke products – the entire built environment.
Themed "Design Paradigm 2022", co-organisers, CEMS, Design Business Chamber Singapore and the Society of Interior Designers Singapore are joining hands to envision the future built environment by integrating architecture and landscaping; curating interior design, lighting and material design; all the way to furniture and bespoke products.
For more information about the conference, do visit our website at
https://architecturebuildingservices.com.sg/conferences/
If you are keen on business matchmaking programme or attending the Architecture & Building Services (ABS) 2022 event, register yourself by clicking the link below:
Plenary #1: Furniture and Product Design
Keynote Presentation by
Low Cheaw Hwei, Head of Design for Philips ASEAN Pacific and Head of Philips Design Consultancy for Asia
Yong Jie Yu, Principal Designer and Founder, STUCK
Dr Clement Zheng, Design Lead, Interactive Materials Lab and Keio-NUS CUTE Center
Panel Discussion / Q&A Session
Moderator: Errik Wong
Panellists: Low Cheaw Hwei; Yong Jieyu; Dr Clement Zheng

Plenary #2 : Interior Design, Lighting & Material Design
Keynote presentation by
Pan Yi Cheng, Principal Architect and Co-Founder, Type0 Architecture
Toh Yah Li, Principal, Light Collab
Panel Discussion / Q&A session
Moderator: Fann Zhi Jie
Panellists: Pan Yicheng; Toh Yah Li; Cris Cheng

Plenary #3: Architecture & Landscaping
Keynote presentation by
Prof Tai Lee Siang, Head of Pillar of Architecture and Sustainable Design, Programme Director of Design and Artificial Intelligence, SUTD
Damian Tang, Chief Sustainability Officer and Managing Director, Uniseal Creative Solutions
Lim Ee Tiong, RIBA Singapore Chapter Chairman
Panel Discussion / Q&A session
Moderator: Fann Zhi Jie
Panellists: Prof Tai Lee Siang; Damian Tang; Lim Ee Tiong