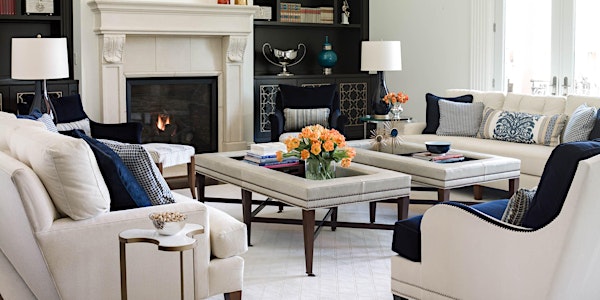 Design and Dessert with Paula Grace Designs
Location
Belmont Country Club and Golf Course
19661 Belmont Manor Lane
Main Ballroom
Ashburn, VA 20147
United States
Description
Did you ever walk into someone's home and just say 'wow' and wonder how they did it? Do you like beautiful things but are just not sure how to pull them together? Do you want to freshen up your living space but don't know where to start? Begin the New Year understanding how you can create the home you've always wanted.
Enjoy a night out and join Paula Grace in the enlightening and informative seminar – Design and Dessert. We'll savor desserts while discussing the guiding factors in quality Interior Design known as the Principles and Elements of Design. The *Principles are the ideology that evaluate each element in a design, (magnificent vs. mediocre – right vs. wrong) and will help you make beautiful selections and arrangements for your home. The *Elements are used by artisans of all types including painters, sculptors, photographers, and interior designers. They have been discovered and refined over the course of history and are considered elementary and critical to shape the way we experience each selection and the design as a whole. Understanding the Principles and Elements of Design will give you the confidence you need to create a beautiful, functional home that your family and friends will enjoy for years to come.
About Paula Grace
Paula Grace is the President and Principal Designer of Paula Grace Designs, Inc. - the premier interior design firm in Loudoun and Fairfax Counties. Paula is an award winning designer whose interior and furniture designs have been published regionally, nationally, and internationally. She recently received the award Best of 2018 Ashburn – Interior Designer. She has been included in Home and Design Magazine's 100 Top Designers every year since 2011.
"How my family feels at home and how my guests feel when they're in my home has always been important to me. My clients and I have that in common." – Paula Grace