Description
12th Symposium on Design and Construction Issues at Hazardous Waste Sites
The applications of engineering and science associated with cleaning up hazardous waste sites continue to evolve rapidly. Our goal is to facilitate an interactive engagement between professionals from government and the private sector related to relevant and topical issues affecting our field. We will make every effort to mirror all aspects of past symposiums in terms of format and spirit. We are engaging with past organizers and participants to promote this, and have retained John J. Smith the past chair of the planning committee to assist the Post. As a SAME event, registration fees will be covered by private sector sponsorships and registration fees. The registration fee is being waived for government employees.
DCHWS seeks Young Member Participation for 2019!
Participant demographics from recent symposiums demonstrate that attendees and speakers are senior engineers and scientists with many years of experience and significant technical sophistication in the area of hazardous waste site remediation.
While our field continues to evolve and many senior engineers and scientists approach retirement, a need for information transfer to younger professionals in the field is critical. Recognizing the pending change in the workforce, we would like to encourage participation and support professional development of less experienced professionals. For non-Government employees, we are offering a special SAME Young Member discounted rate of $200 for those age 39 and under (as defined by SAME). This additional participation will benefit attendees by bringing new and fresh ideas in a rapidly evolving industry of engineering and science associated with cleaning up hazardous waste sites.
We plan to open and structure our evening session on Project Management with a focus on educating younger professionals in this area. Although focused on younger, more junior professionals, we believe this session will be informative and of benefit to everyone. We urge you to encourage participation from your newer and less experienced staff and welcome them to this program and to SAME. We continue to welcome your feedback and look forward to seeing you and your new colleagues at our event!
Event Registration Fees
Registration is now open. Conference fees will be covered by private sector sponsorship and registration fees. The registration fee is being waived for government employees. Registration fees are as follows:
Private Sector - $250
Young Member - $200
Military/Government - Free*
*Military/Government attendees need to be approved through their chain of command.
Sponsorship
Sponsorships are now available. Sponsorships ($1,000 or $750 small business) do not include a registration ticket. Purchase of an exhibit space ($1,200 full conference), includes one registration ticket.

Important Dates
November 30, 2018 – Abstract submission deadline
March 15, 2019 – Presentations due
April 8, 2019- Conference starts
Abstract Submission
Abstract Submission is now open
Project Management Approaches/Lessons Learned
Innovative remedial design and remedial action project delivery models (structure, contract mechanisms, etc.) to achieve efficiencies.
Formal Adaptive Management approaches and lessons learned including planning during the feasibility study; remedial design and remedial action execution; and development of structured remedy completion strategies
Remedial Design/Remedial Action project risk management (with a focus on RA cost and schedule risk drivers)
Other unique project management approaches and experiences (e.g., use of trusts)
Technology
Experiences employing a combination of technologies to address source and groundwater contamination (focus on full-scale applications)
Challenges or application of technologies used to conduct characterization or remediation activities in highly populated areas or areas with access challenges/considerations (vapor intrusion, groundwater, and residential/high access areas).
Role of the conceptual site model in making project management decisions with a focus on design investigation needs, interpretation of design investigation results and strategies for modifying the remedial (e.g., RD/RA) approach.
Miscellaneous Experiences with Hazardous Waste Cleanups
Sustainability considerations, approaches, and results.
Redevelopment consideration and approaches during remedial design and remedial action
Project delivery considerations and lessons learned when dealing with tribal resources
Hotel Reservation Block at 201 Philadelphia
Philadelphia 201 Reservations
215-448-2000
Group Code ID08AA
Room Rate: $202.00
Link to hotel block coming November.
Starwood and Marriott points will be accepted.
Sponsors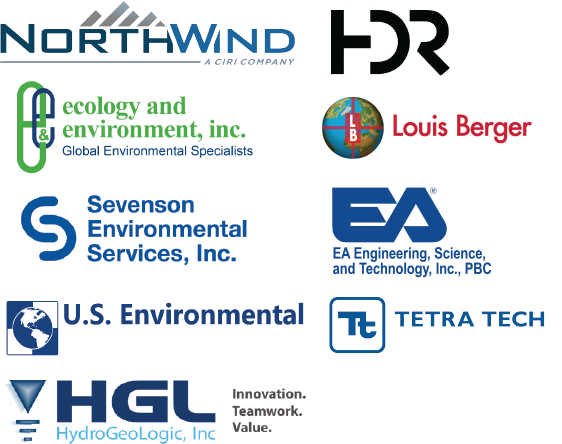 Exhibitors
OBG

TRS Group

Sevenson

US Environmental

Heritage Environmental

EA Engineering, Science, and Technology

CDM Smith

Louis Berger

Arcadis

Test

A

merica

GZA

Northwind Group

Terra Systems

Tetra Tech

Ecology and Environment

US Ecology

HDR

HGL

Terra Stryke
Steering Committee Members
Jeanne Litwin, CDM Smith
Jim Romig, CDM Smith
Lyle Trumbull, OBG
Gordon Araujo
Mike Badeau, Stell Environmental
Amy Basehoar, KOMAN Holdings, LLC
Jaimie Wright, KOMAN Holdings, LLC
Karen Buniak, TTI Environmental
Dan Amate, GZA
John J. Smith, J. J. Smith Environmental Consulting, LLC
Rad Delaney, Prime AE
Kate Garufi