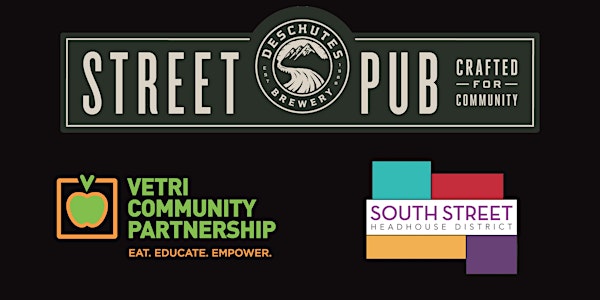 Deschutes Street Pub 2016
When and where
Location
South Street Headhouse District 2nd & Lombard Street Philadelphia, PA 19147
Description
Vetri Community Partnership and South Street Headhouse are thrilled to partner with Deschutes Brewery to host Street Pub, an outdoor pub, festival, and Philadelphia's biggest Beer Week event. With 60 taps, a photo booth, fun activities, culinary demonstrations, local bands, and all of the proceeds going local nonprofits, Street Pub is fun for a good cause. Only in town for one day, this video - https://vimeo.com/149310074 - showcases what this event is all about.
Calling all volunteers - we need your help! There are many opportunities to get involved in this event and we hope you'll join us in our efforts to meet our fundraising goal of $60,000. If you are interested in a position that requires RAMP (Responsible Alcohol Management Program) certification and do not have an updated certification (within the last two years), Vetri Community Partnership will host RAMP certification classes or provide a prepaid online class for you to take at your convenience.
We hope you'll join us on June 11th as a volunteer or visit us for a few beers for a good cause.
#StreetPub