Event Information
Refund Policy
Contact the organizer to request a refund.
Eventbrite's fee is nonrefundable.
Integra metodologías avanzadas de venta con modelos de pensamiento y cambio sistémico para desarrollar capacidades y mejorar tu desempeño
About this Event
El fundamento de este taller es el aprendizaje en la acción. Las ventas son una capacidad que se desarrolla en la práctica, en escenarios reales en los que estamos expuestos a la reacción de clientes actuales y potenciales.
En este espacio de reflexión en la acción integraremos herramientas, enfoques y métodos en las sesiones. Los participantes pondrán en práctica en sus empresas, emprendimientos y vida profesional estos conocimientos para después reflexionar y aprender colectivamente en las siguientes sesiones.
Con un enfoque sistémico abordaremos las diferentes dimensiones de las ventas, desde el producto/servicio, propuesta de valor, generación de oportunidades, diagnóstico y conversión de oportunidades, así como el proceso de retención y de manejo de cuentas clave. A través de este enfoque integral el participante saldrá con herramientas nuevas y una consciencia mas amplia de como transformar sus resultados comerciales.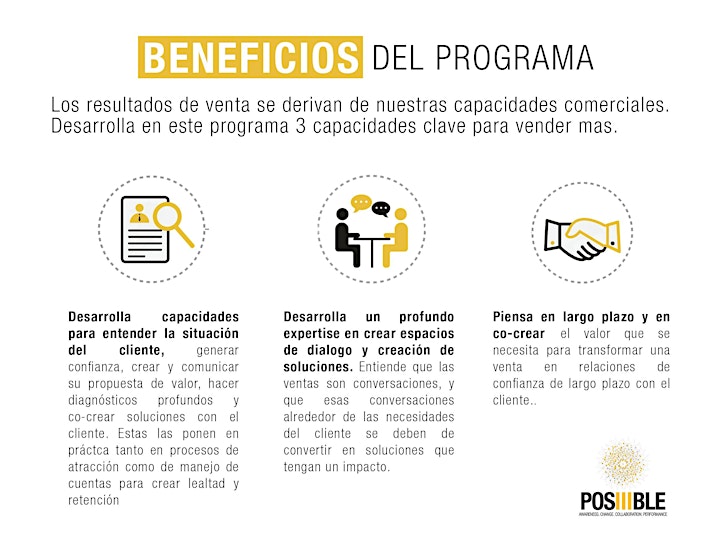 Durante estas 8 sesiones transitaremos por 4 etapas
Estrategia y rumbo comercial. Pescar donde hay peces (clientes potenciales) con el anzuelo correcto (propuesta de valor)
Generar oportunidades con mejores clientes
Convertir mas oportunidades
Manejo de cuentas, desarrollando relaciones de valor a largo plazo.
Sin importar el área en que nos desempeñemos y la industria en donde estemos, mejorar la capacidad de vender es clave para asegurar el bienestar de la organización. Este entrenamiento es para emprendedores, vendedores, gerentes o directores de venta. Personas que se enfrenten a la entrega de un resultado y que sin importar el nivel de expertise en el que sientan que se encuentran, puedan vender mas.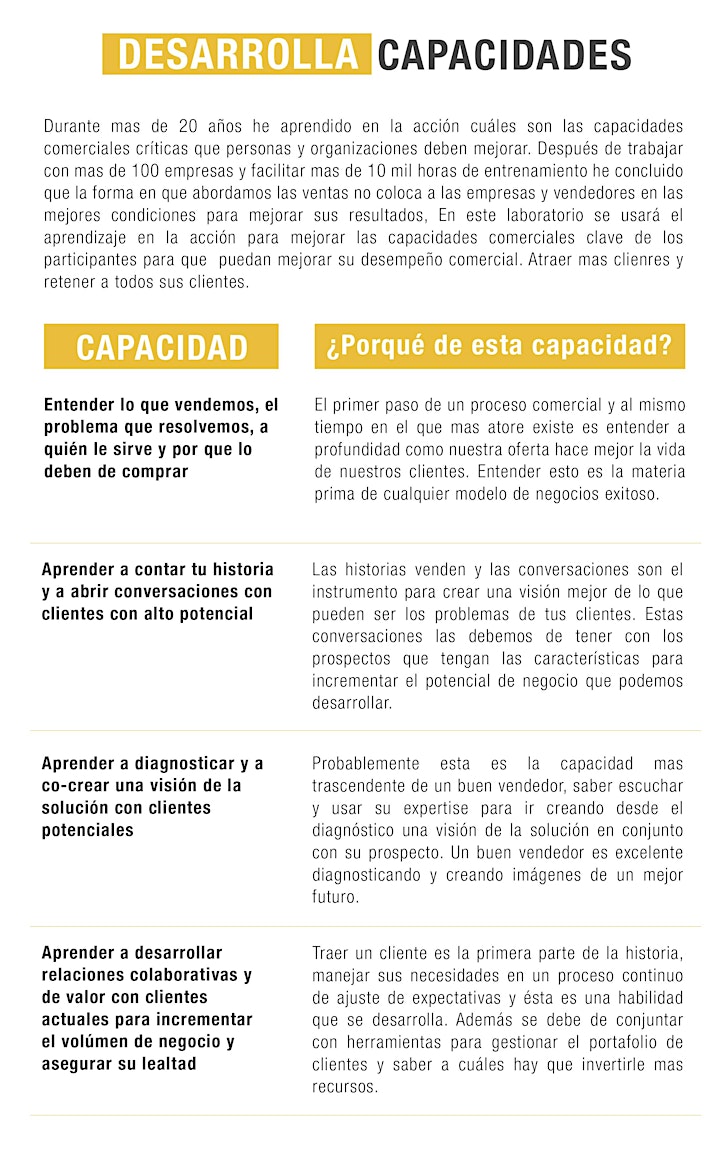 Date and Time
Location
Refund Policy
Contact the organizer to request a refund.
Eventbrite's fee is nonrefundable.