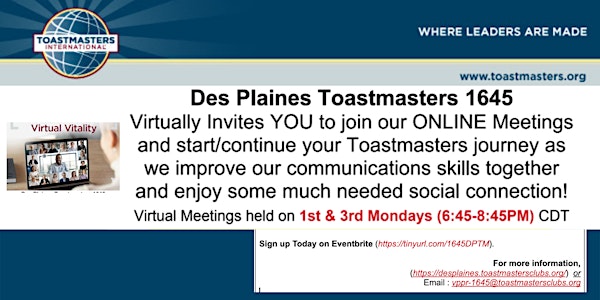 Des Plaines 1645 Toastmasters Meet ONLINE (Leadership & Communications)
Des Plaines Toastmasters 1645 Invites YOU to enjoy our 'Virtual Vitality' at our 1st & 3rd Monday Online Zoom meetings
About this event
Toastmasters training will help to "BUILD A BETTER YOU!"
To act/sound more confident, look less nervous, speaking to a group.
To appear organized hosting a meeting, or making a Toast at a wedding?
To become 'more promotable' with better speaking & leadership skills.
To act/sound more confident speaking in English to clients (if English is your second language).
Join one of our Online Zoom Toastmasters meetings to watch and learn how the mutually supportive, transformative power of Toastmasters helped our members become self-confident, dynamic communicators & leaders we were meant to be.
UPCOMING THEME meetings: None.
Visit desplaines.toastmastersclubs.org to read about our club, the 'Pathways learning experience' and other upcoming events and meetings.
Email vpm-1645@toastmastersclubs.org or vppr-1645@toastmastersclubs.org to learn more about our Virtual meetings.