| | |
| --- | --- |
| DERRICK KNIGHT AMONG THE STARS | |
Event Details
DERRICK KNIGHT AMONG THE STARS
Pop artist Derrick Knight lands among the rock stars and illuminates the world famous stage at the HARD ROCK CAFE in Hollywood, California! The new headlining residency show will be set on the Walk of Fame and bring the energy of iconic rock stars complete with a full live band.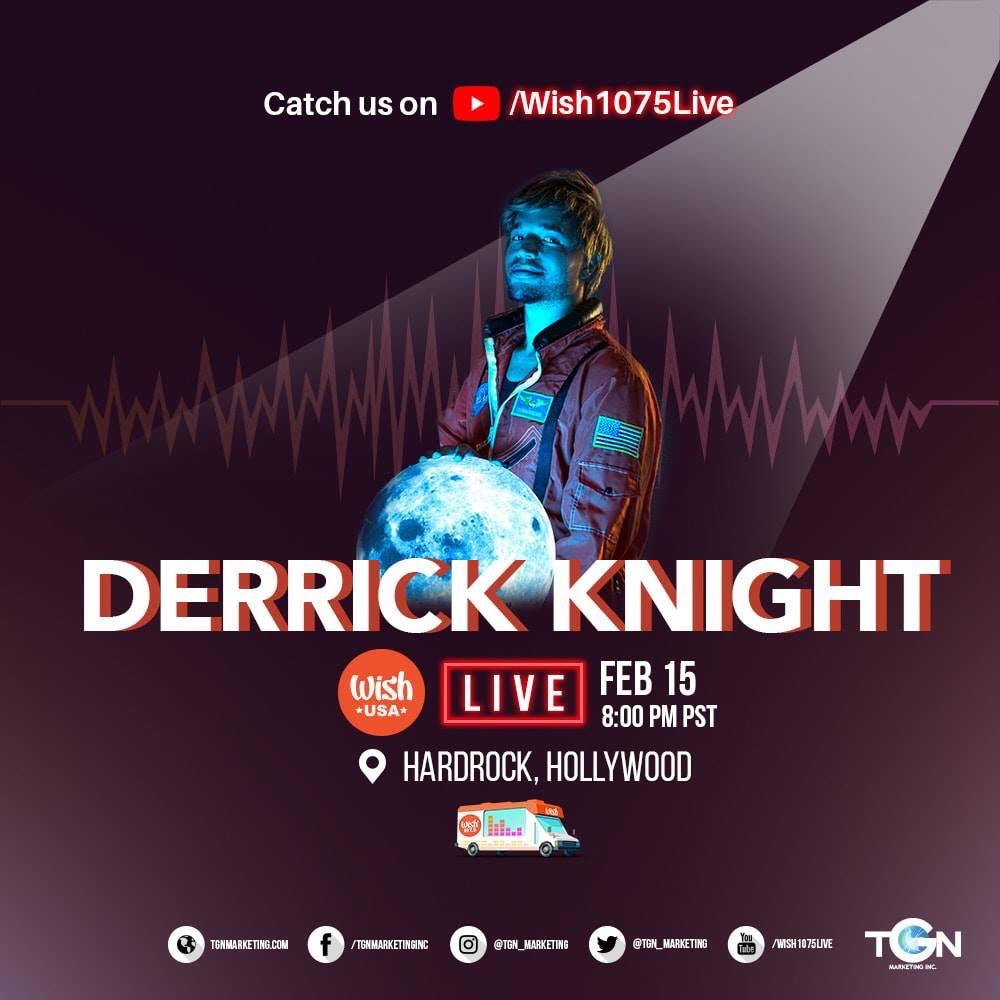 World class production sets the stage for a special Derrick Knight showcase in Hollywood. The residency will show off his rock star quality with all the glitz and glamour.
From #1 Billboard Pop Chart Hits to popular Rock N Roll songs, the new show is genius and Knight will interact with the audience in unscripted / authentic conversations. Derrick Knight's old fans are excited to see his return to the main stage. Knight is also about to make many more new international fans with the hit cover series!
WISH 107.5 fm will stream the launch event live, the press conference, with an exclusive Derrick Knight interview and performance that broadcasts to millions of fans on their huge international network.
VIP HOLLYWOOD TREATMENT
PREMIUM VIP ACCESS for up to 7 friends

Easy electronic VIP ticket print outs for Derrick Knight at Hard Rock Cafe

Exclusive and memorable VIP printscreen labels

Skip main entrance line with special VIP Access and registration located at Hard Rock Cafe Side VIP Entrance

Hard Rock Cafe host or management will escort your party to table and seats

VIP cocktail server and service during the entire show
Derrick Knight Meet & Greet
Derrick Knight Meet & Greet including selfies and photo opportunities

VIP Access

Exclusive and memorable VIP printscreen labels

Limited Edition Derrick Knight Club merchandise and promotional coupon

Hard Rock Cafe Host will escort your party in early before show starts
Shiny Star Tickets
Shiny Star Tickets and Rock Star Gold seats are ticket-only offers and are not associated with VIP Packages or Experiences

Shiny Star Tickets are limited edition and for your party to see all the action. Click on Shiny Star Tickets option to see what is available. These tickets are separate from the VIP Packages
The surprise encore show includes Derrick Knight's hit singles from his debut EP album, including: his original debut "Mayan Rain Dance," the hiphop and human rights anthem, "Dont Ask Dont Tell," and of course the delicious pop candy hit, "Love Is Like the Sun". A few very special featured artists will appear in this residency show.
Watch the Derrick Knight Show - the Entrepreneur, the Dancer, the Rock Star - Knight's Hollywood residency is a unique show unlike any other in tinsel town at the moment and is a major career milestone for the performer.
DERRICK KNIGHT BEHIND THE SCENES
Knight has done a lot of groundwork in preparation for his debut EP Album and smash hit song: "SHOOT FOR THE MOON" that priemered last year on the 22.3 TakeOver Vegas radio station. Derrick Knight also received the City of Los Angeles' honor Certificate for his international MoonPad business. Derrick Knight also starred and co-created all of his instant classic LA underground music videos with his directors. Knight is a true example of how you can't fail by living a life on purpose.
Derrick Knight also launched MoonPad Records label and a YouTube show interviewing artists and other likeminds on their purpose and why they do what they do.
Subscribe and tune in to Watch - Search: @DERRICKKNIGHTSHOW
Download or stream original Derrick Knight songs worldwide wherever music is sold and all major online stores sold!
Visit the Knight Club Store and shop Derrick's personal Knight Club Collection of cool and futuristic merchandise!
Derrick Knight Show will be broadcast live on several TV monitors at tables only in Hard Rock Cafe!
His historic residency show is a must see and major career event!
(Proceeds from this show will benefit Hard Rock Foundation & Grammy MusiCares)
* KNIGHT CLUB VIP TABLE service experience available!
* Dance to all of his songs, both, popular covers and Derrick Knight original songs.
* Book the Derrick Knight Show for podcasts, private engagements, birthday parties, inspiring lectures or conventions.
* For press interviews please inquire with management here to contact a publicist.
LAUNCHING FRIDAY FEBRUARY 15, 2019 DERRICK KNIGHT HARD ROCK CAFE IN HOLLYWOOD RESIDENCY 8PM
RESERVE VIP PARTY TICKETS NOW & JOIN THE "KNIGHTCLUBVIP"
"Shoot for the Moon" new single written by Derrick Knight is now available everywhere!
Famous covers in the "DERRICK KNIGHT AMONG THE STARS", tribute show with the Casual Encounters band at Hard Rock Cafe include (but not limited too or in order of performance): A-Ha - Take On Me ABBA - Dancing Queen AC/DC - You Shook Me All Me All Night Long Alanis Morissette - Ironic Alanis Morissette - You Oughta Know Alannah Myles - Black Velvet Aretha Franklin - (You Make Me Feel Like) A Natural Woman The Beatles - Let It Be Ben E. King - Stand By Me Bill Withers - Lean On Me Billy Idol - Rebel Yell Billy Idol - White Wedding Billy Joel - Uptown Girl Blink 182 - All The Small Things Bon Jovi - It's My Life Bonnie Tyler - Total Eclipse Of The Heart Britney Spears - Baby One More Time Bruce Springsteen - Dancing In The Dark Bruce Springsteen - Fire Bruce Springsteen - Hungry Heart Bruno Mars - Just The Way You Are Bruno Mars - Bryan Adams - Summer of '69 Carrie Underwood - Before He Cheats Cee-Lo Green - Fuck You! Charlie Daniels Band - Devil Went Down To Georgia Creedence Clearwater Revival - Proud Mary Culture Club - Karma Chameleon The Cure - Just Like Heaven Cyndi Lauper - Girls Just Wanna Have Fun Cyndi Lauper - Time After Time The Darkness - I Believe In A Thing Called Love David Bowie - Space Oddity Def Leppard - Pour Some Sugar On Me Destiny's Child - Say My Name DJ Jazzy Jeff & The Fresh Prince - Fresh Prince of Bel Air Dolly Parton & Kenny Rogers - Islands In The Stream The Doors - Break On Through The Drifters - Save The Last Dance For Me Dusty Springfield - Son of a Preacher Man The Eagles - Hotel California
Save This Event
When & Where

Hard Rock Cafe
6801 Hollywood Boulevard
#105
Los Angeles, CA 90028