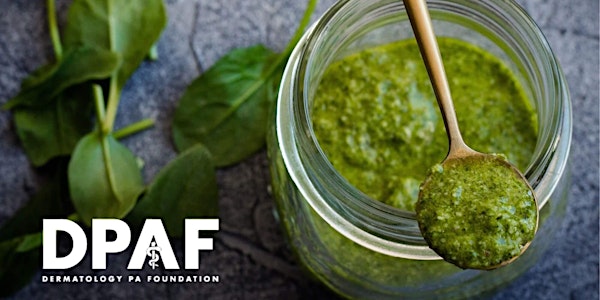 Dermatology PA Foundation: Super Seed Meatballs
A special invitation from the The Dermatology PA Foundation (DPAF) for a virtual interactive cooking event with Chef Ryan Ross of Homemade
By Homemade: Free Cooking Classes
Date and time
Starts on Thursday, September 23, 2021 · 4pm PDT
About this event
We can't wait to cook with you and discuss all things fun with anti-inflammatory ingredients!
The Menu: Super Seed Meatballs
Event Date: Thursday, September 23, 2021
Time: 4pm PST / 7pm EST
RSVP: Please RSVP by registering via this Eventbrite page
Recipe Packet + Login Details: Your recipe packet and login details will be posted closer to the event date on the Online Event Page, which you can access after registering!
_______________________________________________________________________________________
About the Dermatology PA Foundation
The Dermatology PA Foundation is proud and honored to collaborate with Homemade and Chef Ryan Ross to bring you fun and tasty recipes! Our recipes are packed with super foods and anti-inflammatory ingredients. We are excited to be a resource for Dermatology Physician Assistants and their patients. 
About Homemade + Chef Ryan Ross
Homemade hosts epic personalized virtual cooking events for groups of any size, led by the most engaging chefs in America! Co-founders Joel Gamoran and Ben Rosenfeld saw a need for people to be able to gather safely with families, friends, and colleagues around food, and so, Homemade was born. At Homemade, we're making lasting memories in kitchens and bringing people together through highly interactive cooking experiences. We are dedicated to doing the most good for our clients and committed to being mindful of our food footprint as we cook together.
Ryan Ross has been in the realm of bespoke dining and food–centric events for the last 10 years. She grew up in her Mother's organic health food store. Ryan is a certified Holistic Health Practitioner by the American Association of Drugless Practitioners. She is a recipe writer and product developer and has consulted for plant-based restaurants in Washington state, New York City, on Little Corn Island, Nicaragua, Munich, Germany, and Paris, France and currently at the Red Fox Inn in Middelburg. Ryan is a published author of the N0-Fuss Cookbook for Newlyweds. You can also see her win an episode of CHOPPED, the episode "Light Makes Right," on the Food Network and catch her co-host the finale episode. She also appeared in the Thanksgiving special of Joel Gamoran's first and second season of SCRAPS on the A&E network.
About the organizer
About Homemade
Here at Homemade, we provide best in class virtual cooking classes with the most entertaining chefs from around the country! We're all about making people feel at home, specifically in their kitchens. Everyone deserves to learn how to whip up a Homemade meal, and doing it together with a Homemade Chef at the helm makes for an incredible experience. Homemade chefs are able to make class engaging, entertaining, professional while also cooking and teaching. Our Chefs are the best of the best - they've been featured in countless media events, interviews, and culinary demonstrations. Some of our biggest bragging rights include appearances on the The Food Network, The Today Show, and Good Morning America, as well as contributions to The New York Times. Cook along with us! Take our FREE, Live & Interactive Cooking classes any time.