Description
CRAWL SCHEDULE (WHERE $5 GIFT CARDS ARE VALID & WHERE YOU CAN CHECK IN)

1pm-2:30pm at Hubbard Inn (IF at capacity the gift card will be accepted at Joy District)
2:30pm-4pm at Joy District (IF at capacity the gift card will be accepted at Hubbard Inn)
4pm-5pm at Boss Bar (IF at capacity the gift card will be accepted at Theory)
5pm-6pm at Theory (IF at capacity the gift card will be accepted at Boss Bar)
WRISTBANDS: You MUST wear your wristband during the crawl!

DRINK SPECIALS: Take advantage of $5 Absolut cocktails, $5 Samuel Adams and $5 Jack Daniels Mint Juleps

LINES/COVER:

Crawlers will NOT need to pay cover at any of the participating bars during the crawl.
You MUST wear your wristband!
*If there is a line at a certain bar you can either wait in that line or move on to a different bar.*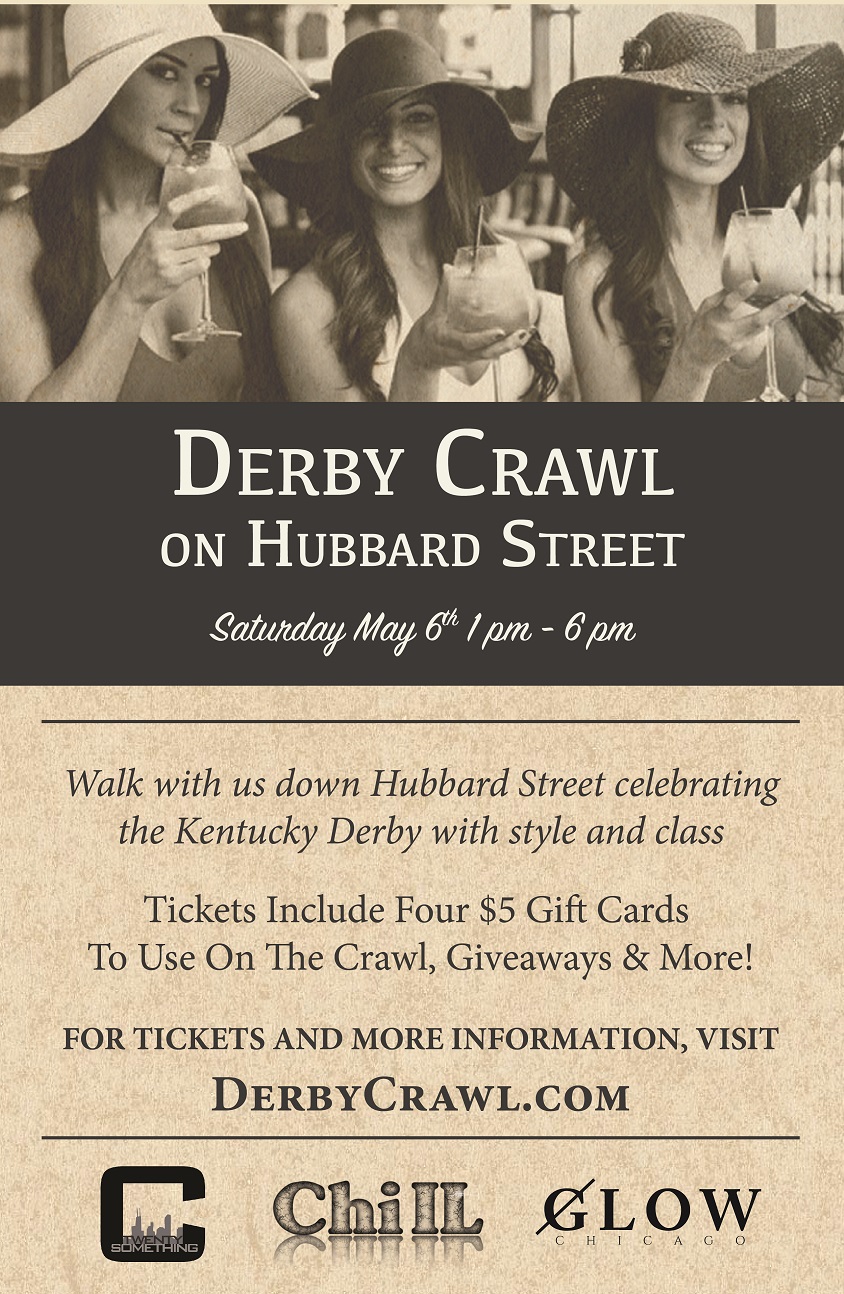 It's time to break out your finest Kentucky Derby attire and join us for our 2nd annual Derby Crawl.
Celebrate the Derby as we crawl down Hubbard Street. Each participant will get four $5 gift card to be used on the crawl.
Dress up like you're going to be sitting on the grandstand at Churchill Downs. Ladies bust out your big hats and sundresses... Men, find your seersucker suit.
On the Hubbard St. Derby Crawl you'll gain entry to Chicago's top bars situated in the heart of River North! No transportation or long walks!! All venues are within a 1/4 mile so you can spend more time enjoying the races and partying with friends.
Guests will gain entry and four $5 Gift cards to be used at the venues along the crawl. You and your friends will start at Hubbard Inn and make your way down Hubbard St. with stops at Joy District, The Boss Bar and Theory.
Details:
Saturday May 6th 1pm-6pm
Registration at Boss Bar, 420 N Clark
Tickets include: Complimentary Entry & $20 in Gift cards


Help spread the word to your friends! www.DerbyCrawl.com
Races Start at 12pm, Main race at 5:30pm.

Must be 21 years old to participate; valid State ID required. Participating venues and advertised times are subject to change. ChiIL Productions promotes safety and urges all participants to drink responsibly. Participants must bring their Print At Home Ticket to the registration venue. No refunds. All sales are final. If a venue is at capacity then you may have to wait or proceed to another venue. Do not be late for registration. Prices are subject to change while supplies last.