Deputy US Agriculture Secretary Keynotes: Bringing Broadband Infrastructure to Rural Areas: Where is the Progress?

Tuesday, October 18, 2011 from 8:00 AM to 10:00 AM (EDT)
Event Details
You are invited....
to an event of the Broadband Breakfast Club
Bringing
Broadband Infrastructure
to
Rural Areas
Where is the Progress?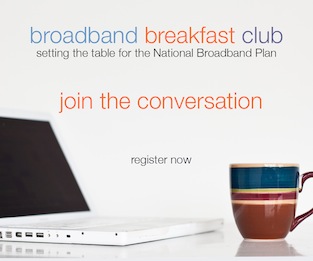 Bringing Broadband Infrastructure to Rural Areas:
Where is the Progress?
The American Recovery and Reinvestment Act promised to bring broadband infrastructure throughout the country. A major player in delivering on the funding was the Rural Utilities Service of the U.S. Department of Agriculture. The law provided a dramatic increase in funding for unserved and underserved parts of our country.
RUS loans have gone to a variety of "last mile" providers, both fiber and wireless. Some feel they compete directly against existing providers that are not funded by USDA. Given the sparse geographies of rural areas, and the economic development needs they face, are these loans and grants warranted? And, with less than one year until all projects must be substantially completed, where is the progress in rural areas?
Telecommunications advocates, policy-makers, journalists, top officials and the general public, all seeking to trade insights on these important issues, are invited to attend this event of the Broadband Breakfast Club, which includes full American and Continental breakfasts, for as little as $45.00, plus a modest registration fee.
This event is on the record and open to the public. 
For News and Events on BroadbandBreakfast.com follow us at http://www.twitter.com/broadbandcensus
Event Details
Title:  Bringing Broadband Infrastructure to Rural Areas: Where is the Progress?
Date:  Tuesday, October 18th, 2011 8 a.m. - 10 a.m. 
Where:  Clyde's of Gallery Place, 707 7th Street NW, Washington, DC 20001
The breakfast begins at 8 a.m., followed by a discussion, beginning shortly after 8:30 a.m. and ending by 10 a.m.
Keynote: 
Dallas Tonsager
Under Secretary
Rural Development
United States Department of Agriculture
Dallas Tonsager was appointed by President Obama as Under Secretary for Rural Development and sworn into office in May of 2009. Tonsager has over 35 years of agricultural, business, cooperative and financial experience through his work as a farmer, businessman, and community, state and national leader. Prior to joining USDA, Tonsager served from 2004 to 2009 on the board of directors for the Farm Credit Administration, where he was responsible for regulatory oversight of the Farm Credit System. Tonsager served as the executive director of the South Dakota Value Added Agriculture Development Center from 2002 to 2004. In 1993, then-President Bill Clinton selected Tonsager to serve as USDA South Dakota's state director for Rural Development. In 1999, he was recognized as one of two outstanding state directors in the nation and received the national "Hammer Award" from then-Vice President Gore for his work as part of a team that reinvented USDA's rural business guarantee loan program. Tonsager served as state director until 2001. Tonsager served two terms as president of the South Dakota Farmers Union. He also served on the board of National Farmers Union Insurance from 1989 to 1993, and was a member of the advisory board of the Commodity Futures Trading Commission from 1990 to 1993. Tonsager grew up on a dairy farm near Oldham, S.D. and has been involved in the family's diversified farm operations since 1976. He graduated from South Dakota State University with a Bachelor of Science in agriculture in 1976. 
Panelists:
Chandler Goule 
Vice President of Government Relations
National Farmers Union's  
In his current capacity, Goule oversees the NFU Washington, D.C. government relations office and communications department, which advocates the interest of family farmers to Congress and the administration. Goule previously served as Staff Director of the Subcommittee on Livestock, Dairy and Poultry for Chairman Congressman Collin C. Peterson (D-MN). His prior experience extends to companies such as, Bayer Crop Science, Syngenta, Houston Livestock Show and Rodeo and with Congressman Charlie Stenholm in Washington, DC. Growing up in rural Morgan Mill, Texas, Chandler Goule is very familiar with agriculture policy, way of life and rural issues. He graduated from Texas A&M University earning a BA in Animal Science and has a masters in Political Management and Corporate and Public Affairs from George Washington University.
James Kohler
Deputy Director of Enterprise Technology Services 
Alaska Department of Administration
James Kohler serves as the State's Project Coordinator for the Alaska Land Mobile Radio System, which provides emergency interoperable communications for state, municipal, Department of Defense, and non-DoD Federal agencies in Alaska.  Recently, Mr. Kohler was designated as the stateside lead for an ad hoc telecom working group, established by Alaska's Governor's office. Prior to joining State government, Mr. Kohler assisted with the build out, expansion and management of state wide wireless service in Alaska, and helped bring the first state-wide wireless service to a Nome, Alaska in 2006. Mr. Kohler has over 30 years of professional change management and consulting experience in Alaska across both the private and public sectors.
Forbes Mercy
President
Washington Broadband Inc. 
   Board Member/VP & Legislative Committee Chair
   Wireless Internet Service Provider Association (WISPA)
Forbes became a broadband provider by purchasing an existing Washington state fixed wireless internet service provider in 2001 with 40 customers and three towers. His WISP has 700 customers and 15 towers operating over 350 square miles of mostly rural areas. He is a third-year WISPA Board Member and Past Chair of WISPA's Promotions Committee. He is also this year's chair of the WISPA Legislative Committee and responsible for social networking, Congressional advocacy programs and direct lobbying by members to legislators. Forbes is also a Firefighter, retired as Fire Chief in 1994 then starting a Paramedic Program.
Leif Oveson
Director of Government Affairs
National Telecommunications Cooperative Association (NTCA)
Leif Oveson joined the NTCA in March 2009. NTCA has served as the voice of small, rural telecommunications carriers since 1954 and has more than 570 member companies that provide communications services to some of the most remote, sparsely populated areas of the nation. Prior to joining NTCA, Leif worked on Capitol Hill in Washington, D.C. as a Research Assistant in the Senate and a Legislative Assistant in the House of Representatives for a total of seven years on policy issues including telecommunications. Originally from South Dakota, he currently lives in Washington, D.C.
Jacqueline Johnson Pata, Executive Director
National Congress Of American Indians
Jacqueline Johnson Pata is the Executive Director of the National Congress of American Indians (NCAI), the oldest and largest tribal representative organization, which informs the federal government and the public on federal policy issues affecting tribal governments. NCAI also coordinates communications among tribal governments and serves as a forum for consensus-based policy development among its membership. In addition to her duties at NCAI, Pata serves her people as an elected delegate to Central Council Tlingit and Haida Indian Tribes of Alaska and is a board member of Sealaska Corporation, an Alaska Native regional corporation. She also serves on a variety of national executive boards, including the Executive Board for the Leadership Conference on Civil and Human Rights and the Executive Board for the George Gustave Heye Center of the National Museum of the American Indian. In her commitment to American Indian youth development, Pata chairs the Native American Advisory Council for the Boys and Girls Clubs of America. Prior to joining NCAI in June 2001, Pata served as Deputy Assistant Secretary for Native American Programs of the U.S. Department of Housing and Urban Development. The Office of Native American Programs administers programs throughout the United States, which provide affordable housing for Native Americans. Previously, Pata served as the Executive Director of the Tlingit-Haida Regional Housing Authority headquartered in Juneau, Alaska and she is a former Vice-Chair of the Alaska Housing Finance Corporation. She served as Chairperson of the National American Indian Housing Council and was appointed to the National Commission on American Indian, Alaska Native and Native Hawaiian Housing. She also has served on the National Community Development Financial Institution Fund Advisory Board, an advisory board to the U.S. Department of the Treasury. She is a member of the Raven/Sockeye Clan of the Tlingit Tribe and a member of the Central Council of the Tlingit-Haida Indian Tribes of Alaska. Among her other activities, prior to her move to Washington, D.C., she is extremely proud of her service for 13 years as Director of a Native Youth Culture Camp held each summer where young people experience and learn traditional values.
David Russell
Solutions Marketing Director
Calix
David is responsible for marketing Calix' fiber access solutions the most widely deployed Fiber-to-the-Home systems in the United States.  Based in Petaluma, California Calix has fiber deployments in over 1500 communities.  David has spent over twenty years in business development and marketing of broadband access systems.  He joined Optical Solutions, the pioneer in FTTH and GPON, in 2003 and joined Calix through its 2006 acquisition of Optical Solutions.  In 2010, David served as Chairman of the Board of the FTTH Council.  He currently serves as head of the FTTH Council's regulatory affairs committee.  He holds eight patents in cable TV and wireless technologies.  He did his undergraduate work at Franklin and Marshall College in Lancaster, PA and graduate school at the University of Minnesota.  He lives in Saint Paul. Minnesota and is based at the Calix facility near Minneapolis.
Additional speakers have been invited
Moderator:
Jerry Hagstrom
Founder and Executive Editor
The Hagstrom Report
Jerry Hagstrom is a prize-winning agricultural journalist, book author and commentator. The American Journalism Review has named Jerry Hagstrom one of its "unsung heroes" of American journalism for "sterling work in the shadows" covering agriculture. In 2000, the National Farmers Union named Mr. Hagstrom Agricultural Communicator of the Year, and he has won awards from many other farm groups. Mr. Hagstrom also won first prize in commentary from the North American Agricultural Journalists and has served as its president. In addition to his own daily Hagstrom Report, he writes a bimonthly column of commentary for National Journal Daily, both of which reach a national policymaking audience. He reaches farmers, ranchers and agribusiness throughout the country with his work for DTN/Progressive Farmer news service in Omaha, the weekly Agweek newspaper in Grand Forks, N.D., and the Capital Press of Salem, Ore. Mr. Hagstrom appears frequently on C-SPAN to discuss farm issues, and has appeared on National Public Radio and the British Broadcasting Corporation program Farming Today. He has also lectured before major trade groups and at universities. A native of North Dakota, Mr. Hagstrom grew up on the Hagstrom family farm and in Wilton and Bismarck, N.D. Both his maternal grandparents, of Norwegian descent, and his paternal grandparents, of Swedish descent, homesteaded in Burleigh County, North Dakota. A graduate of the University of Denver, he has been a Loeb Fellow at Harvard University and a research fellow at the Freedom Forum Media Studies Center at Columbia University.
The Broadband Breakfast Club is a "widely attended event" under House of Representatives Rule 25, clause 5(a)(4)(A).
-----
For individuals outside of Washington, or those whose schedule doesn't permit attendance in person, archived webcasts of the Broadband Breakfast Club are available for free on BroadbandBreakfast.com.
The Broadband Breakfast Club seeks sponsorship of our events from interested companies and organizations. We especially encourage organizations to sponsor a package of multiple events — such as one of our upcoming topical series. For details on sponsorship opportunities, please contact Sylvia Syracuse at 646-262-4630 or sylvia@broadbandcensus.com. The Broadband Breakfast Club is produced by Broadband Census News LLC. 
Follow us on Twitter at www.twitter.com/broadbandcensus
______________________________________________________________
The Broadband Breakfast Club is Sponsored By:





Have questions about Deputy US Agriculture Secretary Keynotes: Bringing Broadband Infrastructure to Rural Areas: Where is the Progress??
Contact Broadband Breakfast Club
When & Where

Clyde's of Gallery Place
707 7th Street NW
Washington, DC 20001


Tuesday, October 18, 2011 from 8:00 AM to 10:00 AM (EDT)
Add to my calendar
Organizer
BroadbandBreakfast.com is an internet policy news and events service devoted to breaking news on Broadband policy issues including Broadband Stimulus, Wireless, the National Broadband Plan, Universal Service, and more. Our trenchant articles are free at BroadbandBreakfast.com.

To complement our news service, BroadbandBreakfast.com also hosts monthly "Breakfast Club" events and other special events.
Our Broadband Breakfast Club series meets monthly on the THIRD Tuesday of the month (except for August and December).
Events are held at Clyde's of Gallery Place, 707 7th St. NW, Washington, DC. Metro Stop: Chinatown/Gallery Place.
Events are open to the public and held from 8 am - 10 am, with full Continental and American breakfasts served from 8 am - 8:30 am.
To subscribe to our news service go to BroadbandBreakfast.com.
To register for our next event click on
http://broadbandbreakfast.eventbrite.com
To view our past and future events see 
http://broadbandbreakfastseries.eventbrite.com
To view our event videos see
http://broadbandbreakfast.com/category/broadband-tv/
The Broadband Breakfast Club is Sponsored By: