Dept of Energy / AT&T-The American Energy Data Challenge (Apps for Energy)
When and where
Location
Energy Innovation Center 4760 Clairemont Mesa Boulevard San Diego, CA 92117
Description
Have a talent for coding? Want to create a mobile application to help your community and the environment? Join the Department of Energy, AT&T and San Diego Gas & Electric® for part #2 of the American Energy Data Challenge to develop apps that will reduce energy use for San Diego and beyond.
On November 4, 2013, the Department of Energy (DOE) announced a four part Challenge inviting the public to use energy data to do amazing things. The goal of this Challenge is to introduce the public to the valuable data and resources offered by the Department, to solicit feedback about our data, to amplify the energy data available to consumers today under the Green Button Initiative and to create new ways to visualize and discover energy data, and to spur the development of new tools and services that leverage this data. The Challenge consists of four parts, run over four consecutive quarters, with each building on the other, and engaging different segments of the American public. For this part of the challenge, DoE will host in different cities across America, San Diego is the second city in the sequence.
Using some of the best ideas generated in Contest #1 and APIs made available by the Dept. of Energy, in this challenge we will reward the creators of Green Button and Open Data apps, products and services that address real world energy related problems. We will give prizes for the best use of specific DOE APIs, best use of customer Green Button data, and best app that uses one of the "killer ideas" identified in Challenge One. Participants in Contest #2 will be provided with a list of Apps that they can develop.
The submission period for Apps will be from January 17 – March 9, 2014. Distinguished judges will select overall winners in multiple categories and a "People's Choice Award" will be chosen from March 10 – 21, 2014. Winners will be announced the week of March 24, 2014. See what you can create to help conserve energy and decrease consumers' bills by pairing the Green Button data with mobile APIs like location and SMS. Over $70,000 in prize money is on the line. Door prizes will be awarded at the end of the Hackathon. Read more about the American Energy Data Challenge at http://energychallenge.energy.gov/.
This event is designed for attendees (technical & non-technical) to build apps/mobile apps, get fed, compete for prizes across different categories and most importantly: meet new people and scout for teammates to work on new or current projects. Our hackathon will introduce you to the latest cutting edge tools to help deploy your own app with a website backend, fully hosted in the cloud.
As far as platforms are concerned, feel free to code in the language you feel most comfortable, whether it's Objective C, Java, Javascript, HTML, C #, Dot Net, or XNA. The Department of Energy and SDG&E Green Button Connect team will be onsite to help you throughout the Hackathon.
Event Schedule. The following is a list of the weekend's agenda:
Friday Day

6PM -

Kickoff event with dinner, networking, and developer dating which leads into idea pitches and team formation.

7PM -

Lightning talks.

8PM -

Idea pitches and team formation. Pitch your ideas and form teams or just start coding with your preformed teams.

12AM -

End of the night. Go home, get some rest and come back the next day refreshed!

Saturday Day

10AM -

The fun continues with the final day of the hackathon. Continue to work with your team to finish coding and polishing your app. Sensei's will be available throughout the final hours to help you code up your solution. App submissions will be accepted throughout the day with a deadline of 6PM.

1PM -

Lunch

6PM -

Pencils down.

Click here

to sign

up your teams to present. Pitches start promptly at 6PM and are limited to three (3) minutes per team. No powerpoints unless you are only presenting an idea.
Prizes. The following prizes are experiential and geared towards accelerating you towards a successful business as well as expanding your network and industry knowledge:
Best Energy Awareness App

1st

Place

$1,500 in cash for the team to split

2nd Place

$1,000 in cash for

the team to split
Judging Criteria. Apps will be judged based on the criteria below and weighted accordingly.
33% Weight - Strength of Concept

33% Weight - Execution of idea

33% Weight - Use of a Featured API, Standard or Idea
Social Media.
---
Speakers
Matthew Theall, is a Presidential Innovatio

n Fellow
working on "MyData Initiatives at the Department
of Energy. In this role, Matt focuses on developing
innovative ways to enable the public and American
businesses to better understand and reduce energy
use. Previous to his current position, Matt was a Technology Strategist at Intel Corporation, where he focused on networking and Smart Grid technologies and was also Director of several silicon business units. He has served in a number of industry leadership roles, including being a member of the Board of Directors of the Smart Grid Interoperability Panel from 2009-2013, during which time, under BOD leadership, the organization grew from founding in 2009 to 776 member companies at the end of 2012. Matt has also been President and BOD member of several industry trade groups that developed networking and smart grid standards, which then tested and certified products based on technologies developed. He is an alumnus of Northeastern University, Rivier College, and Harvard Business School.
---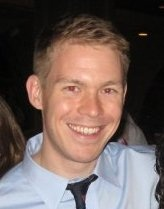 Charles Worthington is a developer and product designer currently serving as a Presidential Innovation Fellow working on Open Data Initiatives at the Department of Energy. Charles is the founder of Gray Duck Labs, where he works with large and small clients to build innovative web and mobile products. In his spare time, he works on Preamp.fm, a live music discovery service he built.
Prior to striking out on his own, Charles helped Fortune 500 companies adapt to disruptive technologies as a Manager at the strategy consulting firm Altman Vilandrie & Co. From 2009-2010, Charles served a term appointment at the Federal Communications Commission, where he helped develop the Energy chapter of the National Broadband Plan, a blueprint for using advanced communications technologies to help achieve national goals in energy independence and efficiency. Charles holds a BA in Social Studies from Harvard University. He lives in Washington, DC, with his fiancée.
---
Sponsors