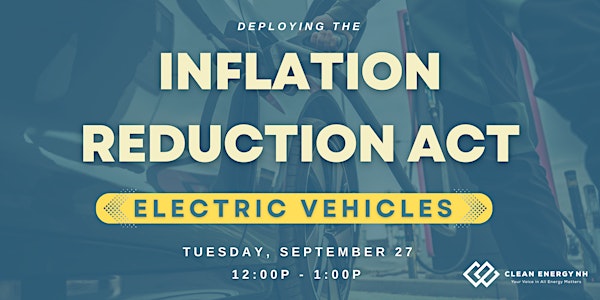 Deploying the Inflation Reduction Act: Electric Vehicles
What does the Inflation Reduction Act mean for NH? The first session of the multi-part webinar series: Electric Vehicles.
About this event
The Inflation Reduction Act (IRA) passed in August 2022 included significant clean and renewable energy provisions. More than $369 billion in the bill will be distributed to help to advance clean energy and reduce methane emissions. As President Biden said, the IRA is the "most aggressive action ever...in confronting the climate crisis and strengthening our economic - our energy security."
What does the IRA mean for New Hampshire?
In part one of the 'Deploying the Inflation Reduction Act' webinar series, Clean Energy NH will discuss a portion of the bill spotlighting electric vehicles. Executive Director, Sam Evans-Brown, will provide an update on New Hampshire's initiatives including the National Electric Vehicle Infrastructure (NEVI) plan and make-ready investments.
Doug Greenhaus, Vice President of Regulatory Affairs, Environment, Health, & Safety for the National Automobile Dealers Association (NADA) will also explain the potential with the IRA including restrictions and limitation, transferability and IRS rules, etc.
Katherine Garcia, Director of the Clean Transportation For All Campaign with the Sierra Club will discuss the long-term prospects of the domestic vehicle manufacturing tax credits, as well as opportunities for municipal fleet electrification created under the IRA.
Dan Bennett, Vice President of Government Relations, Environmental Affairs Specialist with the New Hampshire Automobile Dealers Association (NHADA), will be on hand to answer questions about where the Granite State stands with the auto dealers in the state and EV sales.
There will be a Q&A opportunity at the end of the session.