Deplorables Inaugural Ball™ honoring President Donald J. Trump

Thursday, January 19, 2017 from 7:00 PM to 11:00 PM (EST)
Event Details
Dear Deplorables Nation™,
Now is when the work begins. In order to preserve Freedom and Make America Great Again we the Deplorables Nation™ must be vigilant. It all starts as we invite all deplorables to usher in and celebrate the inauguration of our president elect Donald J. Trump in a very uplifting and memorable occasion. With this in mind we are inviting the Deplorables Nation™ to join our journey. The United States of America is the Beacon of Hope and Freedom to the world. President Trump will continue to need our prayers and support in order to accomplish our and his plan to Make America Great Again. For these and many more reasons the Deplorables Nation™ team will be producing and hosting the Deplorables Inaugural Ball™ on Thursday, January 19th, 2017 in Washington D.C. The evening before Our President Donald J. Trump's inaugural ceremony to become the 45th president of the United States of America.
Due to the very much anticipated, but not expected victory of Donald J. Trump as our president this reality left many stunned. In the short amount of time that the team has to organize the Deplorables Inaugural Ball™ we are asking the Deplorables Nation™ to come together in our Nation's Capital [Washington D.C.] to celebrate this historical moment in our nation's history. Help us by contributing to this once-in-a-lifetime celebration. To our fellow deplorables which for whatever reason can not attend the inaugural events in Washington D.C., we've created a generous package of commemorative souvenirs to mark this historic victory. We are inviting a select group of individuals, associations and corporate partners to assist us in underwriting and sponsoring the Deplorables Inaugural Ball™.
When & Where

Ronald Reagan Building and International Trade Center
1300 Pennsylvania Avenue Northwest
Washington, DC 20004


Thursday, January 19, 2017 from 7:00 PM to 11:00 PM (EST)
Add to my calendar
Organizer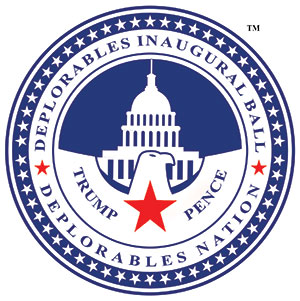 What:
Deplorables NationTM presents
The Deplorables Inaugural BallTM
When:
Thursday, January 19th, 2017
Time:
7pm-11pm 
Where:
Ronald Reagan Building and International
Trade Center
1300 Pennsylvania Ave NW, Washington, DC
20004
Theme:
We The People...To celebrate Freedom and
Make America Great Again!
Contact Information:
Mr. Evelio Medina
Chairman of the Deplorables Inaugural BallTM
Founder of Deplorables NationTM
Phone: 786-728-0008
Email: info@deplorablesinauguralball.com
Web: www.deplorablesinauguralball.com