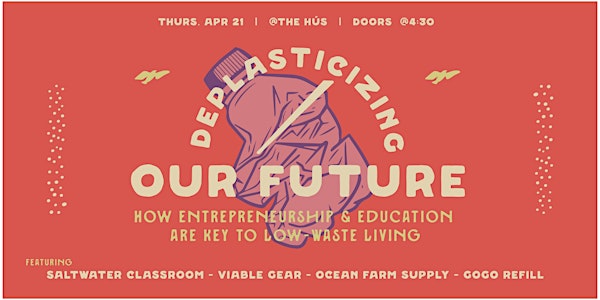 Deplasticizing Our Future
Chat and network with a quartet of women leaders using entrepreneurship and education to achieve low-waste, reduced-plastic living.
When and where
Location
New England Ocean Cluster | The Hús 68 Commercial Street #Building C - Floor 2 Portland, ME 04101
About this event
Deplasticizing Our Future
We have a plastic problem, we all know this to be true. We have seen the stories and the pictures. For "Earth Month ," instead of pointing everyone's attention to the problem, let's all come together to celebrate the people building businesses, products and services around solving the problem.
We hope you'll join us and a community of people who we are committed to changing their behaviors, stopping plastic waste streams from entering the environment, and supporting innovative new ideas capable of transforming our consumption habits.
This Entrepreneurship in the Blue Economy session we are pleased to be joined by an all-star all-women panel including:
Attendees will enjoy oysters from our good friends at Lady Shuckers, frosty beverages, and snacks as well as a conversation with farmers and industry leaders focused on the successes and the remaining challenges associated with connecting to consumers.
Please find out how to access the Hús here.
And our COVID-19 policies here. For this event, masks are optional and vaccination cards are not required.
------------------
This event is part of ENTREPRENEURSHIP IN THE BLUE ECONOMY​
Entrepreneurship in the Blue Economy (EITBE) is an event series created by the New England Ocean Cluster to share the stories of ocean-focused entrepreneurs and project leaders in Maine. Each session is free to attend and includes a curated panel of speakers who share their own intimate and organic perspectives on the topic du jour. Created in 2019, the program's intent is to convene an engaged audience to raise awareness, promote dialog, and facilitate connections amongst those interested in the region's blue economy.
For 2022, the EITBE series has become a part of Transforming the Blue Economy (TBE), a purpose-driven collaboration created by the World Ocean Observatory, a 501c.3 non-profit, and the New England Ocean Cluster. The project endeavors to advance and modernize New England's ocean-minded industries through education and community engagement; by bridging the gap between capacity and need; and by assisting in the creation of sustainable and innovative enterprises.