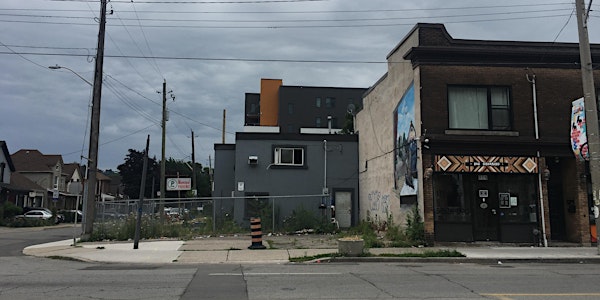 Depave on Barton Design Planning
Be a part of the planning and design of the next Depave on Barton site at 316 Barton St E!
When and where
Location
Powell Park 53 Birch Avenue Hamilton, ON L8L 6H8 Canada
About this event
Green Venture, the Barton Village BIA, the GALA Community Planning Team, Adele Pierre Landscape Architect, and the City of Hamilton's Ward 3 will be continuing the Depave on Barton program this fall on the SW corner of Barton St E and East Ave N (316 Barton St E). Now is the time to provide input and help shape the vision and transformation of this corner! We will be meeting at the Powell Park Clubhouse at 6pm on Tuesday, Sept 6th.
Whether or not you can make it to this event, input can be provided in advance via the online form. Anonymous results from the form will be shared and referenced in this session. Access the form here.
In this planning session, we will aim to develop a rough site plan highlighting main features and considerations at this site. The plan will be provided to our Landscape Architect and developed into a to-scale draft plan that meets public building guidelines and accessibility requirements, which will then be submitted for approval.
Thank you for your time and support of this exciting initiative! Any questions about the Depave on Barton projects can be sent to depave@greenventure.ca