DePaul Law Review - Great Lakes Symposium

Friday, March 1, 2013 from 8:30 AM to 5:00 PM (CST)
Event Details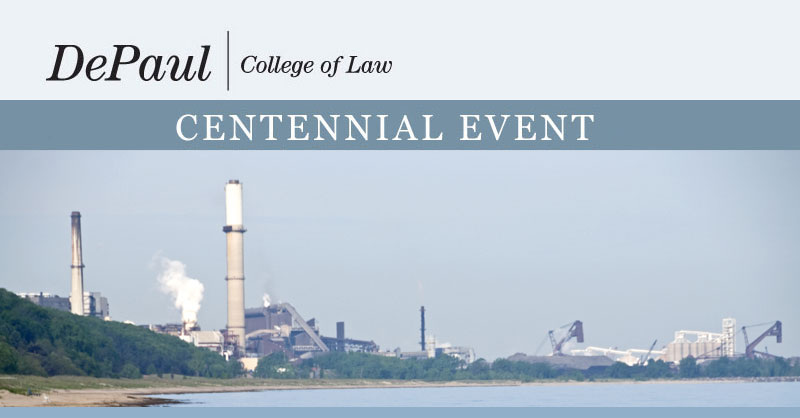 DePaul Law Review's 23rd Annual Symposium
Great Lakes: Emerging Issues for Freshwater Resources
DESCRIPTION
The DePaul Law Review's 23rd annual symposium will focus on the Great Lakes, specifically addressing the legal issues and policy concerns relating to freshwater resources. Academics, practicing attorneys, and policy experts will discuss the current threats to freshwater resources including climate change, invasive species, and emerging contaminants. They will also address how conservation, green infrastructure, and sustainability initiatives may impact these issues.
DePaul University College of Law is an accredited Illinois MCLE provider. This event is approved for up to 6.5 hours of CLE credit.
CONTACT INFORMATION
Stephanie Kouris Mulcahy
Stephanie.Kouris@gmail.com
Symposium Editor
DePaul Law Review, Volume 62
SPEAKERS
Professor Noah Hall, Wayne State University Law School
Joel Brammeier, President & CEO of Alliance for the Great Lakes
Howard A. Learner, President and Executive Director, Environmental Law & Policy Center
Professor Rebecca Klaper, University of Wisconsin-Milwaukee 
Professor Melissa Scanlan, University of Wisconsin Law School
Henry Henderson, NRDC, Director, Chicago, Midwest Program
David Ullrich, Executive Director, Great Lakes and St. Lawrence Cities Initiative 
Bert Frey, Deputy Regional Counsel, EPA Office of Regional Counsel, Region 5
Brent O. Denzin, Partner at Ancel, Glink, P.C
AGENDA
8:30 - 9:00             Breakfast and Registration
9:00 - 10:00           "The Great Lakes Legal Regine" - Professor Noah Hall
10:00 - 11:30         Panel 1: Climate Change
11:30 - 11:45         Break
11:45 - 12:15         "Virtual Water" - Professor Melissa Scanlan
12:15 - 1:00           Lunch
1:00 - 1:45             Invasive Species -  Joel Brammeier
1:45 - 2:30             Emerging Contaminants - Professor Rebecca Klaper
2:30 - 3:00             Stormwater - Brent Denzin
3:00 - 3:15             Break
3:15 - 4:45             Panel 2: Great Lakes Water Policy
4:45 - 5:00             Closing Remarks
ABOUT THE SPEAKERS
Noah D. Hall is an Associate Professor at Wayne State University Law School and is a frequent visiting professor at the University of Michigan Law School. He previously served as the founding Executive Director of the Great Lakes Environmental Law Center (www.glelc.org), and he remains active in precedent-setting environmental litigation and policy development. Professor Hall's research and scholarship focuses on Great Lakes transboundary water management and pollution, climate change adaptation, water law reform, U.S.-Canadian environmental law, and citizen enforcement. He is a co-author of one of the leading environmental law casebooks, "Environmental Law and Policy: Nature, Law, and Society" (Aspen Publishers) and a forthcoming casebook on water law, "Modern Water Law: Private Property, Public Rights, and Environmental Protection" (Foundation Press). His recent articles include "Interstate Water Compacts and Climate Change Adaptation" (Environmental & Energy Law & Policy Journal), "Protecting Freshwater Resources in the Era of Global Water Markets: Lessons Learned from Bottled Water" (Water Law Review), "Political Externalities, Federalism, and a Proposal for an Interstate Environmental Impact Assessment Policy" (Harvard Environmental Law Review), "Transboundary Pollution: Harmonizing International and Domestic Law" (University Michigan Journal of Law Reform), and "Toward a New Horizontal Federalism: Interstate Water Management in the Great Lakes Region" (Colorado Law Review). He also authors the popular "Great Lakes Law" blog (www.greatlakeslaw.org). All publications are available online at http://www.greatlakeslaw.org/blog/publications-by-noah-hall.html.
Dr. Rebecca D. Klaper is a Shaw Associate Professor at the School of Freshwater Sciences, University of Wisconsin-Milwaukee. Dr. Klaper's goal is to do basic and applied research to inform policy decisions involving freshwater resources. Dr. Klaper studies the presence and potential impact of emerging contaminants, such as nanoparticles and pharmaceuticals on aquatic life in the Great Lakes and how we may design these chemicals to have the least environmental impact. Her research also links the impact of these chemicals on the health of aquatic species to that of human health. Dr. Klaper received a AAAS-Science and Technology Policy Fellowship where she worked in the National Center for Environmental Assessment at the U.S. Enviromental Protection Agency. She has served as an invited scientific expert to the U.S. government through the National Nanotechnology Initiative, U.S. EPA review panels for their policy documents, and on the National Research Council and the international community through the International Organization for Economic and Cooperative Development and the International Joint Commission. Dr. Klaper received her Ph.D. in Ecology from the Institute of Ecology, University of Georgia.

Joel Brammeier is president and CEO of the Alliance for the Great Lakes. He oversees a staff of 20 professionals and more than 12,000 volunteers dedicated to protecting and restoring clean water, educating citizens and youth and building a sustainable future for the Great Lakes. Joel has developed laws and regulations to prevent invasive species in several Great Lakes states and published a first-of-its-kind report describing options for permanent separation of the Great Lakes from the Mississippi River. He also advises the state governors and provincial premiers on regional implementation of the Great Lakes Water Resources Compact and co-chairs the Healing Our Waters – Great Lakes Coalition. Prior to his work at the Alliance, he worked for the American Medical Association. He received his master's degree from the University of Michigan's School of Natural Resources & Environment and his bachelor's degree from Valparaiso University.
Henry Henderson leads NRDC's work to advance clean energy, protect the Great Lakes and our clean water resources, build sustainable communities, and safeguard our natural resources in eight Midwestern states. Prior to joining NRDC in 2007, Henry served as assistant attorney general for the State of Illinois. He was the founding Commissioner of Environment for the City of Chicago and was a principal in Policy Solutions, an environmental and public policy consulting firm. He also taught environmental law and policy at the University of Chicago and was senior fellow in the Great Cities Institute at the University of Illinois at Chicago. Henry holds degrees from Kenyon College, Oxford University, University of Chicago, and Washington University. His publications include FDR and the Environment, [Henderson & Woolner (eds.), Palgrave-MacMillan Press, New York, NY (March 2005)].
David A. Ullrich is the Executive Director of the Great Lakes and St. Lawrence Cities Initiative. His responsibilities include working with U.S. and Canadian mayors from across the Great Lakes and St. Lawrence Basin to advance the protection and restoration of the resource. The Initiative leads many efforts to accelerate the work to become a more sustainable region by integrating the environmental, economic, and social activities to improve the quality of life and well being of its people. Prior to assuming his current position, Mr. Ullrich served for thirty years at the U.S. Environmental Protection Agency's Great Lakes regional office in Chicago, working on environmental issues in the six states of the upper Midwest. For six years, he was the U.S. Chair of the Water Quality Board for the International Joint Commission, and was a founding member and chair of the Midwest Natural Resources Group. He continues to serve on the Water Quality Board, and in 2006 was appointed by the President to the Great Lakes Fishery Commission where he serves as U.S. Section Chair.
Brent Denzin is a Partner with the municipal law firm Ancel Glink P.C. in Chicago. He advises cities, counties and other local government clients on a range of environmental and land use issues, including brownfield redevelopment, sustainable growth and stormwater management. Brent graduated with a degree in Economics and Environmental Policy fromUniversityofMichigan, and attended University of Wisconsin Law School. Prior to joining Ancel Glink, Brent was awarded a two-year fellowship to work underMelissa Scanlan (a fellow panelist) at Midwest Environmental Advocates inMadison,Wisconsin. Brent has authored numerous articles and book chapters, including "Green Transportation: 'Roadblocks' and 'Avenues' for Promoting Low-Impact Transportation Choices," and"Regulating Climate Change: Municipal Responses to a Global Crisis."Brent's work earned him an invitation to join USEPA Region 5's panel on Removing Market Barriers to Green Development and assist in drafting its final report on regulatory strategies.
Melissa K. Scanlan is the Water Law and Policy Scholar at the University of Wisconsin Law School and the University of Wisconsin - Milwaukee's School of Freshwater Sciences. She is leading a pilot project to link the Law School into the new Center for Water Policy at the School of Freshwater Sciences, and is collaborating on interdisciplinary water research teams. She teaches water law and policy. Prior to joining UW, Professor Scanlan served as a lead consultant involved in launching the interdisciplinary Center for Water Policy in 2011. Over a decade earlier, she received a competitive Equal Justice Works Fellowship (formerly NAPIL) and an Echoing Green Fellowship to found and direct Midwest Environmental Advocates, Wisconsin's first non-profit environmental law center.
Howard A. Learner is an experienced litigation attorney and clean energy policy advocate who serves as the President of the Environmental Law and Policy Center – the Midwest's leading environmental legal advocacy and eco-business innovation organization.  Mr. Learner is responsible for the overall strategic policy direction and leadership of this regional public interest organization. Much of Mr. Learner's work on behalf of environmental organizations has concentrated on developing and advocating new directions on energy and environmental policy issues, including: developing clean renewable energy and energy efficiency resources to avoid pollution from conventional power plants; leading efforts to develop a Midwest high-speed railroad network that can produce complementary environmental quality, economic growth and job creation benefits; and protecting biodiversity and wildlife habitat in Wisconsin's North Woods and in the Great Lakes. Mr. Learner received his law degree from Harvard Law School (1980), and his B.A. from the University of Michigan (1976).  He is an (Adjunct) Professor at the University of Michigan Law School and the Northwestern University School of Law, teaching advanced seminars on energy law and climate change policy, and on environmental law and sustainable development.  
Bertram C. Frey is the Deputy Regional Counsel of Region 5 - U.S. Environmental Protection Agency. Mr. Frey currently serves on the advisory board of the Legal Institute for the Great Lakes and is former chair of the Environmental Commission of Highland Park, Illinois (2005-2008).  He also currently serves on the Environmental Law Section Council of the Illinois State Bar Association. Mr. Frey has served two terms as chair of the ISBA's Environmental Law Section Council (2008-2009 and 1999-2000).  Mr. Frey has published numerous articles on environmental law topics including:  international environmental law, environmental self-audits and self-audit policy, environmental enforcement, public water supply (legal issues), underground storage tanks, the public trust doctrine as a vehicle for environmental protection, and anti-backsliding provisions of the Clean Water Act. 
When & Where

DePaul Center Room 8005
1 E Jackson Blvd
Chicago, IL 60604


Friday, March 1, 2013 from 8:30 AM to 5:00 PM (CST)
Add to my calendar
Organizer
The Center for Intellectual Property Law & Information Technology (CIPLIT®) was established to promote research and concentrated study in intellectual property and information technology broadly defined. We seek to develop IP professionals of the highest caliber through an all-inclusive learning experience that combines outstanding classroom education, innovative scholarship, first-class training in lawyering skills and an unparalleled range of extracurricular activities.