About this Event
Will call patrons must present photo ID at the door.
Doors and box office open at 6PM on show nights.
When box office is closed tickets may be purchased at the front desk of the Graduate Athens Hotel.
Purchasing a reserved table will produce one ticket for the event. Tables may include admission for 2 or 4 persons. See ticket descriptions for details.
VIP Suite includes food and beverage service, access to private suite, comfortable sofas, and admission for up to 10 persons.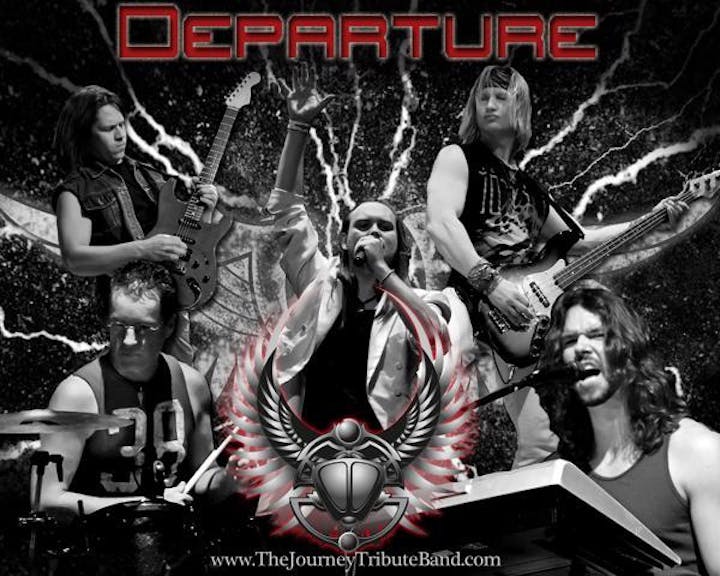 In their 10th year, DEPARTURE is the longest running and most respected Journey tribute band in the nation. DEPARTURE replicates the look, sound and feel of the original 80's rock super group. All five band members are from the original 2007 line-up and have been together from the very beginning. These veteran musicians have developed an amazing on-stage chemistry and pride themselves on giving their audience an incredible high-energy, qualitative stage show from start to finish. Featured lead vocalist, Brian Williams, has an amazing singing voice flawlessly matching Steve Perry's vocal range and on-stage movements, exactly. DEPARTURE also highlights the early Journey years, when Gregg Rolie was lead singer, featuring DEPARTURE's Joel Hayes on keys and lead vocals.
DEPARTURE plays all the hit songs that everyone knows and loves. They perform for 2 hours straight without taking a break to give their audience the true concert experience. Their performance is professional and highly engaging for their audience. Everything heard during their performance is live with no pre-recorded tracks used.
DEPARTURE was voted "Best Local Entertainer" for 2011, 2012 and 2014 by Gwinnett Magazine. Performing approximately one-hundred shows annually, DEPARTURE brings the very best of Journey to audiences of all ages.