Location
Embassy Suites by Hilton Denver Central Park
4444 North Havana Street
Denver, CO 80239
IN-PERSON Meetings w/ Recruiters ATTENTION - DENVER'S Job and Career Seekers! 100's of Employment Positions from Major Employers!
About this event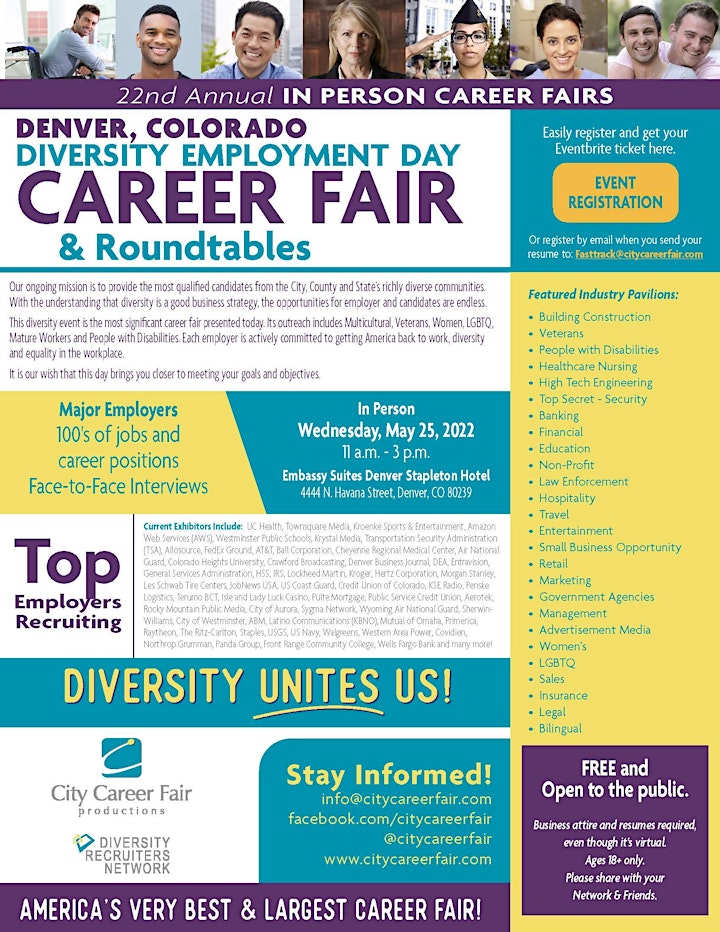 *THE 22ND ANNUAL DIVERSITY EMPLOYMENT DAY IN PERSON (IP) CAREER FAIR FOR DENVER IS SCHEDULED TO TAKE PLACE ON WEDNESDAY, MAY 25, 2022 FROM 11-3PM.
ATTENTION DENVER JOB SEEKERS AND CAREER CHANGERS!
The 22nd Annual Diversity Employment Day Career Fair and Job Fair for the City of DENVER, Colorado
Invites you to meet In Person (IP)with DENVER'S major employers and their recruiters, staffing managers, and HR Directors who are seeking to hire for 100's of Job and Career Positions on Wednesday, May 25, 2022 from 11 AM to 3 PM at the EMBASSY SUITES BY HILTON DENVER CENTRAL PARK (4444 North Havana Street, Denver, CO 80239)
Current and Past Employers Include:
TSA - TRANSPORTATION SECURITY ADMINISTRATION
WESTMINSTER PUBLIC SCHOOLS
ALLOSOURCE
FEDEX GROUND
KROGER (King Soopers/City Market)
UCHEALTH
AMAZON WEB SERVICES (AWS)
KROENKE SPORTS & ENTERTAINMENT (KSE)
U.S. POSTAL SERVICE
CRAIG HOSPITAL
FEDEX OFFICE
CARDINAL GROUP COMPANIES
CREDIT UNION OF COLORADO
ABM AVIATION
LES SCHWAB TIRE CENTERS
CHILDREN'S HOSPITAL COLORADO
WHOLE FOODS MARKET
ROCKY MOUNTAIN PUBLIC MEDIA
XCEL ENERGY
ALLIED UNIVERSAL
FEDERAL HIGHWAY ADMINISTRATION - U.S. DEPT. OF TRANSPORTATION
PLANNED PARENTHOOD
UNIVERSITY OF DENVER
COBANK
MARRIOTT INTERNATIONAL
U.S. SECRET SERVICE
UNIVERSITY OF WYOMING
KROGER HEALTH
METROPOLITAN STATE UNIVERSITY OF DENVER
MENTAL HEALTH CENTER OF DENVER
AMAZON DELIVERY SERVICE PROVIDERS
...and Many More!
IT'S REALLY EASY TO REGISTER AND ATTEND!
Option 1- Just email your Resume to FastTrack@CityCareerFair.com with the subject: DV1 IP 05252022 and receive a confirmation code that allows you skip the line and registration at the DED Career Fair once it has opened . It is very IMPORTANT that you have the code in the subject line. Bring your confirmation email to the event.
Or...
Option 2 - just bring your Eventbrite Ticket and resume to the career fair and that will be your admission ticket.
This is a professional-level recruiting event and business attire and résumés are required for admission.
This is a FREE event. Must be 18 years or older. Remember – "First Impressions are Lasting Impressions". "Look and Remain Professional" throughout your appointments for best results!
Employers – Reach out to prebook@citycareerfair.com for details regarding participation. Your participation fee helps to support Diversity in the workplace and community plus this Diversity & Inclusion recruiting event.
Thank You – CityCareerFair.com
***If you are an interested employer, please email PreBook@CityCareerFair.com for pricing details!