Description
Be a Founding Exhibitor at the 1st annual
SHE - Supporting Heart & Enterprise™ Expo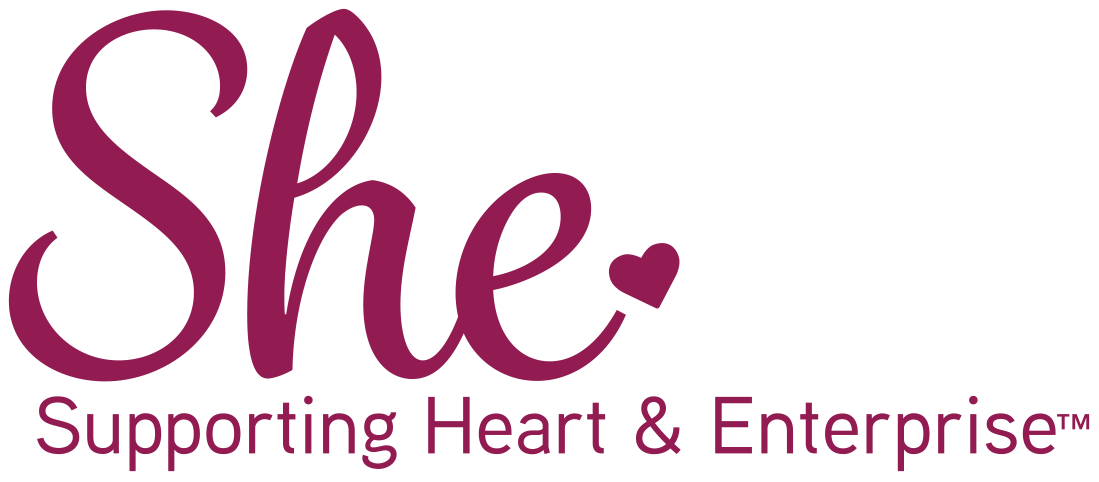 Women's business expo and networking event, celebrating National Women's Small Business Month - Join us for a day of networking fun, expert trainers, drawings, and giveaways!
Women are SUPPORTED

Women are CONNECTED

Women are DEVELOPED

Women are EMPOWERED
Women supporting women! It's your time - Register to Exhibit TODAY!
NOTE: The Financial Advisor Category is FULL.
This is a must attend women's business expo and conference!
Enter to WIN valuable drawings and the first 100 attendees and exhibitors receive a Goody Bag! Play Networking Scavenger Hunt and Networking BINGO to be entered into valuable gift basket drawings! Plus, one attendee or exhibitor will receive a FREE Premium SHE Membership given away in a drawing at the end of the day!*
Exhibitors for the SHE Business Expo & Networking Event will receive:

Your expo event ticket (a $20 value)

Vendors are limited to two per business category

One, un-skirted 6 foot long table (bring your own table cloth)

Small business marketing tradeshow manual PDF – this manual will have tips on how to market your business before, during and after the expo

A promo code to promote the event to your sphere of influence for them to receive $5 off ticket price. For every ticket your promo code sells, your name will go into a gift basket drawing.

Ability to sponsor $10 Koelbel Café gift cards given away in drawings throughout the day. (Cost is $10) Drawing held at your booth at designated times.

FREE WIFI. Bring your own extension cords for any laptop usage.

Access to expo breakout sessions – these are 1st come/1st served. If there is a breakout you wish to attend, your booth will not be manned, but you can bring a person to help man your booth (1 free ticket for any help you bring).

Networking event in September for exhibitors. At this event you can ask questions on how to have a successful event and meet the other exhibitors.

Ability to donate 125 items for Goody bags

Ability to donate prize items for two gifts baskets given away for Networking Scavenger Hunt and Networking Bingo
SHE MEMBER PRICE: $75 (SHE Members have until August 26 to sign up first before the event is opened to the public)
NON-SHE MEMBER PRICE: $100
Shared booth space is only available to SHE volunteers and is limited.
Have a product or service that you just want to advertise and not have a booth to man?
Three round high-top tables are available in our private reserved Living Room off the coffee shop where women can go to network. Space is limited to 3 vendors ($25 each).
EVENT SCHEDULE**
Breakouts will be held in the Forum Theater and LIMITED to the first 45 people. Networking will still be happening during breakouts:
9-10 a.m. Exhibitor set-up. Please arrive by 9 a.m. when the library opens.
10-10:30 Check-In/Networking/Scavenger Hunt
10:30-11:20 a.m. Breakout #1 Best Practices for Time Management & Productivty, Mary Gaul, Success Magnified
11:20-11:30 Netwrok & drawing for café gift cards
11:30-NOON Breakout #2 How Women Treat Women in Business Forum Discusssion, Jasmyne Kettwick, Relate Family Therapy & Beth Boen, Founder SHE Leads Group. YES, we are going to talk about this TABOO topic. Something we all have felt, but no one talks about openly.

NOON-12:45 Network & drawing for café gift cards
12:45-1:35 Breakout #3 Writing Marketing Copy that Connects & Converts, Lori Dubois, Marketing Troubadour
1:35-2:05 Network & drawing for café gift cards

2:05-2:55 Breakout #4 Tips to Achieve a Work/Life Balance, Jasmyne Kettwick, Relate Family Therapy
2:55 to 4 Networking BINGO and Giveaway Drawings
*Members and Non-Members are eligible for the free Premium Membership drawing. To win the drawing, your business must meet all the eligibility requirements found on the SHE Leads Group website. If an existing Member wins the drawing, their free membership will take affect on their renewal date.
**Schedule times are subject to change.
#WomensEvent #WomensNetworkingEvent #WomenSupportingWomen #WomensBusiunessExpo #WomensBusinessConference #WomenInBusiness #WomenEmpoweringWomen #WomensLeadsGroups #NationalWomensSmallBusinessMonth #DenverWomenInBusiness