Event Information
Location
Renaissance Denver Stapleton Hotel
3801 Quebec Street
Denver, CO 80207
Refund policy
Refunds up to 7 days before event
Description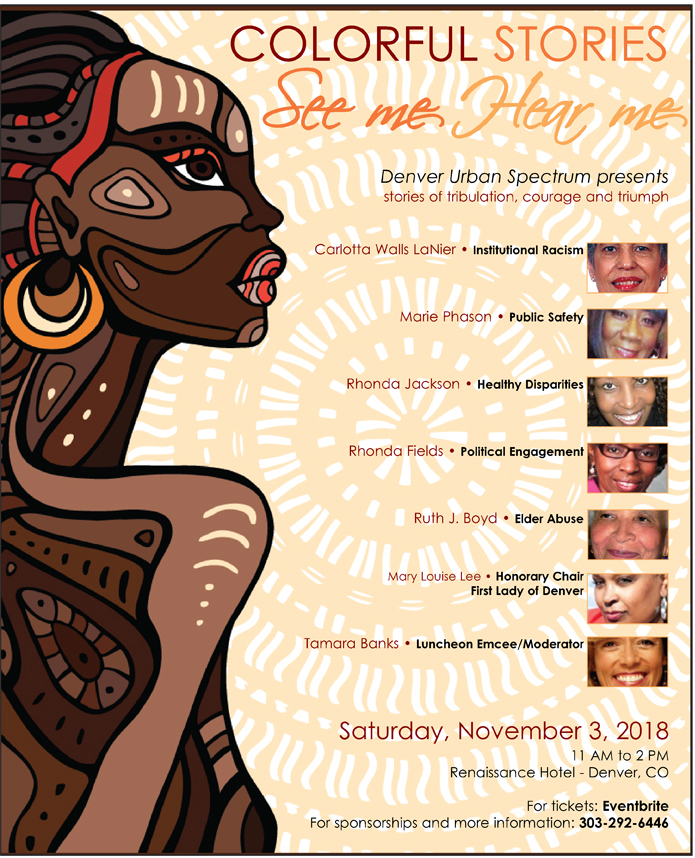 Denver Urban Spectrum has been spreading the news about people of color since 1987. Our success and longevity is credited to the many advertisers and sponsors who have supported us as we shared compelling stories with our many readers and subscribers, making it the premiere award-winning publication for Colorado's communities of color.
In November, Denver Urban Spectrum will present stories of tribulation, courage and triumph through video, conversation and written profiles. These colorful stories will highlight individuals who have overcome obstacles ranging from racism to adversity and tragedy.
Institutional Racism

-

Carlotta Walls LaNier

was the youngest of the

Little Rock Nine

, a group of

African-American

students who, in 1957, were the first Black students ever to attend classes at

Little Rock Central High School

in

Little Rock

,

Arkansas

. She was the first Black female to graduate from Central High School. In 1999, LaNier and the rest of the Little Rock Nine were awarded the

Congressional Gold Medal

by

President

Bill Clinton

.

Public Safety

- On June 9, 1993,

Marie Phason's

6-year-old son Broderick Bell was hit by a random gunshot, kicking off what came to be known as Denver's "Summer of Violence." Bell survived, but many others did not during the summers that followed. Two months prior, she lost her father to a senseless act of violence. Through her faith in God, she has persevered and is currently writing a book as a testimony of the power of prayer. The book is dedicated to survivors of violence.

Health Disparities

– Denver playwright and actress,

Rhonda Jackson

was diagnosed with Lupus in1994. There's no cure for Lupus, an auto-immune disease and she had to learn to live with it.

As the Community Outreach and Education Coordinator at

Lupus Colorado

,

she is dedicated to educating the community about Lupus and prays for continuous research to find better solutions, better therapies and one day a cure. She recently wrote a play, Crying Wolf…Stories of the Lupus Warriors.

Political Engagement

–

Rhonda Fields

entered politics after her work as a victims' rights advocate in the wake of the murders of her son, Javad Fields, and his fiancée, Vivian Wolfe.

The two

Colorado State University

graduates were murdered on June 20, 2005, less than a week before Javad Fields planned to testify as a key witness in the murder of his best friend. In 2007, Gov.

Bill Ritter

appointed Rhonda Fields to the Colorado Commission on Criminal Juvenile Justice, where she worked on public safety and criminal justice issues.

She was elected to the Colorado State House three times, in 2010, 2012, and 2014. In 2016, she was elected to the Colorado State Senate.

Elder Abuse

– On November 3, 2008,

Ruth Boyd,

an 80-year old mother, grandmother and great grandmother was beaten to death in her home in Grand Rapids, Michigan. Her murder was never solved. Her daughter, Denver Urban Spectrum publisher, Rosalind J. Harris, is establishing the Ruth Boyd Elder Abuse Fund to join the effort to prevent abuse against elders.
These stories and others will be presented on November 3, 2018 at a luncheon, Colorful Stories...See Me, Hear Me, at the Renaissance Hotel in Denver. At this powerful event, Denver Urban Spectrum will share a message about overcoming tribulation with courage and personal conviction, and bring light to issues that still need a better response and solutions from our community.
Emmy award winning journalist, talk show host and documentary filmmaker, Tamara Banks, who is dedicated to creating transformative social change through excellence in journalism, will emcee the luncheon and moderate the storyteller panel. Tamara is dedicated to helping those whose voices are ignored be heard, especially people in conflict zones and struggling communities at home and around the world like South Sudan, Iraq and Haiti. She recently started her BE BRILLIANT initiative in Uganda that provides donated solar-powered lights to farmers in rural communities.
First Lady of Denver Mary Louise Lee, will serve as the honorary chair. She combines her passion for the arts and youth through her Bringing Back the Arts Foundation and First Lady Artist of the Month initiative. Mary Louise Lee is committed to being an ambassador for the arts to help expose and expand access to Denver's vibrant arts and cultural communities.
Proceeds will benefit nonprofit organizations in each area chosen by its storyteller.
Date and time
Location
Renaissance Denver Stapleton Hotel
3801 Quebec Street
Denver, CO 80207
Refund policy
Refunds up to 7 days before event