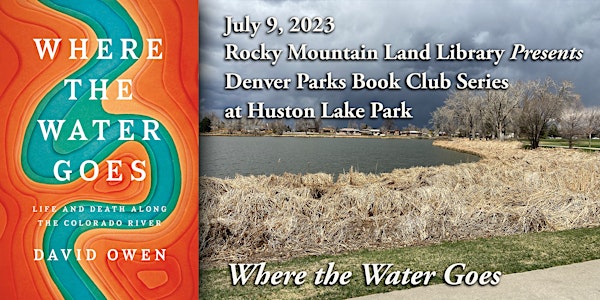 Denver Parks Book Club at Huston Lake Park
Join us for the Denver Parks Book Club, featuring great books of Nature and the West, and held at some of Denver Parks' hidden gems.
By Rocky Mountain Land Library
Date and time
Sunday, July 9 · 10am - 12pm MDT
Location
Huston Lake Park 850 South Bryant Street Denver, CO 80219
About this event
The Rocky Mountain Land Library is excited to announce the Denver Parks Book Club Series' second season, where the places we meet will also have their own stories to tell. We've gathered some of our favorite books on nature and the West for the club to read and discuss. Our book club discussions will be held at some of the lesser-known City Parks across Denver. Throughout the book club series, we will be discovering hidden surprises along the way; parks that have stories to add to the books we'll be reading.
There will also be an underlining theme to all of the Denver Parks Book Club discussions: our basic human need for parks and open space. With each session we'll take a moment to explore the history of the park and neighborhoods where we meet.
Huston Lake Park: There may not be a more pressing issue facing the West than the future of the Colorado River and the far-flung communities it supports (including Denver). David Owen's Where the Water Goes: Life and Death Along the Colorado River will be our guide to a wide-ranging conversation about water in the West. We'll be meeting at Huston Lake Park, a city park with its own water story, from its early swampy days to the epic 1965 South Platte River flood.
"I have traveled the American West all of my life and thought that I knew everything about its fabled water wars. But David Owen fills in so many gaps that I feel I've been to water reeducation camp. Whether you read for fun or edification, this is a gem." -- author Rinker Buck
The Denver Parks Book Club discussions are free, but space is limited. Be sure to register at the links above. You can sign up for all the books, or just one! All the discussions will be outdoors, and we'll be sending more information to everyone registered. The Book Club's Sunday meetings will get underway at 10:00 am and conclude at 12:00 pm, with plenty of time for everyone to explore and appreciate our host city park.
Chris Englert's book Discovering Denver Parks was published in 2020. It quickly became one of the Land Library's favorite pandemic books, inspiring the Denver Parks Book Club series. We highly recommend Chris's book for anyone who wants to explore Denver's 165 city and mountain parks.
About the organizer
The Rocky Mountain Land Library's mission is to help connect people to nature. With over 35,000 volumes we are creating a trio of place-based library/learning centers along the South Platte River, from headwater to plains, from the high mountain grasslands of South Park, to Denver's inner-city.