Denver Israeli Hanukkah Festival

Saturday, December 8, 2018 from 5:30 PM to 8:30 PM (MST)
Event Details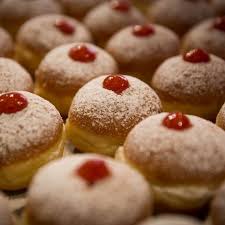 הצטרפו אלינו לפסטיבל חנוכה ישראלי לכל הגילאים!
יום שבת, 8 לדצמבר בדנבר

   מוזיקה ותנועה לקטנטנים, שירה בציבור לגדולים, משחקי ילדות ישראלית, טיגון סופגניות מרוקאיות במקום (ספינג׳)
פעילות יצירתית לבני נוער ותיכוניסטים -  סדנאת הכנת מטבעות שוקולד עם שוקולטיירית מקצועית!
 5:30 – פעילות לילדים
6:30 - הדלקת נרות וארוחת ערב
7:00 - שירה בציבור עם אייל ריבלין

הביאו מנה ראשונה או תוספת (שאינה בשרית) לחלוק - המנה העיקרית, סופגניות ועוד הפתעות עלינו!
אנא ציינו בלינק מטה מה תרצו להביא
https://goo.gl/1kksxa
 !מחכים לחגוג יחד
Join us for an Israeli Hanukkah festival for all ages!
Saturday, December 8th in Denver
    Music and movement for little ones, sing along for adults, Israeli childhood's games,
frying Moroccan donuts (Sfenj)
Creative activity for youth - A special Chocolate coins workshop with a professional chocolatier!
  5:30 - Activity for children
6:30 - Candle lighting and dinner
7:00 - Singing with Eyal Rivlin
We will provide the main dish, donuts, and other surprises!
Please bring a first course or a side dish (Dairy only) to share. 
Specify in the link below what you would like to bring
 We look forward to seeing you!!!
When & Where

Denver Jewish Day School
2450 South Wabash Street
Denver, CO 80231


Saturday, December 8, 2018 from 5:30 PM to 8:30 PM (MST)
Add to my calendar
Organizer
The mission of the Israeli-American Council (IAC) Colorado is to build an engaged and united Israeli-American community that strengthens the Israeli and Jewish identity of our next generations, and the bond between the peoples of the United States and the State of Israel.