Description
Dennis McNulty
Eyes of Ayn Rand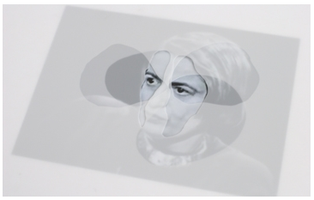 Beginning with a meditation on the house that Konstantin Melnikov designed for himself in Moscow in 1927 and following a path that leads to Ayn Rand's eyes scanning a TV studio in New York in 1958, Dennis McNulty creates a spatial, gestural, sonic, and linguistic performance around these two scenes which have their origins in the rupture of Communist Russia.
Berlin-based Dennis McNulty (b. 1970, Ireland) is an artist whose practice is concerned with memory, potential and flow. Recent solo projects include the Irish Museum of Modern Art (2011); the Perry and Marty Granoff Center for the Arts, Brown University (2011) and Green On Red, Dublin (2010). Group shows include, CCS Bard Gallery, Bard College (2011); Bureau for Open Culture, CCAD, Columbus, Ohio & Usdan Gallery, Bennington College, Vermont (2011); The Mattress Factory, Pittsburgh (2010) and the São Paulo Bienal (2004 & 2008).
Forthcoming projects include All Humans Do, White Box, New York (Jan 2012).