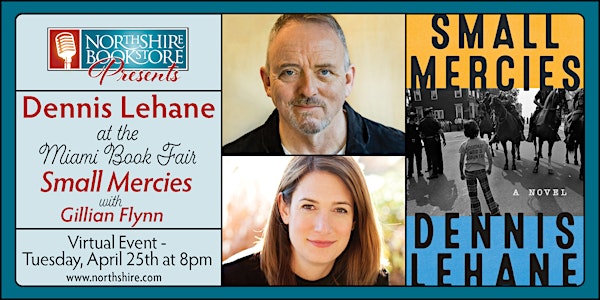 Dennis Lehane at Miami Book Fair "Small Mercies"
Bestselling author Dennis Lehane will discuss his newest book with Gillian Flynn.
Date and time
Tuesday, April 25 · 5 - 6pm PDT
About this event
Bestselling author Dennis Lehane joins The Miami Book Fair, Northshire Bookstore, and a host of other independent bookstores around the country to present Small Mercies, a masterpiece to rival Mystic River—an all-consuming tale of revenge, family love, festering hate, and insidious power, set against one of the most tumultuous episodes in Boston's history. He will appear in conversation with Gillian Flynn, #1 New York Times bestselling author of Gone Girl.
"Lehane is the master of complex human characters thrust into suspenseful, page-turning situations." —Gillian Flynn
"One of the great diabolical thriller kings."—New York Times
"Lehane has built a career as a philosopher of the human animal."—Noah Hawley
In the summer of 1974 a heatwave blankets Boston and Mary Pat Fennessey is trying to stay one step ahead of the bill collectors. Mary Pat has lived her entire life in the housing projects of "Southie," the Irish American enclave that stubbornly adheres to old tradition and stands proudly apart.
One night Mary Pat's teenage daughter Jules stays out late and doesn't come home. That same evening, a young Black man is found dead, struck by a subway train under mysterious circumstances. The two events seem unconnected. But Mary Pat, propelled by a desperate search for her missing daughter, begins turning over stones best left untouched—asking questions that bother Marty Butler, chieftain of the Irish mob, and the men who work for him, men who don't take kindly to anyone—man or woman—who threatens their business.
Set against the hot, tumultuous months when the city's desegregation of its public schools exploded in violence, Small Mercies is a superb thriller, a brutal depiction of criminality and power, and an unflinching portrait of the dark heart of American racism. It is a mesmerizing and wrenching work that only Dennis Lehane could write.
If you have questions about this or any Northshire event, or have already ordered a copy of the book from Northshire Bookstore, please e-mail us at events@northshire.com.
Please note that the "Ticket With Book" option is for shipping or pickup within the United States only. If you live outside of the United States & wish to attend this event please e-mail us at events@northshire.com to discuss shipping options.