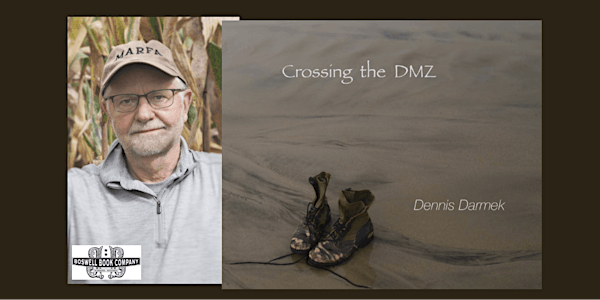 Dennis Darmek, author of CROSSING THE DMZ - an in-person Boswell event
Dennis Darmek, author of CROSSING THE DMZ - an in-person Boswell event
When and where
Location
Boswell Book Company 2559 North Downer Avenue Milwaukee, WI 53211
About this event
Boswell Book Company hosts an evening with photographer and documentarian Dennis Darmek for his new book, Crossing the DMZ, which attempts to use art to measure the immeasurable tragedy of the war in Vietnam.
In his new book, Crossing the DMZ, Dennis Darmek focuses on a small group of US Marines, mostly teenagers, who volunteered to fight and ended up with their names on the Vietnam Memorial Wall in Washington, DC. In a collaboration between past and present, Vietnamese who live where the battles were fought pose with photos of those Marines. Darmek's work merges new photos with military archives, sorties, and the emotional terrain of our Vietnam memories.
Photographer Larry Schwarm praises Darmek's work thusly: "Crossing the DMZ falls in that interesting area between art and journalism - it's both. It is beautiful and heartbreaking." And from artist Suzanne Rose: "Utterly poetic… a path past pain to beauty."
Dennis Darmek is a photographer, video artist, and documentarian, and his work has been featured on PBS and European television as well as in museums and galleries around the world, including the Milwaukee Art Museum, The Minneapolis Institute of the Arts, and the Museum of Wisconsin Art.
Click here to order your copy of Crossing the DMZ. Signed copies and personalization available on pre-orders. Please note that signed copies will ship after the event.