Description
A benefit for Orquesta Sinfónica de Oriente, Santiago de Cuba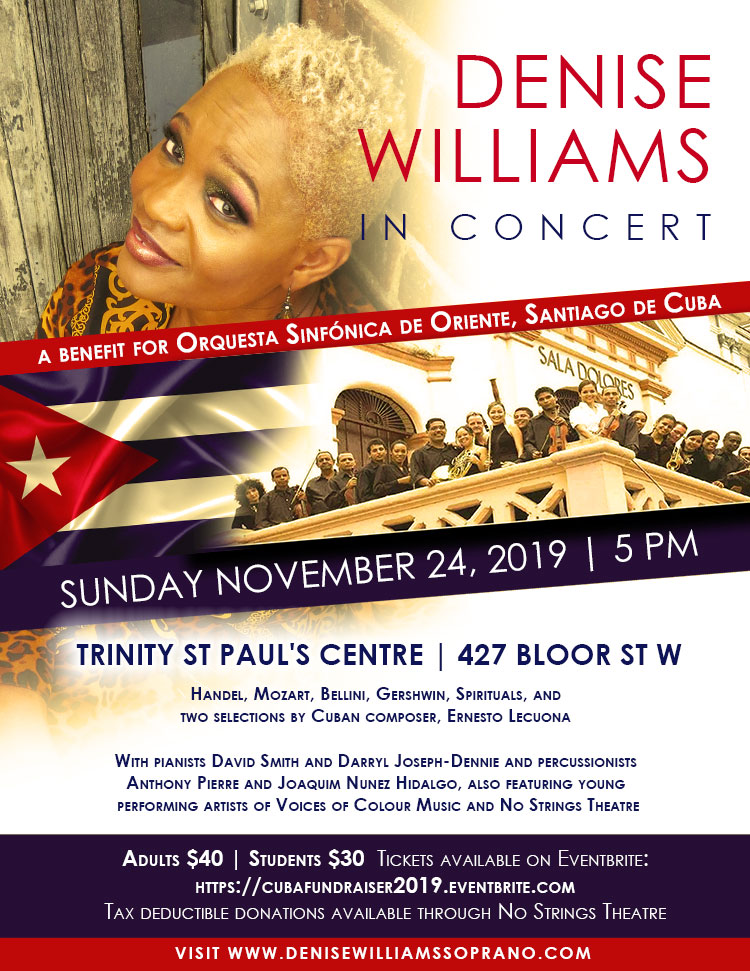 This concert presents an international outreach support in an attempt to further cultural relations and financial support to this ever so vital music organization in Santiago de Cuba. Denise Williams has been invited as a guest artist to peform with this orchestra at the Sala de Conciertos Dolores, deemed to be blessed with the best acoustics in Cuba. The concert in Santiago de Cuba will take place on Saturday December 28th, 2019.
The program will feature works by Handel, Mozart, Bellini, Gershwin, Spirituals, and two selections by Cuban composer, Ernesto Lecuona (Lamento Africano and Mi Vida Eres Tu).
The Toronto fundraiser on November 24,
will feature a preview of this program with pianists David Smith, Darryl Joseph-Dennie and percussionists Anthony Pierre, and Joaquim Nunez Hidalgo. Also featured will be young performing artists of Voices of Colour Music and No Strings Theatre, Ruth Acheampong and Glenn Sevillo.
Special guest, R&B singer, Carlos Morgan, will perform his new release, "Have a Little Faith".
Orquesta Sinfónica de Oriente
In Santiago de Cuba, this orchestra was founded in 1962

for the dissemination of national and universal music in Cuba.

To date, the Orchestra has performed more than 1000 concerts in the most recognized halls in the country, in study centers, factories, educational concerts, as well as periodically concerts in towns and cities of the eastern provinces of the country.
The Orquesta Sinfónica de Oriente is presented twice a month at its headquarters, the Concert Hall "Dolores", (one of the most important and best in the country for this type of music), which was inaugurated by the Orquesta Sinfónica de Oriente the lro.
January l989 .
In addition to his public activity, he has performed on Radio and TV programs, in recordings at Siboney Studios (EGREM) in this city.
The repertoire of the Orquesta Sinfónica de Oriente covers works that range from
17th-
century compositions to more contemporary creation, also emphasizing the dissemination of works by Latin American and Cuban authors.

No Strings Theatre
No Strings Theatre, founded in 2005, fosters training to showcase opportunities for youths to emerging professional artists to hone performing arts skills under the guidance of seasoned industry professionals. It ia a charitable organzation that services to all youths regarless of economic status. part proceeds of your donations will go to assisting NST's programming and scholarship funds. Donations $25 and over are subject to receive a tax receipt. Charitable registration #
Business Number:
801042409RR0001
Event Manager: Joan Pierre
Event FOH: Eulalie Walling- Sampson
Artisic Producer: Denise Williams