Denim and White Comedy Show & Dinner Party !
About this Event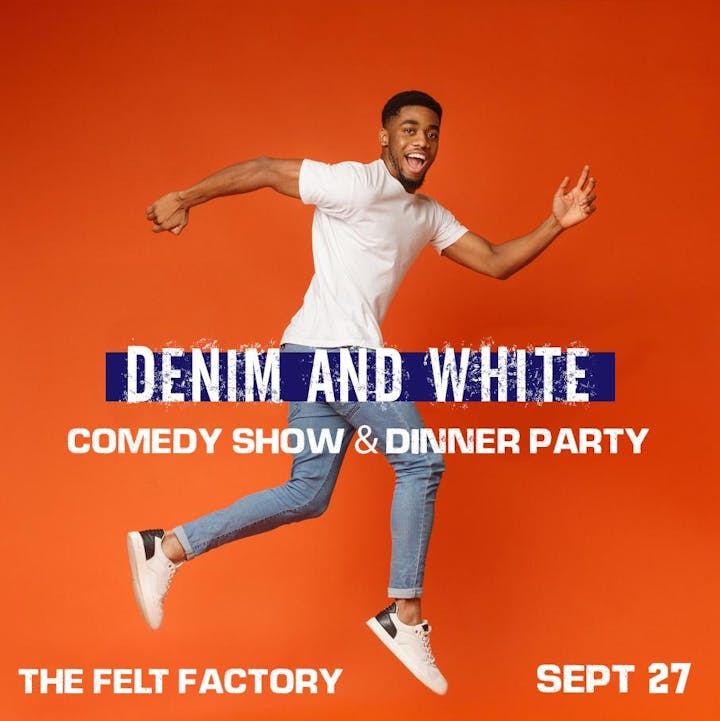 What's better than a fun-filled night out for a good cause?? Join us at the Denim and White event this September 27, 2019 at Philadelphia's The Felt Factory for a night of comedy entertainment, DJs and dancing, and a full buffet dinner and cash bar- and a portion of the event's proceeds will go to the Alzheimer's Foundation of America! So bring your partner or friends and come eat, dance, laugh, and give with us at Denim and White!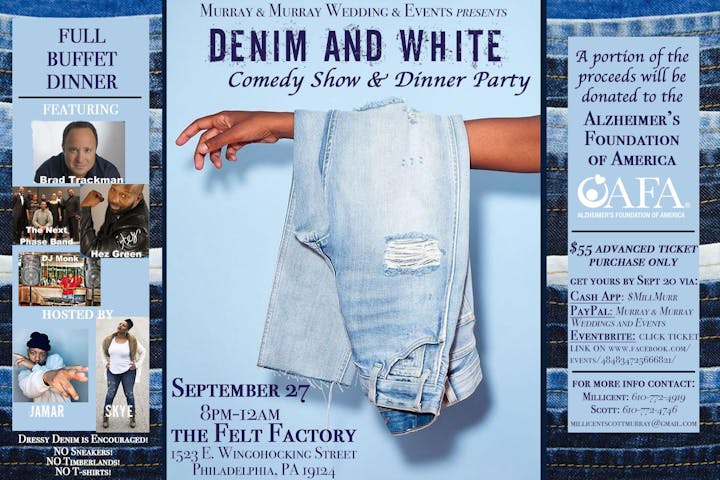 ~~~
THE MENU
Caesar salad, macaroni & shrimp, baked ziti, whipped potatoes, stringed beans, chicken marsala, seared salmon, carved top sirloin of beef, dessert, and iced tea
~~~
THE HOSTS
-SKYE: You call her SKYE, we call her Star of the Story. She is the host with the most and will partner with DJ Monk to MC the Denim & White Comedy Show and Dance Party. A diva in her own right, she lights up a room when she walks in. No slouch to the stage, she has performed in various plays including "Enemy in the Mirror" by Diane Mapp and a Rick Watson Production "A Woman's Worth". Her upcoming performance will be in "Secrets, Lies and Betrayals - another Rick Watson Production - where she will perform alongside Clayton Prince from "Cosby Show", Oran Juice Jones - R&B legend and John Canada Terrell from "The Five Heartbeats", "Boomerang" and "She's Gotta Have It". Come see this hilarious diva light up the show"
-JAMAR ALEXANDER: From producing his own high school fashion show; to becoming a fashion editor, Jamar Alexander knew as a young child that he had a passion for the fashion industry and public relations. During his tenure as a fashion editor, he also served on the Board Of Directors for NYC Fashion Week. In 2016, Mr. Alexander launch his own PR company called "Alexander PR Firm" and since has been working with countless organizations throughout the tristate area. Now Mr. Alexander is working with freelance talented individuals in all areas such as fashion, music, movie productions and more, serving on the Board of Director for #PhiladelphiaBlackPride !⠀
~~~
THE PERFORMERS
-HEZ GREEN: "Not your typical triple threat. He's an actor, dancer and comedian. He has been on stage with some of our greatest performers - Eve, Will Smith and Music Soulchild. He has performanced in over 10 theatre productions and hosted numerous comedy shows. He has been featured in the Boys II Men Vibin video and has toured with Brandy. He has hosted the Kevin Hart Def Comedy Jam Finals and is laugh your mouth out funny himself. "
-BRAD TRACKMAN: a national touring New York City comic who is universal with his material. He has made TV appearances as a featured comedian on CBS's Late Late Show with Craig Ferguson, Comics Unleashed with Byron Allen, AXS TV's Gotham Comedy Live, NBC's Later and Friday Night, Star Search with Arsenio Hall, New Joke City with Robert Klein and MTV's The Buried Life. He has opened for legendary comedians Joan Rivers, Robin Williams, Dana Carvey and Weird Al Yankovic. He's a regular at the Borgata Casino in Atlantic City and the MGM Casino in Las Vegas.
-NEXT PHASE BAND: "A regular at Warm Daddy's, the Next Phase Band will perform live at the Denim & White Comedy Show and Dance Party. The Felt Factory. June 14. 8pm. Tickets available now. Get em while they lasts"
~~~
THE DEEJAY
DJ MONK: DJ Monk - the Funk Master - Make your booty shake - Creator of the SoulyGhost - will be at the Denim & White Comedy Show and Dance Party. Come get your party on with the one who will put the jiggle in it-